Mercedes CLS-class (W219)

Debut: 2004
Maker: Mercedes-Benz
Predecessor: no
Coupes and roadsters are usually more profitable business than sedans. People buy them out of emotion rather than practical reasons, so they are more willing to pay extra money. That's why Mercedes-Benz has plenty of them in its showrooms - C-class Sports Coupe, CLK-class, CL-class, SLK-class, SL-class and SLR. To squeeze another one into such an overcrowded lineup is really a headache. To prevent from internal competition, Mercedes decided to build a vastly different kind of vehicle - a 4-door coupe. You can see it as a crossover between sedan and coupe. It offers the practicality of regular sedans and the stylish look of coupes. This should fulfill the dream of many people.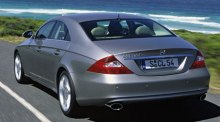 Mercedes made no secret that the new CLS-class is derived from the E-class platform. Sharing all mechanicals (but with different tuning) and even the same wheelbase, CLS is virtually an E-class in coupe shape. But from outside it looks nothing in common with the E-class. Look at that curvy body! that dramatic, banana-shaped waistline! Mercedes' styling has never been so radical. That said, it is a controversial design. Some people love it and some people hate it.

The CLS body is 95mm longer, 51mm wider and 27mm lower than its sedan sister. Surprisingly, it is actually less aerodynamic efficient, as drag coefficient is 0.30, versus the sedan's 0.27. It also carries 50-85kg more than the sedan, so it is actually slower than the E-class with equivalent engines.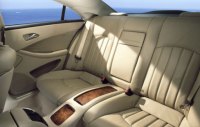 Inside, the driver sacrifices 37mm headroom, the rear passengers lose similar headroom and legroom - the latter is reduced because the seats are moved forward to prevent the passenger's heads from touching the sloping roof. The CLS also lost the middle rear seat because its inward-curved side windows and roof rails eat into cabin room. The middle seat is replaced by a storage box and the outer seats are moved inward. CLS is therefore a strict 4-seater.

With all these disadvantages, CLS still dare to ask for a price 10% in excess of the E-class. Isn't it crazy?


Not exactly. Apart from the look, the CLS offers a couple of important advances over E-class. The first one is a high-quality cabin. In the recent SLK and A-class we already saw a revival of cabin quality, but they are plastic one. Unlike them, the CLS cabin is thoroughly trimmed with expensive leather and wood in the way like British prestige cars. The main dashboard is a single piece of wood, surrounded by soft leather trimming, chromed dials and vents. The high precision of fit and finish can be seen in the tight panel gaps - this is especially difficult to achieve for a high curvature architecture like this. Undoubtedly, the CLS cabin sets new standard for Mercedes' cabin quality.

Another advance over the E-class is the sportier chassis tuning. A 10% quicker steering rack feels instantly sharper and more accurate (it will be introduced to the E-class later). The change is simple, but the result is a lot more enjoyable than the old system. No matter with or without Airmatic DC, stiffer suspension setup improves the car's reaction to steering input. The setting is well judged to achieve a great balance between sporty and comfort, thus the E-class' remarkable ride quality and quietness are mostly retained.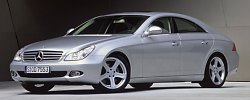 CLS is no lightweight, fortunately it gets some strong engines. CLS350 uses the company's new 3.5-ltire V6 with 24 valves and variable valve timing. Delivering 272 horsepower, it takes less than 7 seconds to accelerate from 0 to 60mph. CLS500 runs the long-serving 306hp 3-valve-per-cylinder V8. It is actually not much quicker than CLS350. Expect a new 4-valve V8 will replace it in a year's time. The AMG version is powered by the familiar 476hp supercharged V8 like E55. It will be discussed in a separate report.

Both CLS350 and CLS500 are benefited by the new 7-speed automatic transmission. These powertrain / drivetrain combo are creamy smooth.

With a new-found sportier character, CLS has the ability to lure buyers from the BMW camp. Simultaneously, being luxuriously-crafted, smooth and refined, it is also a true Mercedes-Benz.
The above report was last updated on 19 Jan 2005. All Rights Reserved.
CLS55 AMG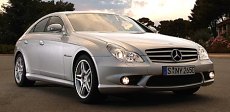 To save me hundreds of words, please read my E55 report first.

Now I suppose you have read it. Basically, CLS55 AMG received the same treatment as its sedan counterpart. The same 476 horsepower supercharged 5.4 V8 drives through a 5-speed automatic gearbox - unfortunately Mercedes' new 7-speed auto is not yet strong enough for this application, but the AMG-programmed 5-speeder shifts quicker than the regular one. CLS55 has as much as 516 pound-foot of torque to light up the rear tires. Although it is 85kg heaver than E55, Mercedes still believes it can storm from zero to sixth miles per hour in 4.6 seconds. That's more than capable to destroy the confidence of those 911 drivers encountered in Autobahn.

Compare with regular CLS, the AMG version has its Airmatic DC suspensions dropped by 10mm to lower center of gravity. At the same time, the suspension calibration becomes stiffer, more capable of resisting body roll. 255/40 front and 285/35 rear tires provides abundance of grip.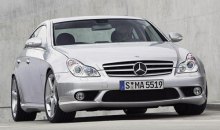 On the road, CLS55 feels vastly different from E55. We are not talking about the performance loss, which is too small to be mentioned. The difference start from the driver's vision. He sits lower in the chassis, much deeper than the high shoulder line. Visibility is fairly confined. Such driving environment feels like that of a sports car.

Steer the CLS55 into a bend and you will realize its quicker steering response and higher accuracy, thanks to the new steering rack that shared with other CLS. The tauter suspension also contain body roll better. As a driver's car, CLS55 is definitely better than E55.

But better than E55 is not enough. The question is can it beat BMW M5, the current King of Sports Sedans?

CLS55 AMG versus BMW M5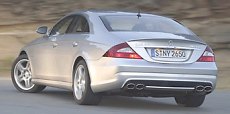 Autocar magazine compared the two cars and found them a close match. The AMG has a deficit of 30 horsepower and a weight penalty of 90kg, but in normal circumstances it is just as fast, because its supercharged V8 is super torquey and its power is easily accessible. In contrast, the BMW V10 needs sky-high rpm to deliver the same level of performance. This means M5 is noisier and more demanding to drive. In attack mode, its SMG semi-automatic gearbox sends shocks to the cabin in every gearchange. The stiff ride is also harsher than the AMG. In contrast, CLS55 delivers performance in a much calmer and smoother style. Its engine is quieter, its automatic transmission is super-smooth, and its adaptive air suspensions isolate shocks way better.

The BMW has no much advantage in handling either. Both cars display remarkable stability at high speed. Both cars have quick and accurate steering. Surprisingly, after switched off traction control, the AMG can power slide in the same way as M5, giving its driver the same confidence. But ultimately the BMW can corner faster, harder and more neutrally. The AMG's softer suspensions and tendency to understeer rob it of an ultimate win.

At eight-tenth effort, CLS55 is a better performance car than the M5. In contrast, when you want to deliver maximum ability, the M5 will be the better choice.
The above report was last updated on 19 Jan 2005. All Rights Reserved.
CLS63 AMG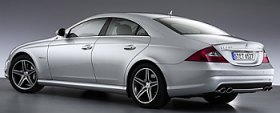 We have reported the new AMG 6.3 engine already in the top CLK and E-class, so this time not going to spend too much time on the engine. In short, the naturally aspirated V8 combines good power, torque and efficiency rarely appeared simultaneously on a large-capacity V8. As in E-class, it produces 514 horsepower at 6800 rpm and 465 lbft at 5200 rpm in CLS63. That added a little horsepower but loses some torque from the outgoing 5.5-litre supercharged V8. Part of the lost torque is compensated by the responsive new 7-speed automatic gearbox, but you can still feel the engine is not as strong at bottom end. Of course, everything is relative. If you compare with a BMW M5, you will find the AMG V8 is hugely flexible. If you compare with the old engine, you will praise its smoothness, throttle response and the ability to rev cleanly to 7200 rpm. So, while the performance is virtually unchanged – depending on whether you believe AMG's claims that it reduces 0-60 mph from 4.6 to 4.4 seconds – the new engine is definitely sweeter.

There are not much changes to the chassis, but we all know the original CLS55 was already better than its E-class cousin. Thanks to the lower center of gravity brought by the lower roof and lower ride height, in addition to the quicker and meatier steering, the CLS delights keen drivers as much as BMW M5 yet without its hard-edge ride. The Airmatic DC suspensions provide incredibly smooth ride for this performance level.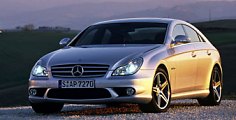 The biggest improvement to the chassis is braking. Ditching the troublesome SBC electronic brakes, it gets a conventional set of hydraulic brakes with cross-drilled discs measuring 360mm up front and 340mm at the rear. The front discs are even made of ceramic composites. The new braking system brings a much more progressive, natural and feelsome pedal action.

With better brakes, quicker transmission and an eager new V8, CLS63 seems capable of beating M5 as the best performance saloon, provided you classify it as a saloon instead of 4-door coupe. Of course, before they encounter we won't know who is going to be the ultimate winner.
The above report was last updated on 7 Aug 2006. All Rights Reserved.
General remarks


CLS350

CLS500

CLS55 AMG

Layout

Front-engined, RWD

Front-engined, RWD

Front-engined, RWD
Chassis

Steel monocoque

Steel monocoque
Steel monocoque
Body

Mainly steel

Mainly steel
Mainly steel
Length / width / height
4913 / 1873 / 1403 mm
4913 / 1873 / 1403 mm
4913 / 1873 / 1389 mm
Wheelbase
2854 mm
2854 mm
2854 mm
Engine

V6, 90-degree

V8, 90-degree

V8, 90-degree
Capacity

3498 cc

4966 cc
5439 cc

Valve gears

DOHC 24 valves, VVT

SOHC 24 valves, VVT
SOHC 24 valves, VVT
Induction

VIM

VIM
Supercharger

Other engine features

-

Twin-spark

Twin-spark
Max power

272 hp
306 hp
476 hp

Max torque

258 lbft
339 lbft
516 lbft

Transmission

7-speed automatic

7-speed automatic

5-speed automatic

Suspension layout

F: 4-link
R: multi-link

F: 4-link
R: multi-link
F: 4-link
R: multi-link
Suspension features

-

Adaptive air spring + damping

Adaptive air spring + damping
Tyres front/rear

245/45ZR17

245/40ZR18

F: 255/40ZR18
R: 285/35ZR18
Kerb weight

1655 kg

1735 kg

1845 kg

Top speed

155 mph (limited)
155 mph (limited)

155 mph (limited)
0-60 mph (sec)

6.7 (c)

5.5* / 5.8**

4.6 (c) / 4.2*

0-100 mph (sec)

-

14.0* / 14.5**

9.7*

Performance tested by:
*C&D, **Autocar


CLS350 CGI (2006)

CLS500 (2006)

CLS63 AMG (2006)

Layout

Front-engined, RWD

Front-engined, RWD

Front-engined, RWD
Chassis

Steel monocoque

Steel monocoque
Steel monocoque
Body

Mainly steel

Mainly steel
Mainly steel
Length / width / height
4913 / 1873 / 1403 mm
4913 / 1873 / 1403 mm
4915 / 1873 / 1389 mm
Wheelbase
2854 mm
2854 mm
2854 mm
Engine

V6, 90-degree

V8, 90-degree

V8, 90-degree
Capacity

3498 cc

5461 cc
6208 cc

Valve gears

DOHC 24 valves, VVT

DOHC 32 valves, VVT
DOHC 32 valves, DVVT
Induction

VIM

VIM
VIM
Other engine features

DI

-

-
Max power

292 hp / 6400 rpm

388 hp / 6000 rpm

514 hp / 6800 rpm

Max torque

269 lbft / 3000-5100 rpm

391 lbft / 2800-4800 rpm

465 lbft / 5200 rpm

Transmission

7-speed automatic

7-speed automatic

7-speed automatic

Suspension layout

F: 4-link
R: multi-link

F: 4-link
R: multi-link
F: 4-link
R: multi-link
Suspension features

-

Adaptive air spring + damping

Adaptive air spring + damping
Tyres front/rear

245/45ZR17

245/40ZR18

F: 255/40ZR18
R: 285/35ZR18
Kerb weight

1660 kg

1760 kg

1830 kg

Top speed

155 mph (limited)
155 mph (limited)

155 mph (limited)
0-60 mph (sec)

6.3 (c)

5.1 (c) / 4.7*

4.4 (c) / 4.1*

0-100 mph (sec)

-

11.6*

9.8*

Performance tested by:
*C&D