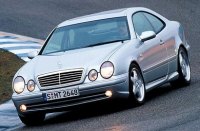 As many people know, the CLK is simply a C-class coupe with E-class's headlamps. Theoretically, C-class donate all its good ingredient to the CLK, such as rear-wheel-drive transmission, front double wishbones and rear multi-link suspensions. Also theoretically, the stiffer spring and damper setting, lower ride height and lower roofline can sharpen its handling, while the variety of engines, from SLK's 2.3-litre Kompressor four to C55's mega V8, should place the CLK in multiple segments competitively.

Sadly, all these theoretical advantages didn't really came true. Besides the odd headlamps, we have many reasons not to love the CLK. The biggest flaw is the numbness of steering feel, which has been the weakness of any C-class, including AMG models. We know Mecedes' recirculating ball mechanism is not good at providing communication between black top and driver, but in the sportier CLK, which faces sportier rivals than the C-class sedan's, the lack of steering feel becomes more apparent. Take a front-wheel-drive Peugeot 406 Coupe for comparison, you'll find the pricier CLK is so lack of information flowing to the driver's hands. Although weighting is fine, steering response is slow. This devoid it of any driving fun.

Tough competition is the next problem. Looking around, there are many good coupes - Peugeot 406 Coupe is not only significantly cheaper, but also performs better in most area, say, handling, ride and styling; BMW 328Ci is perhaps the most complete coupe at the middle price range, elegantly built yet overwhelms the CLK in all area; Jaguar XK8 and XKR makes the CLK430 feels mainstream; Enthusiastic drivers must choose the Porsche 911 Carrera instead of CLK55 AMG.

All the CLK models are quite compromised for their target segments:
CLK230K - not only overpriced, its supercharged four is harsh and uninspiring;
CLK320 - refined V6, but the rest of the car doesn't match such refinement. Ride is too firm and suffers from low speed bumps.
CLK430 - it thought it is a prestige coupe, but nothing can hide its compact size and C-class origin.
CLK55 AMG - the chassis simply cannot cope with the huge power and speed. ESP always engage. Switch it off and the car becomes difficult to control fluently. Very stiff ride is a compromise.

The strength of CLK, for somebody rather than myself, is the elegant styling with a 3-pointed star at the nose. Build quality used to be Mercedes' strength, but when facing a 328Ci or a XK8, you can hardly call it high quality. There are sufficient cabin space for 4 adults, in case the rear occupants are not too tall. However, 406 Coupe seems more generous about that.