McLaren MP4-12C






Debut: 2011


Maker: McLaren


Predecessor: No







| | |
| --- | --- |
| Published on 20 Jul 2011 | All rights reserved. |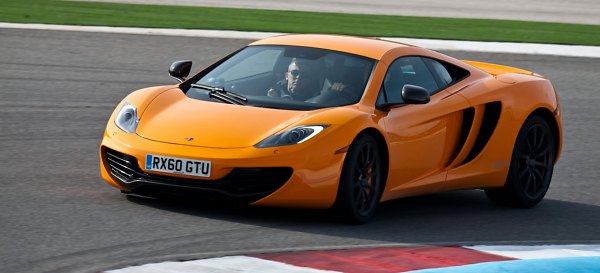 In the Formula One world, only one name can rival Ferrari: McLaren. Since Ron Dennis and John Barnard's Project Four took over McLaren in the early 1980s, the team produced 10 driver championships – one for Niki Lauda, three for Alain Prost, three for Ayrton Senna, two for Mika Hakkinen and one for Lewis Hamilton. All their race cars carried the name

MP4

, an acronym for McLaren Project Four. Today, McLaren wants to challenge Ferrari in the road car world with another MP4. The MP4-12C signals the relaunch of McLaren Automotive as a sports car manufacturer. Previously, the company was renowned for making the mighty McLaren F1 and then (the less successful) Mercedes SLR. Both were ultra-expensive supercars, but they hardly made any money. This time around, McLaren is determined to make a business case. Ron Dennis left the F1 team and took over the responsibility for the road car division. A new assembly plant is being built at Woking for the production of MP4-12C, whose price of £170,000 allows it to take on Ferrari 458 and Lamborghini Gallardo (as well as some serious 911s and Astons) in a broader market segment. Its sales volume is projected to 1500 cars a year, a day-and-night difference to the 100 F1s and 2153 SLRs produced over their entire life cycles. In addition to other variants and siblings to come in the future, McLaren is anticipated to produce 4,000 cars a year, which should make it a solid rival to Ferrari, Lambo and Aston.

Given the glorious track record of the Gordon Murray-designed F1, our expectation on the MP4-12C is inevitably high. The new car might be less groundbreaking than the old car – after all, its more affordable price does not allow the strive-for-excellence-at-any-costs approach of Gordon Murray – but it does not disappoint. It introduces many firsts for the class: the first carbon-fiber chassis, the first hydraulic interconnected adaptive suspension and the first air brake for the class. Moreover, its performance is nearly as astonishing as the F1. With a top speed of 205 mph, 0-60 and 0-124 mph sprint taking just 3.0 and 8.9 seconds respectively, it is significantly faster than the car it needs to beat: Ferrari 458. Our only question is: can its on-paper superiority be translated to the real world ? We'll find out soon.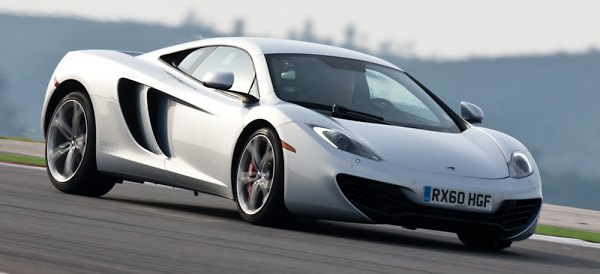 Design, Body and Aerodynamics



The MP4-12C is designed by an unlikely guy, Frank Stephenson. I used to respect Stephenson a lot as he designed two of the best modern classics, Mini and Fiat 500. Although he also involved Ferrari F430, 599GTB and Maserati GranTurismo during his stint at Ferrari, we will never know how much he contributed to the otherwise Pininfarina designs. This McLaren is probably his first attempt to design a sports car from scratch.

From some angles, the MP4-12C looks quite handsome. It looks fast, adequately advanced and obviously mid-engined. Nevertheless, the same descriptions can be applied to just any of its competitors – well, with the exception of Noble M600 perhaps. Judging by the high standards of supercars, its design is a little tamed, a little too ordinary. Ferrari 458 gives us a strong visual impact thanks to its sexy curves and aggressive features. Lamborghini Gallardo delivers a sense of brutal power and uncompromising character. The McLaren has none of them. It's not even a gentleman sportscar like Aston V12 Vantage or the Duke of SLS AMG. In particular, character is strangely missing here. It doesn't share any visual genes with the famous F1. That could be a big mistake. On the contrary, it has quite a lot of similarity with the late Ascari KZ1, which puzzles me.

From some angles, the MP4-12C could look a little bulky – the nose is not slim enough, the whale mouth a little clumsy, the inward-facing eyes lack sparkles, the A-pillars too thick, the waist line appears too high, the side air scoops oversized and the butt too big. The back looks much better though. Its LED taillights and twin-exhaust are hidden in the black grille like no others. Less unique is the back window which lets us have a full view on the engine. This arrangement looks cool, especially when it is surrounded by hot air outlets to deliver a sense of exoticness. A pity the rest of the car does not look as exotic.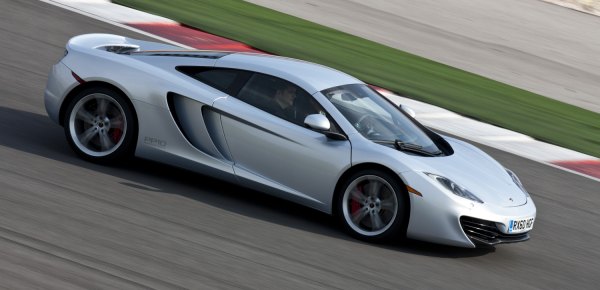 If you inspect these photos closely, you may find the body shell does not look as high quality as it should. Panels are generally thicker than what need to look elegant, while assembly gaps are wider than class norm. This is because the majority of body shell is constructed from SMC (Sheet Molding Compound), or in other words, glass-fiber composites. Only the small front fenders, front bonnet and roof are made of stamped aluminum. Glass-fiber is lighter than aluminum, but it does not achieve the same tight tolerance as aluminum. That's why for the sake of visual quality Ferrari and Aston Martin still employ aluminum for the majority of their body shells. McLaren chose the otherwise priority.

Like many modern supercars, its shape is dictated by the needs for aerodynamics and cooling. Those XXL side air scoops are designed to cool the main radiators, which are mounted close to the engine to cut piping and coolant weight. The much smaller intakes at the nose are responsible for cooling the intercoolers of turbochargers. Such arrangement is very different to the cases of Ferrari 458 and Lamborghini Gallardo, both have their radiators mounted at the nose, thus require larger front intakes and smaller side intakes.

McLaren did not reveal any aerodynamic figures. Judging from its performance figures (205 mph from 600 hp), which is close to those of Ferrari 458 (202 mph from 570 hp), its aerodynamic drag should be more or less the same as the 0.33 of Ferrari. Unlike Ferrari, however, its aerodynamic design seem to be pretty conventional. A large part of downforce is contributed by the movable rear wing, which raises up to 32 degrees at speed. During braking, it doubles as "Air Brake" by lifting to 69 degrees, blocking air and helps slowing down the car. You might remember the Air Brake was pioneered by McLaren F1 and has been used in SLR as well. Now it becomes a signature of McLaren.



Air Brake is the signature of McLaren

Chassis and Weight Savings



While its Ferrari and Lamborghini rivals employ aluminum spaceframe chassis, the McLaren has a more advanced carbon-fiber tub - after all, the maker of F1 and SLR has never manufactured a metal chassis. Called MonoCell, the carbon-fiber tub is made in one piece through RTM (Resin Transfer Molding) process, unlike conventional carbon-fiber chassis which are made in dozens of components bonded together. This saves manufacturing time and cost significantly. McLaren said it takes only 4 hours to build, versus 300 hours on the previous SLR and 4000 hours on the F1 ! As a result, production cost is slashed to about US$10,000, making the technology possible for this class for the first time.

The carbon-fiber tub provides direct mounting for the double-wishbone front suspensions. At the back, an aluminum engine subrame supports the powertrain and double-wishbones rear suspensions in order to filter NVH from the cockpit. Aluminum subframe is also presence up front, but it is used to provide crumple zone. For cost reasons, MP4-12C abandons the carbon-fiber crash structure pioneered by SLR. The windscreen pillars are made of aluminum casting and reinforced with baron steel tubes. All these show that McLaren has learned from errors in the past. Now it uses expensive technologies only at areas where matter most.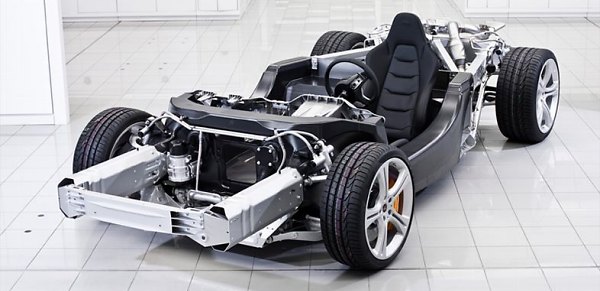 Carbon-fiber tub is the first in the class


The MonoCell weighs less than 80 kilograms. It's not the only weight saving measure though. Others include a magnesium dashboard structure, magnesium seat frames, lightweight lithium-ion battery, aluminum electrical wires (saves 5 kg over copper ones) and AP cast-iron-aluminum disc brakes (whose aluminum hubs save 2 kg per corner, making it actually lighter than the optional ceramic discs). Overall, the car is a good 50 kg lighter than Ferrari 458.

A further 35 kg can be saved by ticking the lightweight option, which includes lightweight wheels (save 2.5 kg each corner), Recaro carbon-fiber seats, carbon-fiber splitter and diffuser, lightweight Inconel alloy exhaust and Brembo ceramic brakes. Besides, the package comes together with semi-racing Pirelli P Zero Corsa tires.

The MP4-12C has a front-to-rear weight distribution of 42.5:57.5, half a percentage point better than Ferrari 458. It also claims better polar moment of inertia and chassis rigidity.

Engine and Gearbox

McLaren has never built its own engines, no matter for race cars or road cars. For the MP4-12C, it commissioned British engineering consultant Ricardo to develop a 3799 cc twin-turbo V8 capable of producing 600 horsepower and 442 pound-foot of torque. Rumors said it was derived from a Nissan endurance racing motor. If so, its ties with the latter must be very loose. This engine not only complies with all known emission regulations, it is also arguably the "greenest" high-performance motor. Emitting only 279 grams of carbon-dioxide each kilometer in EU test mode, it is considerably greener than Ferrari 458's naturally aspirated V8 (at 320 g/km) or just any rivals. McLaren claims it delivers the highest horsepower-to-emission ratio in the world.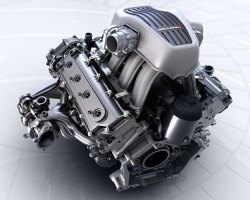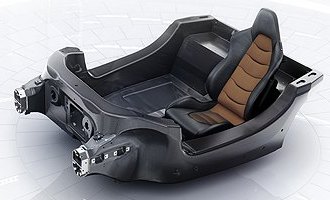 The V8, codenamed M838T (which obviously means McLaren, 8 cylinders, 3.8-liter and Turbo), is compact and lightweight. Predictably, it runs dry-sump lubrication to enable a lower center of gravity. Weight is kept to the minimum by using flat-plane crankshaft (like Ferrari V8s) and thermoplastic to construct the cam covers and intake manifolds. Two Mitsubishi turbochargers provide a maximum boost pressure of 1.2 bar. The 32 valves are controlled by variable cam phasing. The only critical technology missing here is direct fuel injection, though it seems to hurt little its emission.

Torque curve shows the engine is highly flexible. Max. torque is available from 3000 to 7000 rpm, while 80 percent of which arrives as early as 2000 rpm.

On the other hand, the engine can rev to as high as 8500 rpm, just 500 rpm shy of Ferrari, which is undeniably impressive for a turbocharged engine. This must thanks to its low-inertia flat crankshaft, seriously oversquared combustion chambers (93 mm bore x 69.9 mm stroke) and Nikasil cylinder coating.

Mounted right behind the V8 is a 7-speed twin-clutch gearbox dubbed "Seamless Shift Gearbox" (SSG). Although Ricardo has long developed one for Bugatti Veyron, the one mated with the Ricardo V8 is supplied by Italian gearbox expert Graziano, which finally joins Getrag and ZF to the party of twin-clutch. Like Ferrari, the software and controls are developed in-house. The McLaren follows its formula one practice to employ a single gearshift paddle, which carries out upshift and downshift by pulling or pushing the paddle. Besides, it enables the driver to preselect the next gear by half-pressing the paddle, just like half-pressing the shutter button on a camera to carry out focusing. Therefore, once the paddle is fully pressed, the next gear can be actuated instantly. McLaren calls this feature "Pre-cog".



Suspensions and Electronic Aids



The all-round double-wishbones suspension employs coil springs and forged aluminum control arms. What makes it unusual is the lack of anti-roll bars and conventional dampers. In place of them is a computer-controlled hydraulic suspension system that McLaren called

PCC

, or Proactive Chassis Control. It uses a twin-chamber cylinder at each corner. The cylinders are interconnected front and rear, left and right hydraulically. Two gas-filled accumulators connected to the hydraulic circuits actuate the resistance to body roll, while adjustable valves at each cylinder alter the rate of oil flow hence damping rate. Consequently, the PCC offers the function of adaptive damping as well as active anti-roll. Because it saves the need for anti-roll bars, ride comfort could be greatly improved on rough surfaces. On the other hand, the active anti-roll allows MP4-12C to offer the best body control and roadholding in the class. Ron Dennis even describes it "the best handling sports car in history" !

The hardware of PCC is supplied American component maker Tenneco. Its theory can be found in AutoZine Technical School.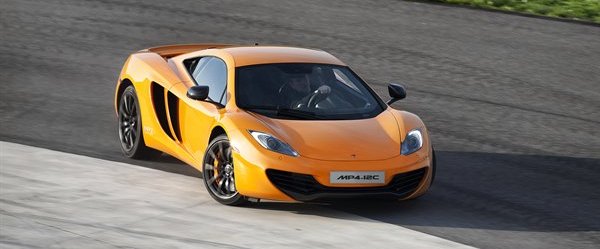 Ron Dennis: the best handling sports car in history !


Like most performance cars these days, the McLaren offers a driver-selectable dynamic control system. On the center console there are two rotary switches, one marked with "P", which controls Powertrain, and another marked with "H", which controls Handling. Both of them offer 3 modes – Normal, Sport and Track. It goes without saying that the Sport modes activate faster engine and gearshift response, louder exhaust note, firmer PCC suspension setting, weightier power steering and higher threshold for the stability control, while the Track modes are hotter still.

Nevertheless, the McLaren's handling design is not all that superior. Its Achilles' heel is the lack of a limited slip differential. Yes, it might be strange to hear that on a car at this performance level. Instead of LSD, McLaren applies its ex-F1 technology,

Brake Steer

, to control the car's cornering attitude. In case of understeer, the system soft-brakes the inside rear wheel, shifting more power to the outside rear wheel thus counteracting the understeer. So what is the difference from the torque vectoring that you can find in, say, a Volkswagen Polo ? Actually, there is no difference except the software. We believe with McLaren's wealth of experience in testing and simulations it is able to write better software, but so can Ferrari and Porsche. The fact that those rivals still employ active LSD may imply the torque vectoring technology is still no replacement to a good active differential.



In the Car



Like F1, the MP4-12C employs "butterfly doors" which open upward and outward. They are not very user-friendly though. First timers may be embarrassed to find no door handles. Instead, you run your hand over a sensor located under the door lip to release the electric door lock. Lift the lightweight door and a dark cabin is revealed.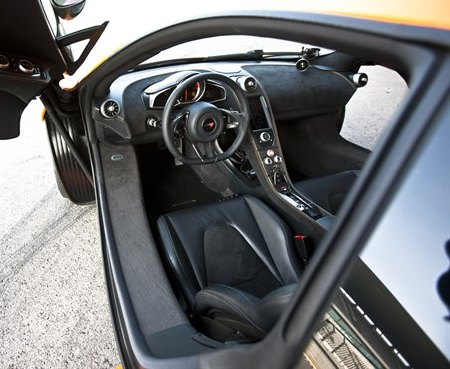 Like the F1 again, the cabin is trimmed with black Alcantara and carbon-fiber, very different to the leather-and-alloy approach of Ferrari. The seating layout is conventional, rather than the F1's central driving seat plus two offset passenger seats, as McLaren wants to make it easier to access. Nevertheless, with a wide sill of the MonoCell to overcome, it will never be as easy to access as rivals. The wide sills also rob a lot of space, so the two seats are pushed towards the center of the car, thus you are more likely to rub shoulders with your passenger. On the positive side, the cabin offers plenty of headroom, and visibility over the road in front is excellent.

The cabin is a little lacking visual drama. This is not helped by a Volvo-style floating console on which a narrow touch-screen is mounted. Fit and finish is generally not bad, but the details could be more expensive to match its price. The "H" and "P" rotary switches should have been made in metal instead of plastic. The steering wheel looks quite aftermarket.

In-cabin storage is close to zero. The tiny space behind the seats is nearly useless, so any luggage has to be stored in the front luggage compartment, whose size is not at all generous.

On the Road

The performance of MP4-12C can be described as mind-blowing. It beats anything in the class in standing-start acceleration, Ferrari 458 and Porsche GT2 RS included. (Note: the mediocre test results by Autocar shown below were conducted on a showery day. Even so, they were already a match to its rivals') With lightweight options and Pirelli P-Zero Corsa rubbers, the car is claimed to sprint from zero to 124 mph (200 km/h) in only 8.9 seconds, 1.5 seconds quicker than Ferrari and half a second quicker than GT2 RS.

The twin-turbo V8 is very strong and flexible, delivering meaningful thrust from as early as 1500 rpm. From 3000 to 8500 rpm cut-out, the car really flies. Thanks to a quick-shifting dual-clutch gearbox and a good traction control, the McLaren takes off with minimal drama. Speed is built up quickly and smoothly. Such an accessible performance is more in the school of Bugatti Veyron than the old McLaren F1.

How does it sound ? If you have heard about it in videos, you may be disappointed. Yes, the exhaust noise can be very loud, especially when the engine revs hard in Track mode (where a dedicated tube inducts noise from the intake plenum to the cabin), but that noise is not to be confused with music. It just tells you it is working hard, without ever trying to touch your soul.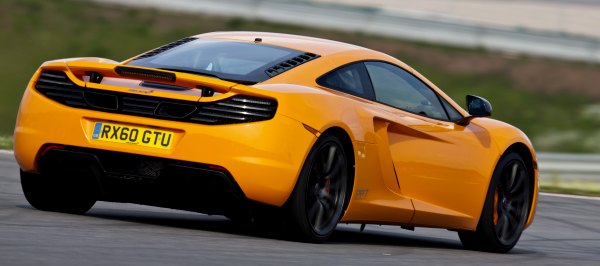 The McLaren serves the dual-task of supercar and GT, more so than Audi R8.


In isolation, the Graziano transmission is excellent. It shifts smoothly and responsively. Although it doesn't blip throttle on downshift to match rev as good as in Ferrari 458, we can understand that a turbocharged engine is difficult to blip throttle as quick as a naturally aspirated one. What ruins the driving experience is the user interface – McLaren's single shift paddle is not only unintuitive, but it is stiff and requires absurd effort to trigger, blame to the need to differentiate the "Pre-cog" action and actual gearshift. Lewis Hamilton and Jenson Button might feel okay, but road users will find otherwise.

The carbon-ceramic brakes also left something to be desired. Although they offer fade-free performance, the brake pedal is flawed. There is some dead travel initially. Once overcome, the brake works like a switch, which means very difficult to modulate the amount of braking force. The ceramic brakes are also noisy. It is better to stick with the standard steel brakes.

However, these flaws become nothing when you experience the McLaren's amazing ground-covering ability. Its hydraulic suspension system is a work of wonder. In Normal mode, it lets the car to ride as supple as a Mercedes E-class, let it be cruising on motorway or riding on a bumpy B-road. Even in Sport mode, it rides much better on rough surfaces than rivals in their most comfortable settings. As a result, you can go cross-country at enormous speed without feeling scared or tired.

Attacking corners, the hydraulic suspension keeps the car rock steady. Roll, pitch and dive are nearly non-existent. It feels planted on road as if on rails. Consequently, it generates more grip and you can carry bigger speed into corners than rivals. We have never seen a car combining such a great handling and ride comfort. The McLaren serves the dual-task of supercar and grand tourer, more so than Audi R8 !

But the Proactive Chassis Control system is not by all means brilliant. Sometimes it could be fooled by a sudden bump on a smooth road, and the ride becomes unsettled and noisy for a while. Oddly, we found the same problem on the previous hydraulic suspensions of Citroen.





The biggest problem is the presence of Ferrari 458...

Perhaps the biggest problem of the MP4-12C is the presence of Ferrari 458. When the McLaren was being developed, it was benchmarked against 430 Scuderia. That target was well accomplished, but I guess McLaren had never thought the succeeding Ferrari could take a leap so huge. Although MP4-12C still sees victories in performance, ride and roadholding, it is shattered by the Ferrari in almost every subjective aspect – its slight turbo lag contrasts to the Ferrari's instantaneous throttle response; its exhaust note is un-special beside the Ferrari's; its steering isn't as quick and communicative; its isolated ride sometimes makes you feel detached from the road; its brake and gearshift interfaces are far less incisive than Ferrari's; its look doesn't stir your soul like the 458. In short, it lacks the emotion and sensation you can find in the Ferrari.

On an unfamiliar road, the McLaren is unquestionably faster than the Ferrari. On a track, the balance may tip to the other side. As CAR magazine found out in its group test, the Ferrari outpaced the McLaren in Rockingham circuit. Evo magazine had a similar finding in Bedford Autodrome. The McLaren's lap times were hampered by the slight turbo lag, difficult brake and the lack of flexibility in its handling, all combined to prevent a precise control of driving line, therefore failing to translate the superior power and torque to faster lap times. As we have suspected, its Brake Steer is no replacement to a good active limited slip differential. Sometimes it could ruin the handling by applying correction at the wrong time and magnitude, so when you apply a quick opposite lock to induce oversteer, it might end up swapping its ends. No wonder Autocar, a keen supporter of the British marque, described in its full test report that the McLaren needs the driver "to do things its ways, not yours", and it cries for "more flexibility in the way it allows its driver to attack a corner".

So Ron Dennis' claim of "the best handling sports car in history" is somewhat overstated. We have no doubt about its speed and cross-country ability. It may be the fastest A-to-B car, and probably the only super sports car that serves the role of grand tourer equally well. All these merits should make the MP4-12C a five-star car, but it just can't match the very best Ferrari.
Verdict:





| | |
| --- | --- |
| Published on 22 Oct 2012 | All rights reserved. |
MP4-12C Spider


The experience of Ferrari shows that open-top versions of high-end sports cars are usually better selling than their coupe brothers. This phenomenon is even more obvious on the new McLaren MP4-12C Spider. McLaren estimates as much as 80 percent of all buyers will choose the Spider over the Coupe, even though it costs 10 percent more. Why? Because the Spider offers the joy of open-air motoring and greater aural excitement without compromising driving dynamics. While other rivals, including the mighty 458 Spider, loses chassis rigidity together with the roof structure, the MP4-12C Spider uses carbon-fiber tub (MonoCell) that does not depend on the roof for chassis rigidity. This mean it is every bit as stiff as the Coupe. As it does not need any extra reinforcement, the weight penalty it gets is only 40 kg, all comes from the electric folding roof and electric rear window. This compares favorably with 458 Spider, which adds 50 kg and loses 30 percent torsional rigidity.


Aesthetically, the conversion to open top is quite successful. A pair of flying buttresses (like the 458 Spider) standing freely from the engine lid and reminds you the company's connection to Formula One. They double as roll-over bars to protect the cabin. Also like the Ferrari, a vertical glass rear window can be raised by the press of a button to reduce buffeting and noise. Nevertheless, the wind management on McLaren is less effective than the Ferrari's. At 80 mph on motorway, the buffeting is well beyond acceptable level, while wind noise is so loud that you have to raise your voice to talk with the blondie beside.

The 2-piece folding roof is made of sheet molding composites just like the rest of the body shell. It can be stowed behind the cabin in 17 seconds. When the roof is up, an extra luggage space is revealed and you can place a pair of custom bags.


On the road, the 40 kg extra weight can hardly be felt. The car accelerates, rides, handles and steers just as brilliant as the Coupe because it shares the same chassis rigidity and suspension setting. Moreover, like the Coupe, it gets the latest ECU mapping upgrade to promote the sense of emotion – something used to be its biggest weakness. Now the power delivery is a little bit more urgent at the last 1000 rpm. Peak output is lifted by 25 horsepower at 500 rpm higher the rev. The gearshift becomes a little quicker and crisper at Sport and Track mode, while auto mode sees a bit more smoothness than before. Sound quality is also improved – louder, angrier and more brutal, though the sound quality is still no match with Ferrari's high-revving naturally aspirated V8.

With a top speed of 204 mph and 0-60 acceleration of 3.0 seconds, this could be seen as the ultimate open-top supercar unless you can afford a Bugatti Veyron Grand Sport. Its performance and handling are superior to its closest Ferrari rival. However, 458 Spider still offers a sexier look, tighter panel fit, more aural excitement as well as a better engineered roof. While it might lose to the McLaren in a number of essential objective areas, it is still the most desirable choice.

Verdict:





| | |
| --- | --- |
| Published on 9 Apr 2014 | All rights reserved. |
650S


With 1300 units sold last year, MP4-12C has been quite a success. No doubt a large part of it comes at the expense of Ferrari and Aston Martin. This explains why Aston has been troubling by sales decline recently while Ferrari made an unexpected announcement about stop chasing for volume. However, McLaren cannot afford to take a rest at this moment. The 12C is still trailing 458 Italia in a number of key areas, let alone the newer 458 Speciale, which is a sizable leap again. A lot can be improved upon the 12C, in particular its ungainly front-end styling, non-linear brake feel and the general feeling of lacking sharp responses compared with Ferrari. Moreover, Woking has learnt a lot how to tune the chassis and engine in the development of P1 and these know-hows can feed back to the production car. Consequently, the 12C has received an early modification and evolved into 650S.

The name 650S implies its new found power – now a class-leading 650 hp, 50 ponies more than the original 12C or 25 more than the 2012 tweak. However, its modifications are far broader than that. In fact, some 25 percent of all components have been changed in the update. First of all, its whole front-end has been restyled with reference to P1. It definitely looks more stylish than the old car, if still lacking the classy finish of Ferrari and Aston. Like P1, its new headlamps have added LED stripe lights to look fancier. The center section of the front bonnet is set deeper, promoting the now-curvier flanks and improves the aesthetic a lot. At the side, the only change is the large air intake, which gets a carbon-fiber trap cover which not only looks more purposeful but also increases airflow to cool the engine. McLaren did not touch the rear end as it considered that to look fresh enough. Overall, the new body generates 40 percent more down force at 150 mph, now totalling 100 kg.


To enable the increased power, the Ricardo M838T twin-turbo V8 gets lighter pistons, re-ported cylinder heads, revised cam profiles, larger exhaust valves, re-mapped ECU and an exhaust system with reduced backpressure. Peak torque increases from 442 to 500 lbft, allowing the McLaren to extend its performance advantage over rivals – 0-60 mph now drops to only 2.9 seconds, while 0-100 mph can be done in a staggering 5.7 seconds, a full second clear of 458 Italia! This car offers performance remarkably close to those million-dollar supercars. In the subjective side, the new car's exhaust note is benefited by the revised ECU, which retards ignition on upshifts to produce a more aggressive blat-blat noise. Meanwhile, revised gearbox program makes the gearshift a tad smoother at low speed. Both aspects inch closer to the territory of Ferrari.

McLaren also rethought its suspension tuning. Front and rear springs have been stiffened by 22 and 37 percent respectively, while recalibrated hydraulic system (Proactive Chassis Control) and lighter forged alloy wheels largely compensate the loss of low-speed ride comfort. For a high-performance sports car, the McLaren is still remarkably comfortable to drive at leisure pace. Drive harder, you will appreciate the added alertness the stiffer suspension brings. Turn-in gets quicker and the steering responses sharper, if not ultimately as direct as Ferrari's. Pirelli P-Zero Corsa tires now come standard and its compound is specially revised for the 650S to generate more grip. Likewise, carbon-ceramic brakes become standard fitment. Its pedal feel has been much improved, giving a far more progressive response. The harder you push, the better the car goes. The recalibrated ABS, ESP and Brake Steer intrude less in Track mode and give you a wider scope to exploit the chassis. The lack of active differential no longer seems to be an issue.


Is it as good as 458 Speciale? I suppose the latter still has an edge in a number of areas, such as an instantaneous throttle response from its naturally aspirated motor, a more aggressive exhaust note, a slightly faster gearchange, a bit quicker steering and probably a more beautiful control of power slide through its Side Slip Control. It is also more beautiful to look, feels more special (especially inside the cockpit and the engine compartment) and more precise in build quality. The 650S strikes back with its stronger performance and a slightly lower price tag at £195,000, even though it is already an increase of £20,000 over its predecessor. Both cars can be considered as winners in the eyes of car enthusiasts. That is probably the worst news to Aston.

Verdict:





| | |
| --- | --- |
| Published on 7 Aug 2015 | All rights reserved. |
675LT


When the original McLaren MP4-12C was introduced 4 years ago, it wasn't quite perfect. No matter engine, handling or styling, it lived under the shadow of Ferrari 458. However, like a raw diamond, it had potential to be great. In Formula One fashion, McLaren learnt quickly, sharpening its techniques and sorting out the problems one by one. When 650S arrived, it was almost a match to the Ferrari. Unfortunately, by that time Ferrari had already upped its game with 458 Speciale, which was (and probably still is) the most thrilling sports car ever existed. It took McLaren nearly 2 years to respond, and the result is 675LT.

Ridiculously, when the 675LT arrives, Speciale is already gone. Ferrari's latest weapon is the turbocharged 488GTB. Although merely 5 horsepower separating the new Ferrari and McLaren, they are not direct rivals. The Ferrari is a standard production car designed primarily for road use, whereas the 675LT is a stripped-out edition oriented to tracks, just like the late Speciale. Its production is limited to 500 units. At £260,000, it is an eye-popping 40 percent more expensive than the 488, or 25 percent more than what Speciale asked for. It is unusual that a McLaren dares to charge more than the equivalent Ferrari. Considering its less sexy looks, lower perceived quality and a less prestigious badge, it had better to be great to drive…

The name 675LT refers to its horsepower count and "Long Tail", the latter is a gimmick I would say. While the original Longtails, the 1997 McLaren F1 GTR race car and F1 GT road car, sported a massively extended tail to increase downforce, the 675LT is only 37 mm longer than the 650S, and that already includes the longer front splitter! From these pictures, it is really hard to tell whether its tail is longer. However, more obvious to our eyes is lower. Its front suspension is lowered by 20 mm, pushing the massive front splitter closer to the ground (note: so low that it needs a front lift system to avoid scratching the nose on B-roads). This also increases the rake angle of the whole car to increase downforce. Same goes for the 50 percent larger rear spoiler (aka "Air Brake") and larger side skirts. The front and rear tracks are extended by 20 mm, and now they are housed under fenders made of carbon-fiber instead of glass-fiber.


In fact, the front bumper as well as the entire body work aft of the B-pillars are also made of carbon-fiber. Weight saving is crucial to track specials like this. The 675LT is 100 kg lighter than the 650S. At 1328 kg with fuel and fluid on board, it is extremely light these days, especially for one possessing nearly 700 horsepower. It goes without saying the carbon-fiber Monocell tub is a good starting point, but the 675LT needs also to take an extensive diet to lose weight, such as using thinner windscreen, polycarbonate rear screen, a 10 kg lighter engine, titanium exhaust, lighter wheels, and of course the stripped out interior. In standard guise it has the air-con discarded to save a valuable 11 kg, though you can opt it back free of charge. The carbon-fiber racing buckets (taken straight from P1) save another 15 kg. Alcantara trim shaves 3.5 kg over leather.

Changes to the M838TL engine is more extensive than the numbers suggested. McLaren claims more than half the components are new, and some come from the P1. The new connecting rods are 11% lighter to enhance enthusiasm for rev (though max rev remains at 8500 rpm). The turbos are the same size, but they get new compressor turbines machined from a solid block of aluminum to optimize weight, strength and flow (though Ferrari's titanium turbines are undoubtedly lighter). The turbo wastegates are now controlled by electronics rather than mechanicals. The new titanium exhaust reduces back pressure. The camshafts, cylinder heads, exhaust manifolds and fuel injection have all been revised. Besides, the side radiators are now better cooled by larger side intakes. The outcome is 675 hp and 516 lbft of torque, versus 650 hp and 500 lbft on the 650S.

Modest gain that might sound, in the real world the new V8 feels quite a lot stronger. It revs faster and keener especially at the upper half of its rev range, thanks to the reduced inertia as well as the faster gearshift. In the most aggressive mode, the engine now cuts ignition instead of fuel on upshift. Once the ignition is resumed, it can get back to power almost immediately as fuel is already sprayed into the combustion chambers. The resulting upshift can be brutal but exciting, as the acceleration is really terrifying – it takes only 2.8 seconds from 0-60 mph, and 7.9 seconds to 124 mph, 0.1 and 0.4 second respectively faster than 488GTB! Another benefit is additional pops and crackles on overrun, as unburned fuel ignites at the downstream exhaust system.


That said, the Ricardo-built V8 is never a model for sound quality. Even though it shouts louder in the thinly insulated 675LT, the soundtrack is more industrial than emotional. Likewise is the power delivery. Compared with the very best turbo motor of 488GTB, it lacks the almost lag-free low-down response and the superb linearity over the entire rev range. It feels more boosty, more conventionally turbocharged, although not as obvious as 650S because its top end is keener. The full boost at around 4500 rpm might bring more drama than Ferrari's regulated mid-range, but for road use it is definitely not as desirable. Of course, we still miss the normally aspirated V8 of Speciale, whose sound and throttle response are on another league again.

Like 488GTB, the 675LT is so fast that it could be insane for road use. It needs a race track to exploit its incredible performance. Here, its chassis upgrade shines. The semi-slick Pirelli P Zero Trofeo R rubbers generate 6 percent more grip than those of the 650S, at least on dry surfaces. The stiffer suspension setup, with spring rates increased by 27% up front and 63% at the rear axle, results in even flatter cornering and braking. The modified aero kits bring 40% more downforce, which helps pressing the car on the track at high-speed bends. This is a car you can push incredibly hard on track with full trust!

What's more impressive is the steering. Its steering rack ratio is 10% quicker than that of the 650S. This gives it a sharp turn-in that the 650S lacks. Meanwhile, its extra weight gives a more reassuring feel than the light yet ultra-fast steering of Ferrari. The car is better balanced than before, too. The combination of wider front track and extra front-end grip means it is no longer default to understeer like 650S. It stays neutral as you push it deep into corner, and then it is happy to shift to oversteer should you plant the throttle pedal or flick the steering. This extra adjustability and playfulness gives you a lot more fun than you can achieve in the 650S. Ultimately, however, McLaren's reliance on Brake Steer instead of a true active differential means you can't quite hold the powerslide as precisely as the SSC-enabled Ferrari.

How about its behavior on normal roads? Sure, the low-speed ride is stiffer than 650S, but in the softest setting it is still capable to cover B-roads without causing back pain. As speed rises, its ride improves further, becoming flat and composed. The hydraulically interconnected adaptive suspensions (aka "Proactive Chassis Control") still has an edge over conventional adaptive dampers. This allows the 675LT to be used as a cross-country weapon better than track specials have any rights to be. In fact, the cockpit is influenced more by the added vibration from the carbon-fiber seats, the louder engine and extra tire roar. Use it purely on road, Ferrari 488 or F12 makes more sense. As a track-day weapon, no doubt the McLaren is superior, even though I think the late 458 Speciale could be more thrilling still.

Verdict:














MP4-12C



2011

Mid-engined, RWD
Carbon-fiber tub, aluminum
subframes
Aluminum, glass-fiber
4509 / 1908 / 1199 mm
2670 mm
V8, 90-degree

3799 cc
DOHC 32 valves, DVVT

Twin-turbo
-
600 hp / 7000 rpm

442 lbft / 3000-7000 rpm

7-speed twin-clutch

F: double-wishbones
R: double-wishbones
Hydraulic interconnected
adaptive dampers
F: 235/35ZR19
R: 305/30ZR20

1336 kg dry / 1434 kg kerb
205 mph (c)
3.2 (c) / 3.3* / 2.9** / 3.2*** /
3.0****

6.7* / 6.1** / 6.7*** / 6.4****

9.1 (c)

15.3* / 13.9**


MP4-12C



2012

Mid-engined, RWD
Carbon-fiber tub, aluminum
subframes
Aluminum, glass-fiber
4509 / 1908 / 1199 mm
2670 mm
V8, 90-degree

3799 cc
DOHC 32 valves, DVVT

Twin-turbo
-
625 hp / 7500 rpm

442 lbft / 3000-7000 rpm

7-speed twin-clutch

F: double-wishbones
R: double-wishbones
Hydraulic interconnected
adaptive dampers
F: 235/35ZR19
R: 305/30ZR20

1336 kg dry / 1434 kg kerb
207 mph (c)
3.0 (c)


6.0 (c)

8.8 (c)

-


MP4-12C Spider



2012

Mid-engined, RWD
Carbon-fiber tub, aluminum
subframes
Aluminum, glass-fiber
4507 / 1909 / 1199 mm
2670 mm
V8, 90-degree

3799 cc
DOHC 32 valves, DVVT

Twin-turbo
-
625 hp / 7500 rpm

442 lbft / 3000-7000 rpm

7-speed twin-clutch

F: double-wishbones
R: double-wishbones
Hydraulic interconnected
adaptive dampers
F: 235/35ZR19
R: 305/30ZR20

1376 kg dry / 1474 kg kerb
204 mph (c)
3.0 (c) / 3.4*


7.2*

9.0 (c)

-










Performance tested by: *Autocar, **C&D, ***MT, ****R&T










650S



2014

Mid-engined, RWD
Carbon-fiber tub, aluminum
subframes
Aluminum, glass-fiber

4509 / 1908 / 1199 mm
2670 mm
V8, 90-degree

3799 cc
DOHC 32 valves, DVVT

Twin-turbo
-
650 hp / 7250 rpm

500 lbft / 6000 rpm

7-speed twin-clutch

F: double-wishbones
R: double-wishbones
Hydraulic interconnected
adaptive dampers
F: 235/35ZR19
R: 305/30ZR20

1330 kg dry / 1428 kg kerb
207 mph (c)
2.9 (c) / 2.7***


5.7 (c) / 5.8***

8.4 (c)

13.2***


650S Spider



2014

Mid-engined, RWD
Carbon-fiber tub, aluminum
subframes
Aluminum, glass-fiber

4509 / 1908 / 1203 mm
2670 mm
V8, 90-degree

3799 cc
DOHC 32 valves, DVVT

Twin-turbo
-
650 hp / 7250 rpm

500 lbft / 6000 rpm

7-speed twin-clutch

F: double-wishbones
R: double-wishbones
Hydraulic interconnected
adaptive dampers
F: 235/35ZR19
R: 305/30ZR20

1370 kg dry / 1468 kg kerb
204 mph (c)
2.9 (c) / 3.0* / 2.8** / 3.2****


5.8 (c) / 5.8** / 6.3****

8.6 (c) / 8.7*

13.2** / 13.9****


675LT



2015

Mid-engined, RWD
Carbon-fiber tub, aluminum
subframes
Carbon-fiber, aluminum

4546 / 1908 / 1188 mm
2670 mm
V8, 90-degree

3799 cc
DOHC 32 valves, DVVT

Twin-turbo
-
675 hp / 7100 rpm

516 lbft / 5500-6500 rpm

7-speed twin-clutch

F: double-wishbones
R: double-wishbones
Hydraulic interconnected
adaptive dampers
F: 235/35ZR19
R: 305/30ZR20

1230 kg dry / 1328 kg kerb
205 mph (c)
2.8 (c) / 2.9*


5.5 (c) / 5.6*

7.9 (c) / 8.0*

-










Performance tested by: *Sport Auto, **C&D, ***R&T, ****Autocar









Copyright© 1997-2015 by Mark Wan @ AutoZine