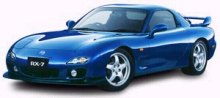 In Japan, Honda S2000 may be the hottest at this moment, but RX-7 is definitely the coolest. If you regard the open-air S2000 as the ultimate driving machine (although I don't), then the latest huge-wing RX-7 is even more so. For just 10% in excess of S2000's 3.38 million yen price tag, you get 30 more horsepower, 80 lbft more torque, a set of 17 inches wheels wearing 235 and 255 section tyres, highly-specified Bilstein dampers and more ....

The RX-7 we are talking about is the top-spec. Type RS. Together with brothers they are now only available in the domestic market and perhaps Australia, I'm not sure. Compare with its brothers it is boosted with the aforementioned tyres and dampers, and then adjustable rear wing, twin oil coolers as well as a full 280hp Wankel engine versus the standard 265hp.

This third generation RX-7 can be traced back to 1992, when it was praised as the best Japanese sports car alongside Honda NSX. Sadly, its arch-rivals, namely Porsche 968 and Nissan 300ZX, are no longer in production, leaving the RX-7 with a little bit outdated feeling. Things got worse when it was pulled out from EU and US market around 3 years ago as a result of tightened emission regulations, leading us to predict its death. In fact, the RX-7 doesn't feel outdated to look and to drive at all. It is the slump of sports car market, or in other words, the rise of roadster era negated its fortune. The financial trouble of Mazda also prevented any investment from pouring into the fourth generation car having shown in 1995 Tokyo motor show. However, as we know Mazda is reviving now and has confirmed a new RX-7 in this year's Tokyo show. That means the car we discussed here is likely to be the final update of the Mk III RX-7.

Through the years, the organic shape of the Mk III car has been adding with aggressive accessories. Now it is completed with a full set of aerodynamic aids including the exaggerate lip spoiler, side skirts and the big adjustable rear spoiler. From the front end you'll see three race-car size air intakes channeling cool air to the engine and brakes. Moreover, there is a pair of integrated fog lamps and signal lamps recessed under glass covers and locating just under the pop-up headlights, which is also not found in the original Mk III.

The highlight of RX-7 is always the Wankel engine with twin-rotor, each displacing 654c.c. hence a total 1308c.c.. However, to compare this number with conventional four stroke piston engines needs some transformation. Because a rotor has one power (combustion) stroke in each revolution, versus four stroke engine�s one combustion every 2 revolutions, its effective displacement should be doubled, that is, 2616c.c.

As before, twin small turbochargers are organized to operate sequentially. The first one starts boosting at around 2,000rpm, then joined by the second turbo at 5,000rpm to provide full boost. Such linear response matches the seamless rotation of rotary engine perfectly. Unlike before, the boost pressure has been increased by 20% to push the output to the domestic upper limit of 280ps (JIS). Instead of using larger turbos which will inevitably increase turbo lag, the development team chose a pair of so-called "ultra-high flow turbines" whose shape is optimized for higher efficiency. Besides, they added a seal to minimize the leakage via the gap between turbine and the surrounding housing. Cooling to the radiator and intercooler have also been improved by means of enlarging air intake at the front and straightening cooling ducts.

Type RS has a weight-to-power ratio of merely 4.57kg /ps, lower than any other Japanese exotics. This must thanks to the 280hp limit as well as its 1280kg kerb weight. The Generation 3 has always been a compact sports car incorporating aluminium suspension, now the Type RS even ditches sound deadening material for greater lightness. No wonder it could sprint to 60mph in 5.1sec, or officially a reduction of 0.8sec from the 1992 car. However, its maximum torque of 232lbft / 5000rpm still lags behind Evo VI's 275 lbft or GT-R's 293 lbft by quite a wide margin, wide enough to prevent it from challenging those exotics in straight line acceleration.

However, what always makes the Mk III RX-7 famous is the chassis. Racing car designers always pursuit this kind of car - lightweight, huge grip, a lot of downforce and 50 : 50 front to rear weight distribution - the Type RS has all these elements. Like Honda S2000, RX-7 has its compact rotary engine positioned completely behind the front axle thus reduces polar moment of inertia. Also because of the lightness of the Wankel, from the beginning the Mk III RX-7 has been providing 50 : 50 weight distribution. So long that the engineers are no longer excited to publicize this fact. S2000 ? nothing special.

Actually, RX-7 is a focused, high performance pure sports car that makes the S2000 looks half-hearted. Its steering is mighty sharp and accurate, with plenty of feel from the handy NARDI wheel. The excellent driving position faces beautiful dashboard. In front of it is a large windscreen offering more vision than most sports cars. The Type RS's 235mm front and 255mm rear tyres generate more grip than you can imagine, considering the car weighs just 1280kg. As before, the balanced chassis doesn�t induce understeer or oversteer easily yet provides very high responsiveness and adjustability in cornering. The stiff suspension keeps body roll to minimal yet doesn't deteriorate ride quality very much, this makes Bilstein absorbers seems worthy.

The Wankel engine sounds like a washing machine, not up to everyone's taste but it is incredibly smooth - still smoother than today's finest piston engines. Without thinking about fuel consumption, it is very involving to drive.