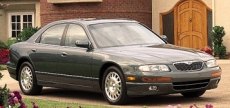 Millenia is part of an unfulfilled dream. A decade ago, Mazda saw Lexus and Infiniti succeeded in entering prestige car market, so it established two new brands, Xedos and Eunos, for Europe and Asia respectively, to market the prestige line of cars. Two prestige cars were developed, Eunos 500 (Xedos 6) and Eunos 800 (Xedos 9), intended to rival BMW 3-series and 5-series respectively. The American operation Amati was to be set up before the company went into financial trouble. Mazda woke up from the dream.

The Eunos 800 (Xedos 9) is still surviving today, but no one cares about its brand name any more. In Japan and North America, it is simply branded as Mazda Millenia.

The Millenia is built on a unique platform with all multi-link suspensions. Despite of its age, it still rides smoothly and quietly, but handling is well behind the competition leading by BMW 5-series and Lexus GS300. Steering is too light and lack of road feel. Admittedly, even back to its launch in 1994, it was not regarded as a driver's car.

Against rivals, Millenia's cabin space is rather tight. Sense of prestige is ruined by the plasticky dashboard, although interior and exterior styling are pleasant.

The range-topping Millenia is powered by a Miller Cycle V6 displaces 2.3 litres and equipped with a supercharger with intercooler. It is good for 210 hp and 210 lbft, deliver in a smooth and refined manner for a supercharged engine. The Miller Cycle is said to reduce fuel consumption by 15% compare with equally powerful conventional engines, i.e., 3-litre normally aspirated V6. However, in reality it was found that the Millenia is no more frugal.

The Miller Cycle engine provides strong performance - 60 mph can be reached from rest in 8 seconds. In contrast, the entry-level normally aspirated 170 hp 2.5-litre V6 was not so good. Its origin can be traced back to the last MX-6 coupe and is sharing with the current American 626. Not only lack of power to cope with the heavy body, it is not all that smooth.

That said, the Millenia is overwhelmed by the countless of modern executive sedans. Although it resisted ageing well, it can hardly resist the strong competition. Sales number had never taken off even though massive price cut was made. If it were successful, the Amati division would not have been dead before birth. What about Eunos and Xedos ? obviously, after the death of Millenia, which could appear in 1 or 2 years' time, the premium brands of Mazda will disappear silently. Then, Mazda will concentrate on a new dream, RX-EVOLV sports sedan. I'm sure that dream won�t become a nightmare.