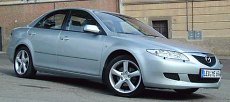 Mazda 6 represents quite a few significant changes at Mazda: firstly, naming system has been changed from 323 / 626 / 929 etc. to a single number. That means the mid-size 626 is now called simply Mazda 6, while the forthcoming replacement for 323 will be called Mazda 3. Secondly, the new car signals the end of the cost-reduction era shadowing the company since the mid-90s. Bye-bye the cheap and boring 626, enters the more sophisticated Mazda 6. The new car is also designed to be far more driver-focused, offering handling and driving fun superior to your average Accord or Camry, signaling the third change to the company strategy - Mazda wants to convert its own image to a driver-oriented brand like somewhere between Honda and BMW. Such a 180-degree change might be hard to accept, but note that parent company Ford (well, I mean European Ford) has nearly achieved that. On the other hand, Mazda has a couple of strong products to back up that change - the classic MX-5 and the forthcoming Wankel-engined RX-8. It seems that under the global strategy of Ford empire, Mazda will be made even sportier than European Ford.

I saw the Mazda 6 recently in a motor show and was impressed by its "traditional" styling. I said "traditional" is because it follows the tradition of Japanese sedans to offer a light, sleek looking shape with relatively low shoulder lines compare with European sedans. The curves flowing smoothly from nose to tail make the 6 look small and dynamic. Details, however, are either not mature or not elegant enough. For example, the flashy Lexus-IS-like taillights are more fashionable than long-lasting.

Is it just a coincidence? the Japanese name of Mazda 6, Atenza, is also surprisingly close to the Japanese name of the baby Lexus, Toyota Altezza. However, in heart and bores they are very different indeed. The Mazda 6 still follows the conventional mid-size sedan rules by offering front-wheel-drive chassis and transversely-mounted four-cylinder engines. In other words, it competes right in the same segment as Ford Mondeo and Volkswagen Passat. In the USA, where it will be built there as well, Mazda 6 will target at Nissan Altima, Toyota Camry and Honda Accord - all are slightly larger. It is a world car.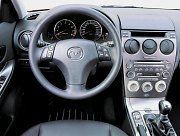 As I sat in the rear seat, I am sure it does not offer as much space as its American rivals as well as Ford Mondeo. In fact, the 2675mm wheelbase is a decisive 80mm shorter than the Mondeo. It can still sit 6-footer comfortably at the back, but cannot match the feel of spaciousness as experienced in a Mondeo. At the front, you sit low in the "traditional" way, feeling sportier than today's taller and taller rivals. Front seats are supportive and comfortable. The fake-alloy plastic panel over center console with 3 beautiful ventilation holes and a pop-up DVD satellite navigation screen inject an extra sense of sportiness. Even more so is the beautiful speedometer and revcounter with chromed rims. In terms of materials and trimming, they are up to modern standard but never feel luxurious. That said, plastics quality is inferior to Mondeo's.
Nevertheless, this is a driver's car that excels in moving rather than standstill. Throw it into a couple of bends and it immediately shows how impressive it handles. Communicative and direct steering, stiff chassis, excellent body control, fine damping and accessible throttle steer let it matches Mondeo in handling - the first time so far in this segment! like the Mondeo, it has a little bit trade-off in ride quality, which is firm rather than supple, but what trouble the Mazda is actually excessive suspension noise over rough B-roads. In addition to the annoying engine noise (will be discussed soon), the Mazda 6 is less refined and comfortable than the Mondeo. A good driver's car is not in doubt, just not matching the completeness of Mondeo.
What contribute to the great handling are some new suspensions. The front rides on double-wishbones with a long strut-type damper/spring unit. The latter made some journalists confused it with conventional MacPherson strut. At the back, there is a new multi-link setup which is so compact that does not intrude into luggage compartment at all. No wonder the boot provides 500 litres of flat cargo loading.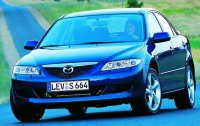 Before the car launched, there were talks about sharing platform with Ford Mondeo. That did not come true - at least for the current generation Mondeo - because both platforms are entirely different. In fact, the only major common part is engine. If you remember, I already pointed out in my Mondeo report that the four-cylinder engine family was primarily designed by Mazda and then adapted to Ford. Take the largest-selling 2.0-litre 16V engine as an example. No matter in the Mazda or the Mondeo they displace 1999c.c., having the same all-alloy construction, the same compression ratio, the same bore and stroke dimensions... the only difference is that the Mazda lacks variable intake manifolds thus produces only 142hp and 134lbft, down 3hp and 6lbft from the Mondeo. The Mazda engine with fixed intake manifold also suffers from excessive noise at high-speed cruising. Seems that Mazda sometimes emphasis driver appeal in the wrong places.
Next up is the most popular in USA market - a longer stroke version of the aforementioned MZR four-cylinder family displacing 2.3 litres. Apart from extra cc, it gets S-VT (sequential - or continusously - variable valve timing) and variable intake manifold to enable 165 horsepower and a flat torque curve which delivers at least 90% of maximum torque from 1750 to 6000rpm! the larger 4-pot engine is also benefited from twin-balancer shafts to guarantee smooth running up to its 7000rpm cut-out. Is it a fireball? not yet, because it has to propel some 1400kg of kerb weight. Expect 0-60mph in 8.4 seconds.
For real performance, American market gets a 3.0-litre 24V V6 based on Ford's Duratec but added with S-VT. The outcome is 219hp and 202lbft. It is a potential rival to Mondeo ST220, but unfortunately: a) it mates with automatic transmission only; b) it gets no sportier chassis setup; c) it is not on sale in Europe while Mondeo is not available to America.
To sum up the Mazda 6, we can say it is a good car by AutoZine standard - which places driving fun in higher priority. However, while it matches Mondeo in driver appeal, it cannot match its completeness. The Ford is as much fun to attack corners while offering more space, higher quality and better refinement.