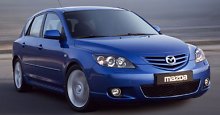 After the success of Mazda 6 and RX-8, you must expect its little brother Mazda 3 to be an exciting driver's car. You know the 3 is derived from the next generation Ford Focus platform, sharing the same control-blade (multi-link) rear suspensions, in contrast to rivals' torsion-beam axle. It also has electro-hydraulic power steering, versus rivals' pure electric power steering. And then there is an alluminum four-cylinder 16-valve engine, complete with variable valve timing and variable intake manifolds. All these signs are so promising. Will it be a class winner?
Unfortunately, the Hiroshima magic doesn't work this time. And more tragically to Mazda, this is the biggest selling, most important model in its lineup. Despite of the sophisticated ingredients, Mazda 3 is just an average car. It does have some driver appeal, but not to the extent that raise our pulse like the 6-year-old Focus. In other aspects, such as space, ride, refinement and quality, it simply falls behind the latest competitors. One can easily see it won't trouble the bigger sellers like Volkswagen Golf and Opel Astra.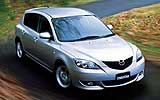 So, what's wrong with the 3? externally, it looks neither handsome nor disgusting. Somewhat organic, somewhat sharp, just a mix of different tastes. People have no idea what it is. The body is ill-proportioned, looks too long. It is. The wheelbase is 2640mm, easily the longest in its class. Even in hatchback form, the rear overhang is almost as long as many sedans, making the whole car 200mm longer than class average !
Now you might expect a roomy cabin, but unfortunately it is no roomier than an average competitor. A six-footer will be tight to sit behind another six-footer. The hatchback offers sufficient headroom for rear passengers. Not so lucky in the 4-door sedan, whose swoopy roof eat into rear headroom. The intrusive center console also eat into the foot well. We don't mind sacrificing a little bit interior room for a beautiful appearance, but it seems that Mazda 3 succeed in neither styling nor functionality.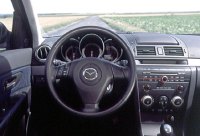 Under the bonnet is the MZR all-alloy four-cylinder family. The smallest 1.5-litre (with VVT) produces 113hp but is only reserved for the Japanese market; Europe gets a 1.6-litre instead, also with VVT but produces 105hp only due to tighter emission regulations. It is by no means powerful, but smoother and more eager at the top end than the 2.0-litre. The 2.0-litre has variable intake manifold but not VVT. 150hp is strong enough, but it is short on torque and sounds coarse at high rev. In Japan and USA, a more powerful 2.3-litre is offered as top model. It is the same engine as that found in Mazda 6, complete with VVT, variable intake and balance-shaft to dampen vibration. At 10.6:1 compression ratio, the Japanese version pumps out 171hp and 158lbft. The USA version, however, runs at just 9.7:1 thus produces only 160hp and 150lbft. Although this Mazda 3 is 100kg lighter than Mazda 6, it does not feel particularly quick, especially compare with today's hot hatches. However, the 2.3 engine is still lovely, thanks to its smoothness and refinement.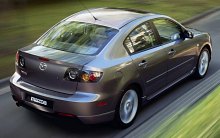 As the car does not shine in performance, a good chassis dynamics is desperately needed to restore the faith of Mazda's admirers. In pure handling term, the 3 is fine. Its sporty suspension setup leads to good body control and delivers a taut feeling. No matter grip, braking or steering, it performs very well. However, it fails to match the 6-year-old Focus in almost all areas - it rides firmly and generates a lot of suspension noise on bumps. Its electro-hydraulic steering is reasonably communicative, better than Renault Megane and Volkswagen Golf, but never as feelsome as the hydraulic-assisted Focus. There is also some harshness felt from the steering column - what we called "kickback". Finally, its chassis is prone to understeer at tight corners where the Focus can overcome. In keen driver's point of view, the Mazda 3 may be second only to Focus. Unfortunately it fails to deliver a fine level of refinement and comfort simultaneously, while Focus and Golf succeed.
This is one of the biggest disappointments of 2003. It is not a bad car actually. It just fails to match its Japanese name "Axela " - which means "Excellent", according to Mazda.