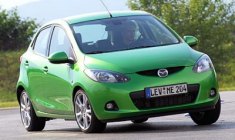 For the past 20 years mini cars had been growing in size and weight in order to provide more space, better crash protection and higher refinement. The trend was especially worrying in these two years as we saw the jumbo-size Renault Clio and Peugeot 207. Getting bigger not only requires more metal, plastic and glass but also larger engines, transmission and brakes. As a result, new generation of mini cars cost more money to build, consume more fuel and emit more carbon dioxide than engineers originally forecasted. Facing tougher legislation against greenhouse gas emission expected in Europe in the future, downsizing will become the trend in the next few years. Surprisingly, leading the trend is not any European car makers, but the Japanese Mazda.


The new Mazda 2 – or Demio as it is called in Japan – is the first mini car in recent years to trim size and weight. Compare with the outgoing car, it is 40 mm shorter, 55 mm lower and the body profile is less boxy. Mazda's stylists in Tokyo gave it a sharp and sporty appearance, a complete change of character from the functional-biased old car. Whether it looks beautiful is another matter. I'll let you make the judgment. However, the most important is a weight reduction of 100 kilograms from the old car. This is contributed by the reduced size, the use of more high-tensile steel, the all-alloy new engines, the switch from hydraulic to electric power steering and the use of simpler folding rear seat. Tipping the scale at only 960 kg, the new Mazda 2 is probably the first sub-1-ton car of its class since Mitsubishi Colt arrived 3 years ago.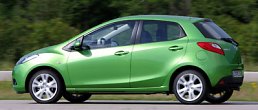 Modern mini cars have generally the same drivetrain and suspension format. Mazda 2 can't escape from this formula. However, the new found lightweight gives it an agile handling and brisk performance lacking in most rivals. It attacks corner with enthusiasm. Its steering might be light and short of feel (as in most electrical setup), but it is quick and precise. A compliant ride and fine body control implies good suspension tuning. The 5-speed gearbox has a slick gearshift. The 1.5-liter engine with inlet VVT, variable length intake manifold and swirl control valves pulls sweetly across the rev and make the car feels faster than figures suggested. Although the 1.5 engine sounds a little coarse at high rev, it isn't intrusive to the occupants, thanks to the effective sound insulation. In terms of refinement, the new Mazda 2 not only suffers nothing from the weight reduction, but it even improves noticeably from its predecessor. The chassis feels rigid and isolates NVH very well. You can even expect a 5-star Euro NCAP crash rating.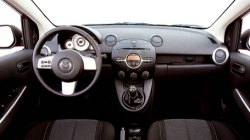 Inside, cabin space is not compromised by the reduced size, because the wheelbase is unchanged and the faster windscreen and tailgate eat no usable space. This mean it can accommodate four six-footers plus a decent boot of 250 liters. Thanks to the low waist line near the A-pillars, the cabin feels light and airy. On the downside, the dashboard is made of low rent hard plastic. It has none of the quality feel of Renault Clio, Opel Corsa or even Peugeot 207 and Fiat Grande Punto. That's about its biggest weakness.

The days for substantial mini cars are numbered. Mazda 2 demonstrates that by downsizing and clever use of weight and space, a mini car can achieve higher level of driving fun without hurting practicality and driving refinement. Better still, it returns lower fuel consumption and emission* and contribute a little to our greener future. No wonder Mazda chose a green car to feature in press release photosgraphs.



* Remark: a 1.5-liter Mazda 2 returns 48 mpg for EU combined cycle and emit 140 grams of CO2 per km. A comparable Renault Clio returns 43 mpg and 157g/km of CO2.