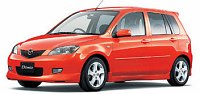 The new generation Demio is known to foreigners as Mazda 2. From its appearance, you can see it is derived from Ford Fiesta to save cost, although not to the extent of badge-engineering - unlike the previous European Mazda 121 / Fiesta. Both cars measure almost the same in length, width and wheelbase. Only the height separates them - Mazda 2 is more than 10cm taller than its sister car. This gives it much more interior room and RV versatility. However, underneath the floor lies the same mechanicals. Their relationship doesn't stop there. Those Mazda 2 sold in Europe are actually produced in Ford's plant in Spain, in the same production line as Fiesta. They also share the same Ford engines - from 75hp 1.25-litre 16V to the top 100hp 1.6-litre 16V.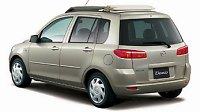 But what we talk here is the Japanese version, which is better because it is produced in Japan with higher quality and is equipped with Mazda's own MZR-family all-aluminum engines. They have S-VT continuous variable valve timing and long intake and exhaust manifolds to improve low-end torque. The base 1.35-litre unit produces 91 horsepower while the 1.5-litre version generates 113hp, well ahead of the Ford engines. These engines are quiet at low rev and produce a sporty note, accompany with willingness, at high rev.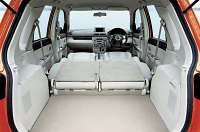 The Japanese Demio also employs higher quality plastics and trimming throughout its cabin, which are not available by the suppliers of the Spain-built Mazda 2. Interior is light and airy, thanks to high roof, big windows and the light-color scheme of dashboard and textile. Canvas top (sunroof with fabric cover) add to the cheerful ambience. This makes a big difference to the boring and cold ambience of the Fiesta, or the cheap-feeling Fusion. Demio is not an MPV, but its cabin offers more versatility than its Ford counterparts. It has a lot of tinny storage cubbies and a Citroen Picasso-like parcel shelf at the luggage compartment. The rear seat can slide back and forth and is 50-50 split. Its backrest can be folded down easily with a one-touch lever so that a big cargo-loading area is formed. The resultant loading floor is not completely flat, but this is just because Demio offers an unusually deep luggage compartment. Its big tailgate also opens very deep, making loading and unloading very convenient.
Like Fiesta, its hydraulic power steering is heavier and provides more feel than key rival Honda Jazz. In cornering, the chassis feels stiff and handling is agile, keeping faith with Mazda's recent dynamic approach. Ride quality is harsher than Fiesta because its higher body needs stiffer suspension setup to control body roll, although suspension noise is effectively insulated from the cabin. Therefore, it doesn't drive as brilliantly as the Fiesta but still matches Toyota Yaris and beats Honda Jazz.
To me, Fiesta is too boring. Mazda 2 is more versatile, more spacious, more interesting to look and feels more expensive. In short, it is a better car. Its emergence makes Toyota Yaris suddenly look outdated and Honda Jazz a bit rough at the edge. Without making any drama, Mazda 2 suddenly becomes the best in class.