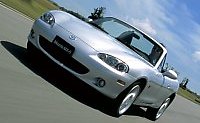 People call those small convertible sports cars as "Roadsters". In history, the most successful roadster was MGA and MGB series, which sold no less than 600,000 units between the '50s and the '70s. Another roadster, Lotus Elan, also worth mentioning. It had fabulous performance and great handling to keep its fans love it until today. Enter the '80s, the most successful roadster was a Japanese car, Mazda MX-5.

The success of MX-5 is contributed by great handling, cute styling, good quality and modest pricing. If it were made by Fiat, it would have been even cheaper but build quality would have certainly been below standard. If it were made by Lotus, it might have been even more exciting to drive but few people could have afforded. If it were made by Ford, it would have been a boring car. Perhaps other Japanese car makers also have the ability to build such car, but in the following years none of them repeated the success of Mazda. Why? because making such car does not depend on ability, instead, it is "idea", or "imagination", or "innovative mind", plus the "bravery to try new ways". In then, I'm afraid only the engineers of Mazda had such quality. Unbelievable? look at MX-3, RX-7 and Eunos 500 and you'll know.

MX-5 is a rear-wheel drive roadster. Such drivetrain layout helps it to out-handle most then and now front-drive competitors (except the complicated Lotus Elan II). Its steering is nearly neutral and full of feel. Corners agilely and balance well. Driving line is highly throttle-adjustable. Apart from winning this crucial aspect, MX-5's winning hands also can be seen in its cute styling (the original car was penned by British studio IAD), beautiful and ergonomical cabin layout, colourful paint scheme and near-perfect assembly. Driving it, owning it and watching it are real fun !

The first revision

Perhaps because of huge success and few competition, the first upgrade came as late as 1997. It added a new 6-speed manual box, revised engine to boost 140hp, tauter suspensions and steering setup and replaced pop-up headlamps by fixed ones in order to reduce cost.

The second revision

The second revision was made in late-2000. Main purposes include updating crash-protection and emission level, but the arrival of Toyota MR-S also forced Mazda to upgrade the car's handling and performance. The 1.8 engine now gets Sequential (continuous) variable Valve Timing (S-VT) to boost power up to 160ps and a little bit more torque throughout the rev range. That's for the Japanese version. Tighter emission regs in Europe and USA lead to 146 and 142 horsepower respectively, still more than a Rover VVC engine. Unfortunately, the early US imports were incorrectly rated at 155hp thus had to be recalled. Luckily, most buyers are hard-core fans and were more than happy to accept a generous offering for free warranty or a $500 cash back instead of recall.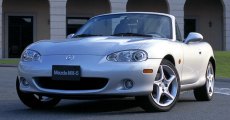 Autocar tested the car and recorded 0-60 in 8.2 seconds, which is slower than the 7.7 seconds I estimated here earlier. Although my estimation was based on the Japanese version, the European car should not be that slow, considering it has 146hp pulling 1100kg through 6 forward gears. The top speed 125mph was also quite slow, although ultimate speed is always insignificant to roadsters.
If performance is disappointing, handling should not. Behind the restyled bumper is a strengthened structure consisting of reinforced transmission tunnel and side sills. This raises chassis rigidity by 22%. RS version (or Sport of European version) even gets front and rear tower bars, Torsen limited-slip differential and Bilstein dampers. Wheels grows an inch. Tyres upgrades to 205/45. Power steering is tuned to more weighty.
How does it drive ? basically, the same old descriptions can be applied to the new car, such as "crisp turn-in", "superb balance", "neutral handling" and "throttle adjustable". In addition, the new car corners flatter, grips a lot harder hence set a higher cornering limit than ever. Most important, when it loses grip at the limit, it understeers gently and safely, unlike MR-S which may get into oversteer. Does that mean boring ? car enthusiasts, it's time to recalibrate yourself: the best Lotus Elise and Porsche GT3 also understeer at the limit !
The old MX-5 was always fun to drive slowly as well as on its (if quite low) limit. In comparison, the new MX-5 leaves the fun factor untouched while elevating itself towards hard-core performance territory. It could be driven fast and hard yet confidence-inspiring. Being a daily transport, its 50:50 balance is also easier to handle on wet than its mid-engined rivals. In short, it is still the best affordable roadster in the world. Long live MX-5 !