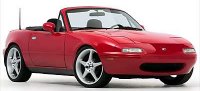 People call those small convertible sports cars as "Roadsters". In history, the most successful roadster was MGA and MGB series, which sold no less than 600,000 units between the 50's and the 70's. Another roadster, Lotus Elan, also worth mentioning. It had fabulous performance and great handling to keep its fans love it until today. Enter the 80's, the most successful roadster was a Japanese car, Mazda MX-5.

The success of MX-5 is contributed by great handling, cute styling, good quality and modest pricing. If it were made by Fiat, it would have been even cheaper but build quality would certainly be below standard. If it were made by Lotus, it would be even more exciting to drive but few people could afford. If it were made by Ford, it would have been a boring car. Perhaps other Japanese car makers also have the ability to build such car, but in the following years none of them repeated the success of Mazda. Why? Because making such car does not depend on ability, instead, it is "idea", or "imagination", or "innovative mind", plus the "bravery to try new ways". In then, I'm afraid only the engineers of Mazda had such quality. Unbelievable? Look at MX-3, RX-7 and Eunos 500 and you'll know.

MX-5 is a rear-wheel drive roadster. Such drive train layout help it to outhandle most then and now front-drive competitors (except the complicated Lotus Elan II). Its steering is nearly neutral and full of feeling. Cornering agilely and balance well. Apart from winning this crucial aspect, MX-5's winning hands also can be seen on its cute styling ( the original car was penned by British studio IAD ), beautiful and ergonomical cabin layout, colourful painting and near-perfect assembly. Driving it, owning it and watching it are real fun !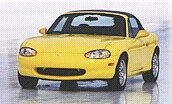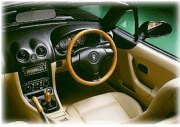 Perhaps because of huge success and few competition, Mazda did not update this car until as late as 1997. Even so, the latest update only appears in minor engine enhancement, a new 6 speeds manual box for 1.8 litres version, slightly styling changes ( for instance, replace the pop-up headlamps by fixed ones, in order to reduce cost.), stronger chassis, touter suspensions and steering setup. Overall dimensions are virtually unchanged, so is weight.
The new engine and transmission solved the long-exists problem - slow acceleration. 140hp peak power is 12hp higher than before, while torque rise for 5lbft. It is still not as sweet as Rover MGF's VVC engine, however, an additional gear should compensate.
Undoubtedly, the new MX-5 handles better than ever, although the improvement is not very dramatic. Steering is crisper, body control is first class, cornering adjustability is unmatchable. None of its competitors, including BMW Z3, Rover MGF and Fiat Barchetta, can deliver such ability. After nearly 10 years, MX-5 still tops the Roadster chart.
Report created before 16 Feb 99. Last updated before 16 Feb 99. All Rights Reserved.