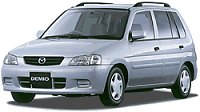 Demio's launch in 1996 saved the troubled Mazda. The RV-like mini was unexpectedly popular in Japan and climbed to the 8th position of sales chart next year. Considering it has only one body style and two engines available, and it is not a K-car, the Demio could be described as a miracle then. More miracle is, as you'll find out, the Demio is actually a very poor car, with dynamics, refinement and packaging well lag behind industrial standards.

So why did so many people buy it ? because people were (and probably are still) mad about Recreational Vehicles. Demio pretends to be a RV: it provides many optional features like roof rails, nudge bar, lip spoiler, tailgate spoiler and smart-looking alloy wheels, meeting the public's love affair of RV. In reality, these options can only burden the car and waste the buyers' hard-earned savings, without any gain in performance or the slightest off-road ability. Let's make it clear: it is strictly a city car with ZERO off-road ability.

The term "RV" also include MPV, but the Demio is not qualified to be MPV either. High it may be, but the cabin is not especially roomy compare with other superminis. Slidable and foldable rear seats it may have, but so are any Renault Twingo and Toyota Yaris. What characterize a MPV is usually versatile seating plan, a lot of storage spaces and a fun-looking cabin design and trimming. Unfortunately, all these elements are missing in Demio. Apart from the high roof, the cabin is more or less the same as ordinary mini cars, and we are talking about those outdated minis. Look at the dashboard, it's the dullest in style I've ever seen. The whole cabin is as grey as John Major's clothing (the ex-priminister of UK) while the quality of plastic is as poor as the common sense of Dan Quayle (the ex-vice-president of USA).

Demio offers two engines, both are 16-valve driven by single camshaft, one dispaces 1.3 litres and another 1.5. Being a mini car, the economical 1.3 is more reasonable choice although performance is not up to class average. At least the 83 hp engine (European version has only 72 hp) is willing and the gearchange is fine. Nevertheless, the travel of clutch and brake pedals are not linear. Steering feel is anything but exist. Ride is bouncy and noisy over bumpy roads. Body roll is not well suppressed. I can't think of any mini car handles worse.

The last criticism is the styling. I think you don't need more discussion about this point, do you?