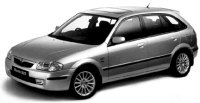 Here's a quiz for you. What is the best selling Mazda in the USA? Protege. What's the equivalent in Japan? Familia. And Europe? 323, but it is a hatchback instead of sedan. So what's the hatchback version of Familia? Familia S-wagon. Its equivalent in Asia Pacific? 323 Astina. What about USA? nil. The American never like hatchbacks.

Memorizing all these nameplates is quite a challenge, but not to the extent that memorizing all the engines available. Basically, Japanese versions have the most powerful and efficient engines, including 1498 c.c. twin-cam variable-valve timing unit good for 130 hp, 1840 c.c. dohc with 135 hp and range-topping Sport 20's 2.0-litre 170 hp. North American versions have 1.6-litre dohc 105 hp and 1.8-litre dohc 122 hp. European versions are the least powerful, including 1.5-litre 88 hp and 1.8-litre dohc 114 hp.

No matter which version, the 323 (let's use this name representing all versions) is just an ordinary car aims at ordinary people. It won't surprise you, but it doesn't have unforgivable flaws like some European hatchbacks either (say, an Alfa 145). You know a reliable car like this is what most road users really need, but you can't help thinking about a bit more than that, say, a dynamic behaviour matching Ford Focus or Opel Astra, or a classy feel in the league of Volkswagen Golf or Seat Leon. Make it clear, desirability is what the Mazda 323 lack of.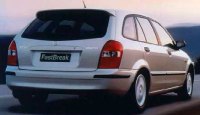 Some people like its styling, especially is the S-wagon (hatchback) which is loaded with all the optional body-color-matching aerodynamic kits and beautiful alloy wheels. However, the fundamental styling theme is rather conservative and bias towards the ease of production rather than sophistication. If you have an eagle-sharp sight, you'll notice the front bumper is not tightly assembled into the body, because of large design tolerance rather than fit and finish problem. The nose looks dull. Thick and black plastic side window frames look more like the products of the 80s.
The same goes for the cabin - There is nothing wrong but also nothing impressive. All the plastics are in light grey. The generic center console is quite pretty, but the rest of the dashboard is boring. The grade of plastic material is not as poor as some rivals, such as Nissan and Opel, but the lack of design isn't easy to overcome. Space in front is quite good, at the back is just average.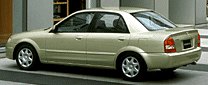 The 323's floorpan is essentially identical to the domestic and European 626, with the same wheelbase and also rides on struts up front and TTL at the rear. TTL (twin-trapezoidal links) is basically a MacPherson strut with two long lateral lower control arms. It's fully independent, but it doesn't have the passive rear-wheel steer ability as the popular torsion beam axle. In fact, the 323 handles and rides just so-so. Admittedly, most of the problems come from the steering (too light and rubbery) and gearchange (obstructive). Engines, except the European 1.3 and 1.5-litre, are up to class average but no more.
Obviously, the 323 and its derivatives are not designed with enthusiastic driver in mind.