| | |
| --- | --- |
| Published on 22 Dec 2014 | All rights reserved. |

It is always interesting to see Mazda making cars in a way different to the mainstream. The last generation Mazda 2 (Demio) opted for a small but space efficient package to reduce weight, and therefore achieved better fuel efficiency and handling than most other superminis. Now equipped with a bunch of "Skyactiv" technologies, can the new generation Mazda 2 set a new standard for the class?

The first thing you should notice is not the new car's radical design. Yes, we have not seen an FF small hatchback with such a long hood since the days of Renault R4. It looks as if the car had a longitudinally mounted engine, but then you must realize all recent Mazdas, no matter 3 or 6, have a similar proportion in order to make space for the Skyactiv-G engines, whose 4-2-1 exhaust manifold needs more space between the block and firewall. As a result, Mazda pushed its front axle forward by 80 mm, most of which is spent to the engine compartment thus very little benefits the cabin. While the front axle is moved forward, the windscreen has its base moved backward and itself is set more upright, further emphasizing the long hood. Contrasting to industrial trend, Mazda converts the 2 from monospace to 2-box!


The overall length is extended by 175 mm to 4060 mm, longer than most rivals now. It is a bit narrow at 1695 mm, but the 1495 mm height is tall by class standard, and 20 mm taller than before. This creates some visual bulk from certain angles, though Mazda's Kodo design masks most of the bulk with swoopy fenders, sharp crease lines and a sleek nose. It's a head-turning and unusual design.

The interior looks stylish, too. Its main design theme is simplicity and driver-focused layout. A trio of circular air vents mirrors that of Audi A1, as does the free-standing LCD screen. The dashboard looks sleek and, in top-spec. model, there is stitched leather decorating the dashboard and door panels. Another surprise is the availability of HUD (head-up display), normally reserved for luxury cars and is a first for this class. On the downside, the tasteful interior design and visual sophistication cannot hide the cheap plastics, very artificial-looking faux alloy and carbon-fiber trims used in a lot of places. The touchscreen and software of infotainment system are awkward to use. Lacking economy of scale means Mazda has to sacrifice some build quality to keep pricing competitive.

Predictably, the larger exterior dimensions fail to transform the interior. There is just enough space for 4 average-size adults, but rear passenger room is slightly smaller than VW Polo, let alone the roomier Honda Jazz or Hyundai i20. In fact, its rear legroom is down by 4 mm compared with the last generation. Front seat space is much better, once again showing Mazda is driver-focused. The driving position is excellent, offering a wide range of adjustment, and the pedals have no offset. The front seats are supportive and comfortable.


Despite of the much enlarged body, the new Mazda 2 is only 20 kg heavier than before, thanks to the use of more high or ultra-high strength steel in its construction and the attention to weight saving – compared with European car makers, Mazda is more willing to sacrifice NVH suppression for weight trimming. A mid-spec. 1.5-liter petrol model tips the scale at less than 1 ton, which is remarkably light by class standard. Meanwhile, the body shell still enjoys a 22 percent increase of rigidity, which is useful to improve handling. As expected, there is no surprise on the type of suspensions or power steering employed, as they all follow the industrial norm. However, Mazda's tuning is definitely biased towards the sporty side.

While European rivals take the trend of downsized turbocharged 3 or 4-cylinder engines, Mazda persists on its unique Skyactiv-G family of high-compression, direct-injected normally aspirated motors. The 1.5-liter unit is available in 3 stages of tune (75, 92 or 115 hp). The most powerful version is equipped with dual-VVT, while lesser versions have only intake VVT. For a car weighing less than 1 ton, the 115 hp version is nearly a warm hatch, offering brisk performance, especially when the 6-speed manual gearbox has snappy gearchanges like MX-5. It's a great fun to exploit the rev-hungry motor if you are keen drivers. If not, you will be annoyed by the extra effort needed to keep it revving, and the associated noise when cruising on highway. It sounds coarse and boomy at high rev. Comparatively, the 92 hp version is a bit more civilized, and more frugal, too. In Japan, the Demio is powered by a 92 hp 1.3-liter instead of the 1.5. Strangely, that engine runs a lower compression ratio than the larger export motor (12.0:1 vs 14.0:1).


Surprisingly, the Japanese model puts the limelight on the new 1.5 Skyactiv-D turbo diesel. Traditionally no one buys diesel in Japan. Mazda is confident that its Skyactiv-D technology, which uses an unusually low compression ratio of 14.8:1 to reduce NOx emission and enable the use of a lighter block and internals, will take the prime time. It is good for 105 horsepower and 162 lbft of torque (or 184 lbft if paired with the stronger 6-speed automatic). Its fuel economy and emission figures are impressive. This is a great engine, better than the petrol because it is a lot quieter and its power is more easily available. Compared with conventional diesels, its power delivery is more linear, with less surge in the mid-range and is happier to rev beyond 4000 rpm. It is the pick of the range.

Ride and handling are good, if not as remarkable as Ford Fiesta. Compared with the last generation its suspension copes better with uneven surfaces and results in less crashes and noise. However, this is still a firm setup, thus it doesn't cope well with potholes or really harsh surfaces. The car offers decent grip and tight body control. Turn-in is sharp. The steering tuning is a bit strange – to promote effortless highway cruising, Mazda deliberately mapped the electric power steering such that it reacts slowly around the straight ahead, and once passed a threshold angle it reacts sharply to driver input. In this way, the steering feels light and numb on straight and then suddenly gets sharp and direct in action. It is not as intuitive or as talkative as Ford's rack. On the plus side, the Mazda is not set to understeer like so many of the class, although it doesn't oversteer on lift-off like Ford either. It is a driver's car for sure, if not good enough to raise the bar.

So all sound like the larger Mazda 3 and 6: sharp design, sporty handling, fine performance but mediocre refinement and average build quality. These have become the DNA of Mazda. Like them or not, the world would have been more boring if not Mazda.

Verdict:













Mazda 2 1.3



2014

Front-engined, FWD
Steel monocoque
Mainly steel
4060 / 1695 / 1495 mm
2570 mm
Inline-4

1298 cc
DOHC 16 valves, DVVT

-
DI
92 hp

89 lbft

5-speed manual

F: strut
R: torsion-beam

-
185/65R15
960 kg (est)

106 mph (est)
10 (est)

-


Mazda 2 1.5



2014

Front-engined, FWD
Steel monocoque
Mainly steel
4060 / 1695 / 1495 mm
2570 mm
Inline-4

1496 cc
DOHC 16 valves, DVVT

-
DI
115 hp

109 lbft

6-speed manual

F: strut
R: torsion-beam

-
185/60R16
980 kg

124 mph (c)
8.2 (c)

-


Mazda 2 1.5D



2014

Front-engined, FWD
Steel monocoque
Mainly steel
4060 / 1695 / 1495 mm
2570 mm
Inline-4 diesel

1498 cc
DOHC 16 valves

VTG turbo

CDI
105 hp

162 lbft

6-speed manual

F: strut
R: torsion-beam

-
185/65R15
1040 kg

111 mph (c)
9.5 (c)

-










Performance tested by: -









General models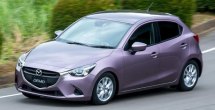 Copyright© 1997-2014 by Mark Wan @ AutoZine