Incredibly, Mazda sold nearly half a million copies of the first generation RX-7, making it among MGB and MX-5 as the most successful sports cars in history. However, because its rotary engine lacked durability, very few RX-7s survive today, so it is a rare sight on the streets. I haven't seen it for many years.
Short-live aside, RX-7 was every bit a classic. Yes, in terms of exterior styling it might be a copycat of Porsche 924 - from the pop-up headlamps to the glasshouse rear window - but the little Japanese sports car was arguably more attractive to eyes, thanks to a sleeker, lower bonnet line that was made possible by its compact Wankel engine. Its shape was pretty aerodynamic, too, as its 0.36 Cd shows. It proved that the Japanese were good at improving Western inventions.
Compare with the styling, the chassis was far more conventional. Suspensions comprised of MacPherson struts up front and a live-axle assisted by Watt's link at the rear. All-independent suspensions had been found in Porsche 924, but the Mazda was much cheaper, so it had to compromise with a non-independent rear axle from the existing parts pool. Same went for recirculating-ball steering and drum brakes at the rear. However, what made the RX-7 special was its 50:50 chassis balance, which was made possible by mounting its lightweight yet compact rotary engine completely behind the front axle. For this reason, it was called "front-mid-engined".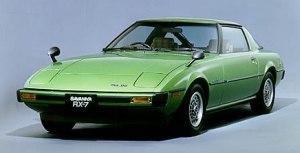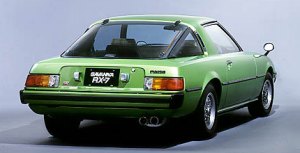 The Wankel engine was not a direct transplant from the previous RX cars. It was improved again with better lubrication and new tip seals. The latter were made by a new process in which electron beam was employed to crystallize cast iron, resulting in a more durable yet low-friction surface. The twin-rotor 12A engine displaced 573cc each combustion chamber, so it was equivalent to a conventional 2.3-liter engine. Power output was rated at 130ps in Japan, 105hp in Europe or 100hp in the USA where emission control was tighter. Later cars received larger (2 x 654cc) 13B engine with 135hp, and even a 160hp turbocharged 12A engine, but the latter was bounded in Japan.
When the RX-7 made world debut in 1978, people were excited not only with its stylish appearance but also its high-tech engine and good performance. The Wankel engine was incredibly smooth at idle, and could easily rev to 7000 rpm like a Ferrari V12. Although it was never famous for mid-range torque, it was compensated with a light kerb weight of just over 1 ton. As a result, it beat everything else in the class according to stop watch. 0-60 mph was done in 9 seconds, half a second quicker than a European-spec Porsche 924, let alone the Federalized version. It also beat another strong rival from its home country, Datsun (Nissan) 280Z / 280ZX.
In the curves, the Mazda beat everyone except Porsche. It steered well, stopped well and kept its body stable in corners. In a few areas it did not match the Porsche: the steering lacked feel in the straight-ahead position, the ride was harsh over coarse surfaces and at tight corners it was keen to oversteer. However, most contemporary comparison tests put it just second to Porsche. Moreover, the Japanese car cost only half the price of 924. No wonder it was immediately popular in the America, selling at a rate of 50,000 units a year throughout its life !
United States was by far the most important market to the RX-7, as 80 percent of all cars were sold there. Why ? On the one hand, USA has always been the biggest market for sports cars. On the other hand, people at "The Land of V8s" were less care about the heavy fuel consumption of RX-7, at least in good years. The first generation RX-7 was born at the right time. Earlier in the 1973 energy crisis, Mazda's ambitious rotary engine plan came to a crash due to its appalling fuel consumption as well as its unreliable image gathered in the past few years. Fortunately, it did not lose faith in the technology. By continuous improvement, the engine in RX-7 was finally reliable enough for mass market (although still no match with piston engines). By selling it as a sports car, whose customers were less sensitive to fuel consumption issues, RX-7 finally found the formula of success. It reopened the gate for Mazda's export to the US market, saved the company as well as the Wankel engine.

The second generation RX-7 did not deviate from the established formula. Once again, its exterior was designed with reference to Porsche - this time 944 (see the subtly pronounced fenders) and 928 (see those doors). No wonder it was so handsome.
Although the new car looks larger than before, this impression is mostly down to its higher waistline. In fact, the Mk2 was just 15 mm wider and 5 mm taller than the old car, while its length and wheelbase were almost identical. It was still a very compact coupe, notably smaller than Nissan 300ZX and Toyota Supra. Dubbed as a 2+2, its rear seats were practically dog seats like Porsche 944.
The reference to Porsche extended to suspension. The old live-axle was replaced with a version of semi-trailing arm suspensions that Mazda called DTSS (Dynamic Tracking Suspension System). It was similar to the
Weissach axle
used in Porsche 928. By using an extra link and a flexible hub, the suspension could induce toe-in under deceleration, countering the oversteer inherent in semi-trailing arm suspensions. It was effectively a passive rear wheel steering system.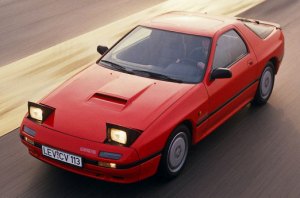 The engine was another development from the 13B engine measuring 654cc per rotor. Power was enhanced to 146 hp thanks to an extra intake port and electronic fuel injection. However, the biggest news was the turbocharged version which was called "Turbo II". It had an air scoop on the bonnet to draw cold air towards the intercooler. The engine produced 182 horsepower and 183 lb-ft of torque, pushing top speed to over 143 mph and shortening 0-60 mph to about 7 seconds. This knocked right on the door of Nissan 300ZX turbo. Turbocharging also eliminated one of the weaknesses of the old RX-7, i.e. lack of mid-range torque.
Performance was enhanced again with the mid-life update in 1989. The naturally aspirated engine was improved to 160 hp thanks to variable intake manifolds, higher compression and lighter rotors. The turbocharged motor also got the latter two, in addition to a new IHI twin-scroll turbocharger. It was one of the first applications of twin-scroll turbochargers in mass production cars (if not the first). By separating the exhaust flow of the two rotors, it avoided interferences thus reduced exhaust back pressure. The result was 200 hp and 195 lb-ft of torque. This made the RX-7 Turbo a true 150 mph sports car.

When tested the 200hp Turbo II in 1989, Autocar praised it for searing performance, sleek looks and strong grip. With a 0-60 mph time of 6.7 sec recorded, it was easily the fastest car in the class, beating Porsche 944, BMW M3, Renault GTA V6 (non-turbo) and Toyota Supra turbo. However, the Mazda was criticized for a choppy ride, inconsistent weighting from its speed-sensitive power steering (which was too light at low speed) and poor fuel economy. Attractive it might sound, it was not as accomplished as the Porsche and my favourite Renault Alpine.

Commercially, the Mk2 was not as successful as the Mk1. Total sales dropped from 470,000 to 270,000 units due to many reasons - the rising yen meant it was no longer that much bargain; new competitors like Toyota Supra and Mitsubishi Starion stole its sales; people started losing interest in rotary engine as they had learned about its durability and fuel economy shortcomings. This trend would continue to the next generation...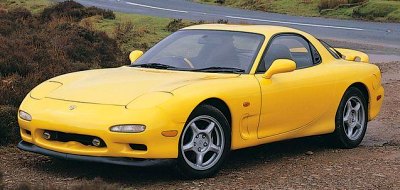 With less than 70,000 units sold, the third-generation RX-7 was the least successful among the three, so disappointing that Mazda decided to terminate the line. However, car by car, it was actually the best of all. The fact that it did not sell so well was due to market trend rather than its own sake…
The Mk3 was born at the time when Japan manufacturers started dominating the global sports car market. Earlier in the 1970s and 1980s, the Japanese had already eliminated British and Italian affordable sports cars from the market thanks to their superior build quality, performance and value for money. By the late 1980s, they were no longer content to occupy the lower market segments. Inflated yen value meant they had to go upmarket. This coincided with their vast progress in technology and design capability. As a result, they produced a string of very fast and high-tech machines, such as Nissan 300ZX (1989), Skyline GT-R (1989), Honda NSX (1990), Mitsubishi GTO (1990), Mazda RX-7 Mk3 (1992) and Toyota Supra (1993). They pushed the Japanese sports cars bubble to its peak, nearly killed Porsche and Corvette.
Among its most obvious rivals (300ZX, GTO and Supra), the RX-7 was usually seen as the best driver's car. This is not a surprise, as it was the only one designed as a 2-seat pure sports car rather than a 2+2 grand tourer. Its chassis was optimized for weight (just 1300kg) and 50:50 weight distribution. Its suspensions were uncompromising in tuning (which means hard) and layout (double-wishbones up front, and a combination of upper wishbones and multi-links at the rear). Compare with mk1 and mk2, the mk3 was much more focused on drivers.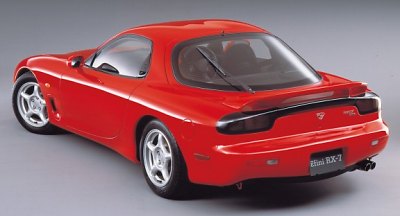 The 13B-REW engine was also considerably more powerful than the last generation, offering 255 hp from the outset (or 241 hp after EU type approval). Following Porsche 959, it adopted a sequential twin-turbo system. As the two small turbochargers spooled up one by one, turbo lag was much reduced while power delivery became much more linear. At only 2500 rpm, it produced as much as 90 percent of its peak torque. Admittedly, the Wankel engine's 217 lb-ft peak was considerably lower than the 300 lb-ft level of its piston-engined rivals, but one could use its lightweight and 8000 rpm rev range wisely to produce impressive performance – we are talking about near 160 mph top speed and 0-60 mph in five and a half seconds. Later Japanese-spec cars were even more impressive with their 280ps output.
It might not better its home-grown rivals in straight line, but in terms of handling it was definitively the best. It had excellent balance, grip, braking and gearshift. The lack of inertia meant the chassis was responsive to steering input. The steering itself was light, quick and communicative. If not the uncompromising ride quality and oversteer on wet, it could have matched Porsche 968 Club Sport as the best driver's car in the class.
To me, the biggest problem of the mk3 was its styling. It was the first RX-7 without traces of Porsche, also the only one looked like a jelly fish. However, the cause behind its commercial failure was likely to be market-related. We know the American and global sports car market collapsed in the mid-1990s as a result of economic recession and customer shift of interest to SUVs and roadsters. It killed the export of RX-7 as well as its Japanese rivals. The Mazda remained on sale and updated in Japan until late 2002, when new emission regulation ruled it out from selling. The bloodline of Wankel engine was carried on by the 4-seater RX-8, but to most car enthusiasts, the role of RX-7 is irreplaceable.