Maserati Quattroporte V

Debut: 2004
Maker: Maserati
Predecessor: Quattroporte IV

Here it comes again. This is the 5th generation Maserati Quattroporte - whose name means "four doors". Its mission is to break the mould of German luxurious saloons and take Italy back into the luxurious car market. You might remember the last generation Quattroporte. Based on a stretched Bi-Turbo platform and finished in poor quality, it was never a commercial success. Even after the company was bought by Ferrari and the latter fine tuned the car in the mid-90s, it was still far from competitive. Today, Maserati is in a much stronger position to challenge the German. It has a modernized factory, a strong engineering team shared with Ferrari, a well managed quality system and a strong leadership by Maserati-Ferrari chairman Luca di Montezemolo. The first wave of revival was 4200GT. The even stronger second wave is Quattroporte. Now it declares war to the heartland of German - high luxurious car segment.

This segment is currently occupied by Mercedes S600 and S55 AMG, BMW 760i, Audi A8 W12 and Jaguar XJR. Prices range from £76,000 to £90,000 (except XJR at £58,000). Horsepower range from 400hp to 500hp. All can do 0-60mph in under 5.5 sec, but the Mercedes duo is especially lightning quick, taking only 4.6 sec. Comparatively, Maserati's entry into this market is a modest one. It is priced at a reasonable £70,000. This is actually a bargain if you consider its production volume of 4,000 units a year, in contrast to the tens of thousands of S-class, 7-series and A8 flowing over the market every year. But it offers 400 horsepower "only" and in terms of torque it loses out to competitors by quite a margin. Cheaper but less powerful than its mass-production rivals, strangely. Can it beat the German?

If you care only about statistics, the Quattroporte will have no chance. But luckily, Italian cars always sell by their soul and character. Quattroporte is undoubtedly unique in this aspect.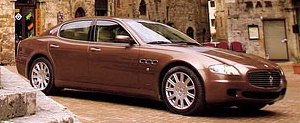 Look at its shape ! it looks like a coupe, with flowing lines and muscular shoulders, in contrast to the sedan-based styling of its rivals. The sculpted nose with classical grille delivers a sense of occasion unfound in any mass production cars. All window frames are chromed, so are side air vents, grilles, door handles and rear lights. This contribute to the prestige feel. I specially enjoy the shape of C-pillar, the single-piece rear side windows and how they meet the pronounced rear shoulders.

Who styled the Quattroporte? the early Quattroporte was styled by Giugiaro and the last generation was by Gandini. Now it finally employs Pininfarina studio, the default choice of Ferrari. It was penned by Pininfarina's Ken Okuyama, the same designer of Ferrari Enzo and 612 Scaglietti.

If you are a good observer, you will find the profile of Quattroporte is "cab-rearward". This reveal a very special feature of the Maserati - rearward-biased weight distribution. Most FR saloons have a slight front-biased weight distribution and some achieve 50:50, but Maserati Quattroporte is the only saloon on the market having rear-biased weight distribution (by the way, Ferrari 612 Scaglietti also follows this philosophy). By putting the lightweight 4.2-litre V8 completely behind the front axle, by moving the cabin rearward (as a result of the engine position) and by putting the gearbox at the rear axle, the car obtains a 47:53 weight distribution. This give it a much different handling character from its rivals - more agile, more responsive to steering and less understeer.

Although many components are shared with 4200GT, the Quattroporte is built on a new platform. In fact, it will be used by the next generation 4200GT and even an undisclosed Audi currently under discussion. You can see how highly regarded it is. The platform uses aluminum double-wishbones as suspensions and Skyhook adaptive damping like the 4200GT.


The Quattroporte is really fun to drive. It sets new standards for big car handling, closer to BMW M5 than 760i. Part of the reason is the firm setting of damping which leads to superb body control. But the main reason is still its chassis balance. It responds keenly to steering input. Its steering has adequate weighting and feeds all the necessary information into driver's hands and filters the unwanted harshness. It understeers at tight corners, but if you switch off the stability control it can powerslide like a M5. Just the extra length and weight denies it a position in sport sedan market.

The trade-off for good body control is firm ride. Even in Comfort mode the damping is still too stiff by class standard. On smooth open road this is not a problem, but on poor surface the rear occupants will feel especially uncomfortable. Anyway, Maserati's target customers are more enthusiastic kind of drivers thus they could be willing to accept that.

The Quattroporte is a very big car. Originally it was designed to be smaller but then Montezemolo was not satisfied with its cabin space and decided to stretch its wheelbase to 3064mm. The whole car measures over 5m in length. Kerb weight is 1930kg, about the same as Mercedes S55 AMG.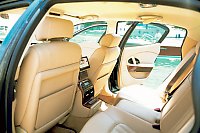 Despite of the S-class size, cabin space is closer to E-class level. This is a price Maserati willing to pay for the rear-biased mechanical layout. Anyway, the quality of the interior is first class, more expensive than any Mercedes on the market bar Maybach. The whole cabin is trimmed with leather. The dashboard and instrument reading are stylishly shaped. Center console is a single piece of wood whose design is inspired by luxurious boats. Beautiful leather seats and generous list of luxurious equipment finish the package. This place reflects the finest Italian style and craftsmanship. More important, it is unique and have no mass market appeal of its rivals.

Responsible for pulling the car is the same engine as 4200GT. Although quoting 400hp instead of 390hp, it is the same 4244 cc V8 with variable valve timing. Inevitably, compare with its large capacity, turbocharged or supercharged rivals its torque output (332 lbft maximum) trails behind by a large margin. However, in terms of sound quality, willingness, smoothness, revability and throttle response this is definitely the best V8 in the world. Moreover, in the engine compartment of Quattroporte it is just as quiet as you want for a driver-oriented luxurious car. Performance is adequate for the class - Maserati claims an unlimited 171mph top speed and 0-60mph only 5.0 sec. So, forget the nonsense German superpower twin-turbo V12, W12 or supercharged V8. The Italian V8 is what we want.

What we don't want is the 6-speed semi-automatic gearbox (now calls "DuoSelect" instead of "Cambiocorsa"). It is made slightly smoother than the previous offering in other Maserati and Ferrari, and it is default at auto mode, but shift action is still jerky in various conditions thus is totally unsuitable to a luxurious sedan. Why not simply employ ZF's 6-speed automatic? Maserati's answer is very simple: it cannot fit as a transaxle. What a pity.

Maserati Quattroporte has taken a big leap in dynamics, quality and comfort while preserving its own character - no matter strength or flaws. To me, it is the most desirable luxurious sedan in the world but not the most sensible purchase. With a decent gearbox and smoother ride quality it could have become a real winner. Let's hope Maserati can sort out these problems in the near future.
The above report was last updated on 13 Mar 2004. All Rights Reserved.
Quattroporte's gearbox improved

No matter what they calls, the automated manual gearboxes of Ferrari-Maserati were always flawed. Lightning quick they may be, but the harshness and unpredictability were hardly acceptable. This is especially disappointing if you remember Ferrari was the first car maker launching this kind of gearbox.

Recently, the company seems finally sorted out the problem. The F1A gearbox on Ferrari 612 Scaglietti is praised for being smooth and refined, just next to Audi's DSG gearbox. Now Maserati Quattroporte's DuoSelect gearbox is also under surgery - a thing it desperately needed. By upgrading the software - a result of repeated testing - the gearbox now shifts noticeably smoother. Now you can finally enjoy the marvelous engine without being disturbed by the gearbox.

In auto mode, the timing of shift is also more predictable. In the past, it used to change unexpectedly in mid-corner and ruin the smoothness of control. Now the software is more sensible, understanding what the driver's want and hold the gear in those circumstances. An unfussed driving is finally achieved.

With the gearbox upgrade, I can finally put my vote to Maserati Quattroporte when electing the best luxurious sports sedan, at least until the new M5 arrive.
The above report was last updated on 9 Jul 2004. All Rights Reserved.
Quattroporte Sport GT



Sport GT is the latest improvement to the big Quattroporte. As indicated by its name, it is the sportier version of Quattroporte, aiming at more hardcore drivers. Modifications concentrate on 5 areas:

1) It employs aggressive 20-inch wheels (up from 18-inch) and very low profile tires (245/35 front and 285/30 rear). The tire compound is made specially for the car to enhance handling at the limit.

2) The Skyhook adaptive damping got revised software to control the suspension better during hard use.

3) The semi-automatic transmission has improved program. In Sport mode, the shift is quickened by 35% yet it becomes cleaner and smoother.

4) The brakes are now cross-drilled. Pedal feel is also improved.

5) The cabin replaced woods decoration for carbon-fiber ones. Dark leather and drilled aluminum pedals also contribute to a serious ambience.

As a result, the Sport GT becomes even better than before. On the road it displays amazing agility, poise and driver involvement. The improved damping, grip and shift quality give it the necessary refinement to fight against BMW M5, although it is neither as powerful nor as quick. However, the new interior delivers a bespoke feel that none of its mass production German rivals can compare with. This is absolutely a contender of the best performance saloon in the world.
The above report was last updated on 20 Apr 2006. All Rights Reserved.
Quattroporte Automatica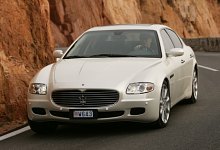 After 3 years insisting on the automated manual gearbox DuoSelect, Maserati finally admitted most customers prefer a conventional automatic transmission. Although DuoSelect has been improving significantly through the years, in automatic mode it is still noticeably more jerky than a conventional automatic transmissions simply because it uses an automated clutch instead of a hydraulic torque converter. To Ferrari, this does not present much problems. To the Maserati four-door luxury saloon which targets at the same audiences as Mercedes-AMG S-class, BMW 760, Audi S8 and Jaguar XJR, customers regularly leaves the transmission in automatic mode thus they inevitably prefer the seamless gearshifts of its genuine automatic rivals. This forces Maserati to add a conventional automatic option to the car.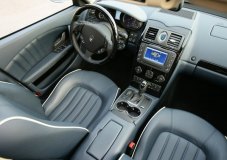 The Quattroporte Automatica employs a 6-speed automatic made by ZF. As shown in BMW 7-Series, Jaguar XJ and XK and Aston Martin DB9, this is the best automatic available on the market (bear in mind that Mercedes' 7G-Tronic and Lexus' 8-speeder are unavailable to others). However, to install it into the Maserati takes a lot more modifications than imagined. The original Quattroporte has its DuoSelect gearbox mounted at the rear axle (i.e. "Transaxle") to benefit weight distribution. Unfortunately this format does not fit the ZF automatic, thus Maserati has to move the gearbox to the front, just behind the engine, in conventional position. This triggers a series of modifications - the rear subframe was redesigned; the V8 engine switched to wet sump lubrication; the cam covers are painted in blue instead of red in order to distinguish from that of the dry-sump / DuoSelect version. Reprogramming the engine to suit the character of the automatic gearbox also results in a rise of maximum torque by 7 lbft, and it arrives at 4250 rpm instead of the previous 4500 rpm. Peak power remains changed at 400 hp, at a heady 7250 rpm.

On the road, the new gearbox brings refinement never experienced in the previous Quattroporte. In automatic mode, apart from a slight jerk at start up, the gearbox shifts smoothly once the car is rolling. For the first time since its birth, the big Maserati feels relaxed to drive, as the torque converter smoothen out the shocks in every gearshift. In manual mode (operated by paddles behind the steering wheel), the ZF unit still excels in upshift, but downshift is not quite as smooth as DuoSelect because it does not make enough engine blip to match rev. Of course, shift speed is not as instantaneous as DuoSelect, something you have to sacrifice in exchange for smoothness. Maserati said the Automatica sacrifices 3 mph top speed and adds 0.4 seconds to 0-60. We have no reasons to doubt that.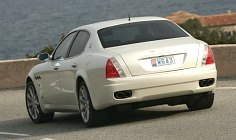 Bringing the transmission forward moves 2 percent of the weight forward as well. But the good news is: the Quattroporte Automatica is still slightly rear-biased at 49:51. No one else in the class can offer the same kind of agility and steering feel. The Skyhook adaptive damping has been tuned to be slightly softer. However, compare with the German and English highway expresses it is still very much a hardcore machine. You won't buy it for ride quality or sound insulation.

Is the Automatica better suited to the Quattroporte than DuoSelect ? most journalists think yes. However, it is still not as refined as a proper ZF unit ought to be. Torque converters are best suited to torquey engines. Unfortunately, the Maserati V8 locates at the other end of the spectrum - rev-hungry, low inertia and relatively short of torque. Paradoxically, while automatic transmission suits the character of the big Quattroporte, it does not suit the Maserati V8. What Maserati really needs is a double-clutch gearbox. It shouldn't take too long.
The above report was last updated on 3 Feb 2007. All Rights Reserved.
Quattroporte S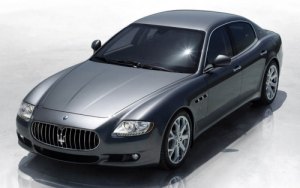 Maserati's V8 engine could be a joy or an upset. Enthusiastic driver should be delighted by its sound and rev-hungriness. It begs you to squeeze it and rewards you with better sound and punch. However, when it is used in a 2-ton luxury car like Quattroporte, they are a mismatch. Heavier cars require more low down torque to overcome its mass. Luxury car drivers are also biased towards effortless driving style. They want instant punch for overtaking once they press the gas pedal, rather than waiting for the rev to rise and working tiresomely on gearbox. A great engine it may be, the outgoing Maserati 4.2-liter V8 is just not the right engine for Quattroporte.

The introduction of a 4.7-liter version of the V8 could solve this problem. This engine has been used in Alfa Romeo 8C Competizione and Maserati GranTurismo S. In the Quattroporte its output rating is 430 horsepower at 7000 rpm (30hp up) and 361 lb-ft of torque at 4750 rpm (22 lb-ft up). Although the max torque sounds even peakier than the old engine, in reality the new V8 is much more tractable, thanks to a flatter torque curve. From 2400 rpm, there is at least 82 percent of the maximum torque (i.e. 296 lb-ft) available for exploit. While it still can't match the larger capacity German performance luxury cars like Mercedes S63 AMG or Audi S8, its performance is satisfyingly accessible to the extent that you can now really enjoy it without turning on your racing mood. Of course, if you want fun, you will still find the Maserati V8 far more charismatic than those torque-biased German engines, because its rev-eagerness remains untouched.

Officially, the 4.7-liter engine is used only in the new range-topping model Quattroporte S (just like GranTurismo S), but we all know the old 4.2 engine is phasing out, so expect all Quattroporte versions will use the new engine very soon. A similar story goes for the old automated manual transmission. Even the new range topper employs the superb ZF automatic transmission mounted right behind the V8.

Apart from engine, all Quattroporte gets a subtle facelift which consists of a more classical grille (like GranTurismo), new LED headlights and taillights and restyled bumpers. I am always a fan of its Pininfarina styling, so the new car continues to be my favourite luxury car design. In the cabin, there are some upgraded infotainment equipments, but I suppose you won't be interested to read them.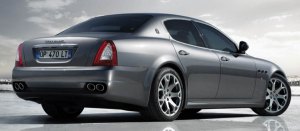 In the chassis, the Skyhook adaptive damping (standard on S and optional in lesser models) has been tuned softer, so the new car rides smoother and quieter. Like the engine, its ride quality is still no match to the best German machines, but it is far more livable now so that you can take ride quality out of its fault list.

As before, the best part of Quattroporte is its neutral handling, thanks to 49:51 weight distribution. It has an excellent dynamic balance that its German rivals could only dream of. This balance also benefits its steering, which is accurate and linear yet lightweight. No other cars so big could be placed so accurately on narrow mountain roads.

The Quattroporte S has corrected the biggest faults of the old car - lack of torque and harsh ride - and keeps excelling in handling. Its engine character, design and packaging are exclusive in the market. Although it is not the fastest performance luxury car, it is definitely the most desirable.
The above report was last updated on 15 Jul 2008. All Rights Reserved.
Quattroporte Sport GTS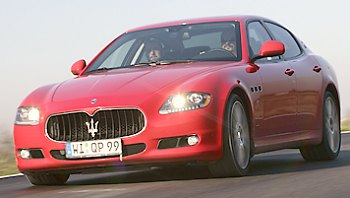 Sometimes I am quite tired of writing about different incarnations of Maserati Quattroporte. Frankly, they do not differ a lot from each other, and their names usually fail to characterize them. Maserati often abused the words Sport (S) and Gran Turismo (GT) so that you can't figure out what characters they represent. The latest generation of Quattroporte – since the larger 4.7-liter engine was introduced – consists of two models, S and Sport GTS. To other manufacturers, S should be reserved for the more sporting model, but here in Modena it is used to represent the regular, more comfort-biased Quattroporte. It is equipped with Skyhook adaptive damping, standard suspension and 18-inch wheels.

Sport GTS, on the other hand, comes with fixed rate dampers, sport suspension (30 and 10% stiffer front and rear respectively) and 20-inch wheels. Its rear tires are 10mm wider. Its V8 gets a two-stage exhaust system to boost peak power by 10hp, or a total of 440 hp. This reduces 0-60 mph to 5.1 seconds. Its ZF 6-speed automatic transmission comes with more aggressive control strategy, including a launch mode called "MC Start" that cuts 0-60 mph a further 0.2 seconds. In short, Sport GTS is more driver-oriented than the S model.

On the road, Sport GTS does sacrifices some ride comfort, inevitably. It is pretty firm, but not harsh by the standard of sports saloons (think of BMW M5 or Audi RS6), thanks to the well-judged damping. In straight line, you will be hard to detect the additional horsepower from the g-force – after all, it represents only 2 percent of the total output. However, your ears will tell you it IS faster, because once the exhaust bypass valves open under sport mode, you hear a deep, throaty exhaust note that few engines can compare with. As we always say, it doesn't matter whether the car is really fast. What matters is whether it feels fast.

The Sport GTS not only feels fast through your ears, but also through the responsive transmission, whose shift strategy is again an improvement from the previous iteration. Manual mode gives you instantaneous response like a robotized manual gearbox – no wonder Maserati has abandoned the old DuoSelect. It does what it is supposed to – no computer intervention except blipping throttle at downshift to match rev beautifully. In Auto mode, it shifts as smoothly as any automatic.

As always, the most special thing about Quattroporte is how agile it corners. With only 49 percent of the car's weight acting on the front axle, and lower polar moment of inertia than any BMWs, you won't be surprised to see the car display responsive turn-in with a light and accurate steering, and keep a neutral attitude way beyond rivals. The stiffer suspension of Sport GTS only makes it more capable, easier to keep up with its more powerful rivals. With a character more sporting than touring, now we understand why its name consists of two "Sport" and one "GT".
The above report was last updated on 22 May 2009. All Rights Reserved.