Spyder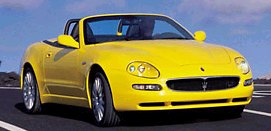 4 years ago, Ferrari took over the control of Maserati from Fiat and De Tomaso. However, the first 100% Ferrari-developed Maserati did not come until the new Spyder. The 3200GT is almost a Maranello job, but it is still powered by a 3.2-litre twin-turbo V8 originated from the Shamal of a decade ago. Now Ferrari finally gets rid of the last link with the old era, introduces a normally aspirated V8 in the Spyder. If you remember, Maserati have long forgotten normally aspirated engines since Biturbo appeared in 1980. Although Bi-turbo engines never disappointed, their images were linked with the darkest 2 decades during which poor quality and flawed engineering were notorious. Now with a Ferrari V8, hopefully the Spyder will inject a new lease of life into Maserati. The coupe 3200GT will follow later.

The all-alloy V8 is a clean sheet design and has no relationship with the one used by 360 Modena. Maranello's engineers understand that for a GT like Maserati, torque and smoothness are far more important than as in the Ferrari sports car while outright power is relatively less important. Therefore the Maserati V8 displaces 4244c.c. (648 more than the Ferrari) and employs a cross-plane crankshaft with full counter-balances instead of the Ferrari's high-revving but vibrating flat-plane crankshaft. Because it does not need to rev into 8000rpm zone like the Ferrari, expensive titanium connecting rods and 5-valve-per-cylinder heads are replaced with conventional forged steel con-rods and 4-valve heads respectively. However, never think this is another civilized V8. Anything come out from Modena of Italy is still extremely powerful - it produces a maximum 390 horsepower at 7000rpm, just 10 short of the Ferrari but 20hp more than the existing 3.2-litre turbo V8 and 84hp more than a 5-litre Mercedes SL. Not even a supercharged Jaguar XKR can match it. Therefore, before the cabriolet version of 911 Turbo arrive, Maserati Spyder will be unbeatable in any power battle of this segment.

What help it achieving 92hp-per-litre are 11.1:1 compression ratio, variable timing at intake valves, hydraulic tappets and oversquare combustion chambers (92mm bore versus 80mm stroke, even more oversquare than the Ferrari V8). As for torque, 332 lbft at 4500rpm is also very healthy, although nowhere near the 362 lbft of the turbo-charged V8. However, the lack of turbo lag means it runs linearly and smoothly across the whole rev range, hence superior refinement.

The new V8 is also renowned for packaging. On the one hand, dry-sump lubrication allows it to lower center of gravity. On the other hand, it is actually 20kg lighter than the old engine, thus help relieving the burden on front wheels. Anyway, the biggest improvement to chassis balance is by moving the gearbox to the rear axle (i.e., a transaxle). As a result, front-to-rear weight distribution has been improved from 59:41 to 53:47.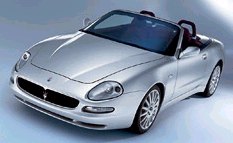 Now you can see the conversion from Coupe to Spyder is a thorough re-engineering rather than a roof job or engine job. The metal roof is of course discarded, but so are the rear seats and 220mm wheelbase. Maserati shortened the car in order to compensate for the loss of chassis strength in the cabriolet conversion. A pair of roll-protection bars is also added behind the headrests as an integral part of chassis reinforcement. In addition to the electric soft roof and some equipment upgrade, you will find the Spyder weighs 1730kg, 140kg heavier than the coupe. So Maranello didn't work hard on weight saving.
Suspensions remains unchanged. In fact, what can be better than all-round double wishbones ? anyway, electronic adaptive damping now integrates with traction control and the F1-style gearbox. When press a "Sport" button, damping is set to stiff position, traction control turns off and the gearbox is changed to super sport mode. Unsurprisingly, the gearbox is a development from 360 F1 but with shift time shortened to a minimum 80ms to equal with BMW M3 SMG II. Alternatively, the Getrag 6-speed manual is still available, but later.
On The Road
As you can see, the Spyder is much shorter than the coupe. So short that it looks even quite fat and less handsome. That's a big contrast to the sleek Mercedes SL. Bigger shock is the deletion of the trademark LED taillights. Now replaced by conventional bulb lights whose shape mirrors the facelifted Volkswagen Passat. What a pity, the old taillights were the highlight the car. More unfortunately, the coupe will receive the same treatment soon.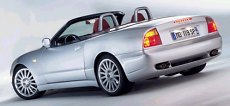 The cabin preserves tasteful styling and full leather packaging. Fit and finish is excellent although some plastics and switches in center console are not high quality. However, compare with Porsche and Jaguar the Maserati cabin feels more expensive and exclusive. It just loses ground in space - legroom is quite tight and the driver sit too close to windscreen pillar. Maserati could have shortened the wheelbase a few inches less to benefit cabin room. I don't understand why it did not do so. General refinement of the roof and air-flow management is effective, if not remarkable.
Start the 4.2-litre V8 and you'll discover this is a real Italian engine. Firstly, it makes a wonderful exhaust noise in the same way as Ferrari and Lamborghini - raw, mechanical and thundering loud. So full of character that makes even a 911 Carrera civilized. Then you'll notice its abundance of torque at low rev which makes the Spyder surprisingly tractable in town. It might lack of the power surge of the old turbocharged engine at mid-rev, but it produces its power in a far more refined and predictable way, linearly from a little more than idle towards the 5000 rpm zone, by then the sound becomes really addictive. Further up the rev towards the 7500rpm redline, it still spins eagerly without any sign of resistance. Regardless of speed, it responds instantly to throttle input. What else can you ask for ? this is unquestionably the finest engine in the class.
Also unquestionable is strong performance. However, I don't think it is capable of doing 0-62mph in 5.0 seconds as claimed. That equals to 4.8 sec for 0-60. Considering the manual 3200GT, with superior mid-range torque and carries 140kg less weight, does 0-60 no better than 5 seconds flat, you don't need much calculation to prove that the Spyder is slightly slower. I think 5.3 seconds is more feasible. Even so, it is just marginally slower than the lighter 911 Cabriolet and ties with Jaguar XKR. Mercedes SL, again, takes a relaxed route.
This lead to our biggest argument - is it a hard-edge GT like Porsche or effortless GT like Mercedes and Jaguar ? it seems more like the former, but the Italian car is not yet fine-tuned enough to deliver the involvement and driving fun found in 911. Enter a bend and you'll know. It has big power, strong grip and powerful brakes, but two of the most critical components fail to impress: gearbox and steering. In Super Sport mode, the F1 gearbox might be as quick as BMW SMG II but it is jerky to shift. It seems the Magneti-Marelli software fail to smoothen shift quality, thus you have to do that manually by easing off the throttle for a surprisingly long period. It is better in normal mode and auto mode, but then it is neither as quick as a real manual gearbox nor as smooth as a real auto.
The steering is another let down. Though quick and precise, it is too light and lack of feel at initial turn-in. In this way it seemed bias towards relaxed motoring, but then again it has steering kickback from the road if the car is riding on anywhere other than smooth highway. Perhaps because the suspension is too stiff, or the chassis is not stiff enough ? it seems both. The adaptive damping is already firm at normal setting. Once switched to sport mode it becomes unbearable on most roads. Judging from the suspension setting, the Maserati is obviously designed to be a hard-edge GT.
However, compare with 3200GT, the Spyder is considerably easier to drive. It balances better, changes direction less nervous and has a far more accessible engine. Choose a manual gearbox, set suspension to normal and drive it on fast motorway, it could be a fast and refined cross-country machine. But its talents are too limited to conditions and even sometimes in contradiction with one other. It is neither as fun as 911 Cabriolet nor as relaxing as SL. Some DNA of traditional Maserati remains here - spiritual but flawed.