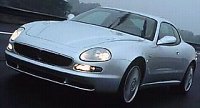 Back to 1997, when Maserati went into receivership by Ferrari, the former was already developing the first all-new model since 1981's Biturbo. To be honest, during the de Tomaso era very few experts had high expectation on any new Maserati. Although the design from Italdesign had already been signed off, it was still hardly imagine that the golden days of the original Ghibli could return.

Once Ferrari took control, it sent the team engineered the 550 Maranello to take up the development of the new Maserati. Their mission was to make the car, eventually called 3200GT, rivals Jaguar XKR, Porsche 996 Carrera etc. in terms of performance as well as refinement. The car will be produced in the rate of 6,000 units per year eventually, close to half of which will be on sale in North America. This means Maserati's volume will be multiplied.

As mentioned, 3200GT is styled by Giorgetto Giugiaro, who also penned the Ghibli and Bora 3 decades ago. The design combines some retro elements with modern functions. Features such as the oval headlights and chromed front grille are rather conservative, probably intended to please the people used to buy Jaguars. Reverse the car 180° and you'll see a big contrast - a pair of rear light strips powered by LED (Light Emitted Diode) rather than traditional filament or discharge lamp bulbs. Insiders said it was the idea of Fiat's CEO Paolo Cantarella, in order to inject a sense of sophistication.
From the fat proportion, you might think it is a rather compact car. In fact, its 4510mm length and 1822mm width exceeds a Porsche 996 Carrera by 80mm and 57mm respectively, while the wheelbase even exceeds the latter by a massive 310 mm ! No wonder road testers found its cabin room is much more than Porsche and Jaguar. Adults up to 180cm could fit the rear seats with sufficient comfort, a thing could never be imagined for its rivals.
As it targets Jaguar, the interior design and trimming are very important. Most people love its stylish dashboard and facia design, especially is the swoopy lines meet symmetrically at the center console. Dials are clear to read. The 550M's Momo steering wheel is wonderful to look at and to handle. As in before, everywhere is trimmed with either nice looking leather or wood. But unlike before, they are well crafted and finished; moreover, the Maserati finally has a good driving position, with decent electric seats and height-adjustable steering column. Narrow transmission tunnel enables good leg and foot room for the front row.
The Maranello men claimed the 3.2 litres biturbo V8 is 90% new, which I don't believe. Counting the no. of new components used, it may be 90% new, but counting the development budget it would not be 90% of a completely new design. Anyway, the Quattroporte-sourced engine received some new features including variable-flow turbochargers (still supplied by Japan's IHI), longer induction manifold, electronic throttle which enhances throttle response and enable 550M's ASR traction control to be fitted. It output 370hp at 6,500rpm, some 35hp up from the Quattroporte. Peak torque of 362lbft emits at 4,500rpm, at least 90% of which is obtainable between 2,700 and 5,500rpm.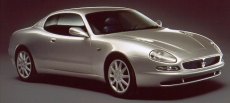 Yes, road test found the new twin-turbo V8 is much more tractable than Quattroporte's unit. Turbo lag becomes just minimal. Mated to the new Getrag 226 six speed manual box, which shares with BMW M3 and M5, the 3200GT feels very quick. Cruising at top gear on motorway feels as refined and stable as any well sorted German cruiser.
At the time Maranello offered the first road test to the jounalists, the 3200GT was still under refining. Therefore the following comment about its handling and ride might be changed in the production version :
Obviously, the engineers are still working on the setting of steering. One magazine reported the steering as too heavy, too center-biased and has insufficient feedback, while another described it as "over-assisted" but pin-ball accurate. However, both agreed the brake pedal had too long travel. In terms of ride, it is biased towards hard despite the existence of Ferrari's 14-setting adaptive damping.
Report created on 19 Feb 98. Last updated on 19 Feb 99. All Rights Reserved.