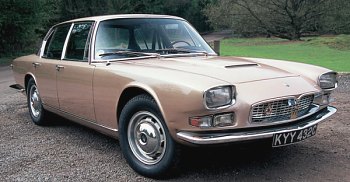 When it debuted in 1963, Maserati Quattroporte was the fastest four-door saloon in the world, easily eclipsing contemporary Jaguars and Mercedes. Propelling this car was an all-alloy, quad-cam 4.1-liter V8 detuned from the 450S racing car. 260 horsepower enabled a claimed 230km/h (143mph) top speed and 0-60 mph in around 8 seconds – if the top speed was a little difficult to achieve, later cars with 290hp 4.7-liter V8 should have no problem to do so – no one else had ever achieved this with a large car measuring 5 meters long and offering a spacious cabin for 5 ! Quattroporte was a pioneer of high-performance luxurious saloons.

Viewing it today, the Frua-styled Quattroporte is not exactly a design classic. It lacks the character of Jaguar XJ6, the grace of Lincoln Continental or the vision of Lamborghini Espada. However, in the mechanical side it was definitely top notch. It employed a unitary floorpan made of box-section steel, then welded to the steel bodywork supplied by coachbuilder Vignale. Race car experience brought it a de Dion rear axle, while double-wishbone suspensions served the front. Transmission was by ZF 5-speed manual. It was also very well built, with lavish walnut dashboard and Connolly leather trim. Standard air-conditioning and power windows were unusual features then.

Commercially, the Quattroporte was not as successful as 3500GT, but a total production of 759 cars was not bad for such an exclusive segment.

The second generation Quattroporte was launched in 1974. Unfortunately, energy crisis and cost sharing with Citroen (i.e. the new owner of Maserati) made it no more than a Maserati version of Citroen SM, which meant front-wheel drive and V6 power. In addition to an unloved styling by Bertone, only 5 units were sold before the project came to a halt.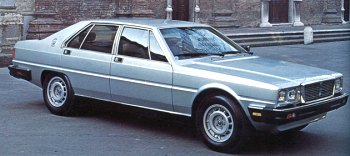 In the mid-1970s, Maserati went into the hands of Alejandro de Tomaso. Using Italian tax payers' money, de Tomaso created Quattroporte III based on the platform of his De Tomaso Longchamp and Deauville.

QP III reverted to the philosophy of the original car, just being even larger and more luxurious. Giorgetto Giugiaro gave it an angular design in the fashion of 1970s. The steel monocoque was suspended by all round independent suspensions. Power came from the old 4.1-liter DOHC V8 with 255hp, or later a 280hp 4.9-liter unit. ZF 5-speed gearbox was again available, but most buyers opted for a Chrysler 3-speed automatic gearbox, whose smooth operation suited the high-speed cruising manner of the car.

Until the mid-1980s, Quattroporte III was still the world's fastest luxurious saloon together with Aston Martin Lagonda and Mercedes 450SEL 6.9. Following the emergence of new generation German limousines like BMW 750iL and Mercedes 560SEL, the Maserati became outdated. Series production stopped in 1986. However, a more luxurious / expensive version called Royale was still available to special orders until 1990. In total, 2141 cars were built.