I can understand if you were shocked to see Maserati Biturbo appeared in this classic car archive. To people old enough to remember the "good old days" of Maserati, Biturbo represented the beginning of a dark era brought by Alejandro De Tomaso. Style descended from the sexy lines of Ghibli / Bora / Khamsin to a tin box. Powertrain downgraded from mighty V8s to small-capacity turbocharged V6. Build quality and reliability took a nose dive. However, the long-serving Biturbo series did keep the company surviving through the 1980s and 1990s until FIAT/Ferrari took over, so no one can deny its significance. Moreover, despite of its many flaws, it was fun to drive in its own right, at least on some later models. For these reasons, I decide to include it in this archive.
Despite of the head-turning Ghibli, Indy, Bora, Merak and Khamsin produced in the late 1960s and early 1970s, sales did not take off at Modena. Further hampered by the 1973 Energy Crisis and economic downturn, Maserati and its owner Citroen ran into bankruptcy. It was received by the Italian government and eventually sold to De Tomaso, who was running his own sports car company with some success. De Tomaso had an ambitious plan: instead of the small-scale (practically hand-built) production traditionally employed by Maserati, he turned to mass production with an annual volume target set at 7500 units or above. To realize that, he used the defunct factory of Innocenti to manufacture bodies and interior, while Modena concentrated on making engines and suspension bits.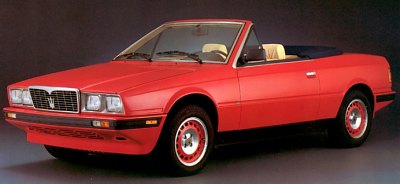 The early Spyder
Of course, to make higher sales volume possible, a more down-to-earth car should be designed. It was a conventional 3-box, 2-door sports saloon similar in size and format to BMW 3-series. It offered four genuine adult seats, a roomy trunk and a cabin lavishly trimmed with wood and leather (and don't forget that beautiful clock). The chassis was conventional steel monocoque, riding on equally conventional MacPherson-strut suspensions up front and semi-trailing arm suspensions at the back. Power came from a turbocharged 2.0-liter V6 derived from the 2-liter Merak V6, as evident from its 90-degree V-angle (which in turn succeeded from V8), but with heavy modifications. The DOHC cylinder heads were simplified to SOHC, but instead of 2 valves per cylinder it ran 2 intake valves and 1 exhaust valve for faster breathing. The chain drive was converted to rubber toothed belt for quieter running. Most important, the V6 was added with not just one, but two small IHI turbochargers. It was the world's first production twin-turbo engine. To emphasize this technology, the car was simply named Biturbo.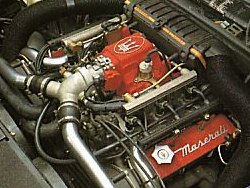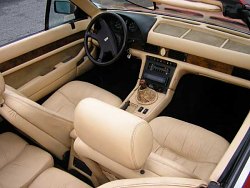 The early Biturbo was good for 180 hp and capable of 0-60 mph in 7 seconds. It was faster than BMW 325i yet cost the same at its home market, thanks to the fact that it avoided the 38% tax imposed on cars with engine capacity over 2 liters. No wonder it became a hot seller soon. Unfortunately, it did not take long for owners to experience all kinds of reliability problems – engine overheating, electrical failures, rust, parts fell off from the cabin… obviously, the car was rushed to the market without proper development, just in typical De Tomaso way. As a result, sales cooled off quickly and never matched the original target. The early Biturbo became notorious for poor build quality.
That said, every year there was still a couple of thousands people willing to purchase the flawed but characterful Maserati to show their acquired taste. Even though the Biturbo did not handle or ride exceptionally well, its combination of fine performance, practicality and the superior image of its Trident badge, if any left, was still attractive to many. Moreover, in the following years Maserati never stopped developing the car, sorting out its flaws and keeping it up to date. Over the years, the V6 received boost control (1983), water-cooled turbos (1985), air-to-air intercoolers (1985), electronic fuel injection (1986), catalytic converters (1988 for Europe), DOHC 4 valves per cylinder (1989), forged pistons and sodium-filled valves (1991). Displacement remained 2.0 liters for home market, but export versions started from 2.5 liters and grew to 2.8 liters since 1988. Power increased exponentially through the years, so in terms of performance the car remained competitive.
425 - the first four-door model
Although the exterior was never heavily altered, the chassis and interior received adequate updates, such as limited-slip differential, new suspensions, upgraded brakes and new dashboard. The later the cars got better. However, one thing I don't like is the way Maserati played with nameplates - to make it sound fresh, it introduced a new name once the car was updated. This mean the Biturbo had used more than 20 names during its 17 years history. And more annoyingly, the nomenclatures, if any, were inconsistent, so it would be difficult to tell what the car was from its name unless you were an expert of Biturbo. Here I summarize the essential models below:
Model

Debut

Engine

Power

Description

Biturbo

1982

2.0 / 2.5

180-205hp

2-door with 2514mm wheelbase

Spyder

1985

various

various

convertible with 2400mm wheelbase

420

1985

2.0

185hp

4-door with 2600mm wheelbase

425

1984

2.5

196hp

4-door with 2.5 engine

228

1986

2.8

250hp

2-door with 2.8 engine

430

1988

2.8

250hp

4-door with 2.8 engine (not 3.0 !)

Karif

1988

2.8

285hp

2-door 2+2 coupe based on Spyder's short wheelbase chassis, with more powerful engine.

222

1988
2.0

220hp

2-door, named to indicate 220hp engine.

422

1988
2.0

220hp

4-door version of 222

222E

1988
2.8

225hp

Export version of 222, but with 2.8 engine.

2.24v

1989

2.0L 24 valves

245hp

2-door with new 24-valve engine

4.24v

1990

2.0L 24 valves
245hp

4-door with new 24-valve engine
Racing

1991

2.0L 24 valves
283hp

Sportier version of 2.24v

222.4v

1991
2.8L 24 valves
279hp

Export version of 2-door now got 24v

430.4v

1991
2.8L 24 valves
279hp

Export version of 4-door now got 24v
Shamal

1990

3.2 V8

326hp

see text below
Ghibli

1992

2.0L 24 valves or
2.8L 24 valves

306hp
284hp

see text below

Ghibli Cup

1995

2.0L 24 valves

330hp

see text below
Among the variants, Shamal and Ghibli are worth the most attention.
Shamal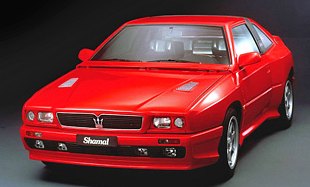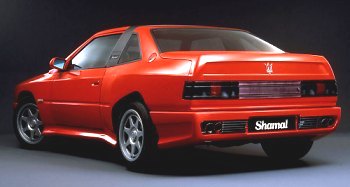 Frankly, Shamal looked disgusting to me back in 1990. It proved that Marcello Gandini had already passed his peak and his taste became ever more strange. The spoiler at the base of windscreen was one of the strangest things I had ever seen. Slightly less so was the black, Targa-style B-post on a car that was actually a coupe. More positive were clamshell trunk lid and irregular-shape rear wheel arches, the latter a signature of Gandini. The Shamal was obviously based on the short wheelbase floorpan of Spyder, so its cabin was 2+2. Pronounced wheel arches housed wider tracks and tires, making a sportier profile than any other Biturbo variants. Unfortunately, Gandini overdid the styling with exaggerative skirts, bumpers and extra panelings around the nose and headlamps. Isn't it look too plasticky ?
The biggest advance was engine. Maserati developed a new twin-turbo 32-valve V8 for Shamal. With 80mm bore and stroke, it displaced 3217cc and produced 326 horsepower. Performance was claimed to be 168 mph and 0-62 mph in 5.3 seconds. In other words, the Biturbo variant finally exceeded Ghibli / Bora / Khamsin for performance, if not for desirability.
Other mechanical aspects were equally classy. This was the first Maserati to run a 6-speed gearbox (by Getrag), Brembo brakes and electronic adaptive dampers. However, the Shamal was also too expensive for the build quality and reliability it delivered. It asked for more money than Porsche 911 Carrera, Lotus Esprit or Honda NSX, no wonder only 369 units were sold from a six-year production run.
Ghibli II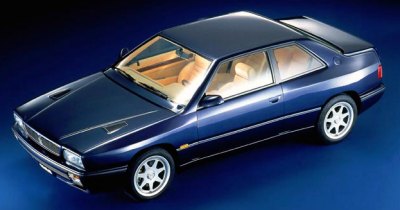 The Shamal was not commercially successful, but many of its new features benefited the mass production Ghibli II, which was the last evolution of Biturbo family and had nothing to do with the original Ghibli. The styling of the new Ghibli obviously learned from Shamal, but without the latter's plasticky cladding it certainly looked better, if still far from handsome. It rode on the standard 2514mm wheelbase and offered 4-seat accommodation. The suspensions were taken from Shamal, including the Koni electronic adaptive dampers. The same 6-speed gearbox was adopted in later production.
Engine was the final evolution of the venerable twin-turbo V6. In Italian form it produced an astonishing 306 horsepower from just 1996cc. Export version was less efficient with 284hp from 2790cc, but it compensated with 40 lb-ft more torque. Both were capable of propelling the car from rest to 60 mph in 5.6 seconds and topping 155 mph. Moreover, the Ghibli did not sacrifice the usual wood and leather interior and luxury equipment, therefore it was deemed to be a worthy alternative to BMW M5. A total of 2,220 cars were sold, not bad for an essentially aging model.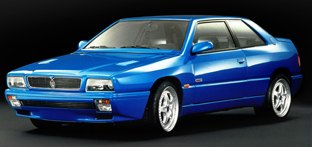 Ghibli Cup
Even better was the later
Ghibli Cup
. Its engine was available in only 2-liter form, no matter for home market or export. Thanks to new roller-bearing IHI turbochargers, tweaked engine management system and free-flowing exhaust, power rose to the all-time high of 330hp - that's a record-breaking 165hp per liter ! It also featured larger Brembo brakes, stiffer springs, electronic adaptive damping and a meaner all-black interior with Momo steering wheel, carbon-fiber inserts, drilled aluminum pedals etc. When Autocar tested the Cup in 1997, it praised its engine for powerful yet smooth and reasonably tractable. The steering was said to be the best among front-engined rear-drive coupes since Porsche 968CS as it was highly communicative and involving. Ride quality was more decent than any previous Biturbo cars. On the downside, the Ghibli Cup was still notorious for build quality, as evident from squeaks and rattles in its cabin, its Italian-style driving position and a notchy gearchange. The magazine concluded it as "the most convincing new-age Maser yet. Flawed but fast and great fun."
The Ghibli and Ghibli Cup allowed the Biturbo line to bow out high in 1998, leaving us some fond memory. During its 17 years life, an estimated 38,000 units of all Biturbo variants were produced, making it easily the best selling Maserati of all time. Undoubtedly, people will remember its sweetness as well as its bitterness.