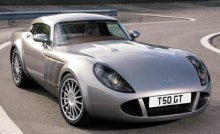 Haven't heard about Marcos for a long time. If you don't know about it, let me have a brief introduction here. Marcos is a small British sports car maker founded by Jem Marsh and Frank Costin in 1959, hence the name "Marcos". For 4 decades, it produced small numbers of sports cars and GT racing cars, such as Mantis and Mantara, using Rover V8. However, the cars became outdated and eventually Marcos went out of business quietly in 1998.

In 2001, Marcos was resurrected by Tony Stelliga, a Canadian telecom tycoon. Stelliga made money by designing telecommunication chips. He earned a fortune when sold his company to Intel, then turned his vision to Marcos - which is another big challenge. To realize his dream, he brought in some experts - engineering chief Chris Meakin came from Prodrive with the experience of developing Aston Martin DBR9 racing car, while designer Damian McTaggart has TVR Tuscan, Cerbera and T350 under his name. In fact, Stelliga himself is also a fan of TVR and an owner of TVR Tuscan, no wonder the new Marcos TSO looks so much like a TVR.

The TSO appeared in 2004 in the form of roadster. This year, Marcos converted it into a fixed roof coupe called GT2, accompany with power boost and a lot of improvement. Generally speaking, it follows the formula set by TVRs: a simple rear-drive chassis with a muscular V8 up front, glass-fiber body, tubular steel spaceframe chassis and no electronic driving aids at all. The advantage of such construction is low cost for small scale production.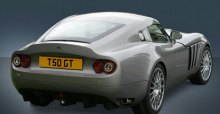 The chassis is derived from previous Marcos, with rigidity increased by 52%. Likewise, the suspensions are MacPherson struts up front and double-wishbones at the rear. Large AP racing brakes are employed to compensate the lack of ABS.

The glass-fiber body was designed by computer, no wonder the panel gap tolerance is narrower than usual. Like a TVR Tamora, the Marcos TSO is very compact, measuring just 4 meters in length and 1.7 meters in width. As the front half is dominated by the long engine compartment (the big V8 is located quite rearward to achieve 50:50 balance), the cockpit is small. People over 6 feet 3 will undoubtedly find it very tight.

For engine, Tony Stelliga is wise to choose a Chevrolet V8. Currently, TSO GT2 is installed with a 5.7-litre unit coming from the last generation Corvette Z06. With minor ECU tweaks, it is already good for 420 horsepower. A Sport version even tuned that to 475 hp, accompany with 395 lbft of torque. That's more than any TVR can offer, and it guarantees continuous development in the future: the latest Corvette's 6.0-litre unit will be available soon, and we have every reason to believe the new Z06's 7-litre unit will find home at the TSO's engine bay eventually. That engine is already good for 500 horsepower in standard form ! it has potential to be a modern AC Cobra 427 !



Came together with the Chevrolet V8 is the Tremec 6-speed manual gearbox, which transfers power to the rear wheels via a Hydratrak limited-slip differential - a must to handle that kind of power.

On the road, the 1170 kg Marcos delivers a verydifferent character to TVRs. As the American V8 is torque-biased and less revvy than TVR's multi-valve straight-six, the driving character is more relaxed and easy. Performance is undoubtedly strong - 0-60 mph in 4.0 seconds and 100 mph is arrived at 9.0 seconds, with a claimed top speed of 185 mph. But it does not have the intense feel as TVRs. Tony Stelliga described TVRs as flashy cars for men, while the Marcos is an everyday car for wider audience. It is more in line with traditional British roadsters, such as Triumphs, Healeys, the old Aston Martins and Jaguar E-type etc.

The real surprise is chassis. Marcos employed Prodrive as a consultant to design the chassis and to test and sort out the handling scientifically using modern techniques. It even moved its factory into Prodrive's site at Warwickshire, using Prodrive's test track to develop the TSO. The result is a well-sorted but unique driving character.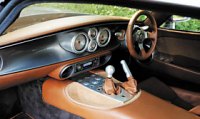 Today's sports cars usually employ big rubbers and very stiff suspensions to enable fast and flat cornering. Although their cornering limit is extremely high, when they exceed the limit the tires tend to give up suddenly. Many traditionalists therefore criticized modern cars less playable than classic ones.

Interestingly, Marcos and Prodrive chose the classical approach. By using narrow tires (215 front, 235 rear), the TSO is more prone to oversteer. By using very soft springs, the rear end loses grip progressively at the limit, thus the TSO is highly "driftable" by cooperating throttle and steering. This is by no means the fastest and sharpest way to corner, but it is more entertaining and more friendly to control at the limit.

Prodrive also made all controls friendly to drivers - the steering is light and free of kickback (if not very feelsome), the clutch and brakes pedals have long travel and lightness never seen in cars at this performance level. Only the clonky gearshift from the Tremec gearbox disappoint.

That said, the Marcos is not exactly a long distance grand tourer for weekend cross-country. It's lack of space, luggage room and a small fuel tank are not suitable for that task, while the excessive wind noise and suspension noise work against refinement. As an everyday car to go to work or to enjoy a Sunday afternoon, however, the Marcos is pretty good. You can relax in this car, enjoy its compliant ride, friendly behavour and press the throttle just to hear its lovely V8 howl… surprise, we thought the Marcos would be a clone to TVR, but in fact it is a very different animal.