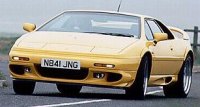 Before reading this article, you are strongly advised to read our page for older Esprits. The Esprit series started in 1976. During these 20 years the basic chassis structure and suspension layout has no significant change, although nearly all components had been replaced. The largest change was introduced in 1988, where the original Giogiaro design replaced by Peter Steven's style. After which there is nearly one update and one new name every 2 years - Esprit SE (1989), Esprit 300 (1991), Esprit S4 (1993) and Esprit S4S (1995). Every new car improved handling, grip and a little bit refinement. However, the weakest point remains to be its engine, not because it is not powerful enough, but as a four cylinder it is difficult to chase V6 and V8 for refinement.

Lotus knew the four cylinder has reached its upper limit for improvement. ( if Lotus's engineers were not so competent, the engine would have been finished a lot earlier.) However, due to financial problem a V8 was yet to be made until 1996, which is 20 years anniversary of the Esprit. The new V8 is developed under an amazingly small budget. It is a compact design with the most common technology you can imagine : 4 valves per cylinder, twin-turbo and charger-cooler ( Lotus's alternatives to costier intercooler ). Displacing at 3506c.c., this V8 is capable of outputing 349hp and 296lbft, sufficient to outperform Porsche 911 Carrera and have a good fight with Ferrari's mighty F355.

On paper, it provides better performance than both 911 and F355, especially for 0-60mph its 4.2sec is 0.4sec faster than both its competitors. It also feels the strongest, due to the highest torque. On the other hand, slight turbo lag disappoints those admirer for Lotus' engineering excellence, especially while the 100hp/litre specific output is not so impressive for a turbo engine. The engine sounds least pleasing, nor rev as eager as the 40 valver of F355. Therefore it is not the best engine by any standards other than size and weight.

Nevertheless, Esprit's chassis is an excellent example of Lotus' experience in racing. Despite the origin is as old as 20 years, it still provides the most accurate steering, balance and grip. At the same time, ride is improved so that Esprit is no longer a harsh performer.

The body shell is made of reinforced glass fiber like all other Lotus, which is easy and cheap to produce in small quantity and simultaneously has the advantage of lightness. As a result, the total weight can be kept at under 1350kg, pretty impressive. Cabin is always cramped, since Esprit is one of the lowest car in history. Moreover, foot room is very limited by the wheel arches. Pedals are severely offset towards the center.

To conclude Esprit V8, I'll call it a "fast, good handling and appealing mid-engined sports car with a cramped cabin and poor finish".