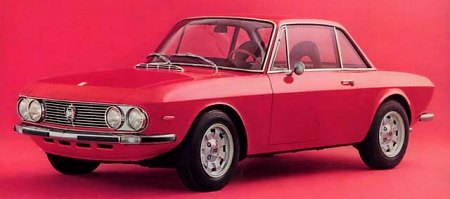 Lancia was crowned world rally champion 11 times between 1972 and 1992, making it the most successful manufacturer in WRC history. This glorious history started with Fulvia Coupe HF in the mid-1960s.
HF, named after an Italian racing club, was obviously designed with motor racing very much in mind. In many ways it was very similar to another classic of the time, Alfa Romeo GTV. Both were compact performance cars based on production models (Fulvia and Giulia); both had advanced engines (Lancia V4 and Alfa twin-cam) and all-round disc brakes; and both were highly entertaining driver's cars. However, while the GTV was a circuit racing car, the Lancia targeted at rallying, so they were not quite direct competitors.
Two things the Fulvia excelled over GTV: elegant style and impeccable engineering. Born just before FIAT's acquisition, it was probably the last true Lancia that stick to the engineering-first approach of Vincenzo Lancia. Open the bonnet and you can see all the mechanical parts were so beautifully made and installed like contemporary Mercedes-Benz. Outside, the Fulvia Coupe was not only pretty but also well built. Its slim pillars were all chromed, as was the bumper and nose surround. Panels fitted as tightly as German cars. The Coupe was one of the three body styles of the Fulvia family which also included long wheelbase Berlina (saloon) and a Zagato-bodied fastback coupe. The Zagato was mechanically similar to the coupe, but it was no where as beautiful. Even today, the Fulvia coupe is still one of the few three-box coupes that appeal to me.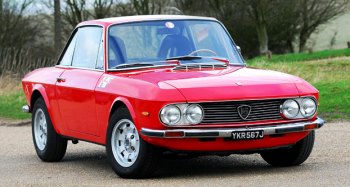 In the early 1960s, British and Italian motor industry started chasing front-wheel drive. Fulvia family was not in exception. Its mechanical layout was taken from Flavia FWD, Lancia's mid-sized car. The engine was positioned longitudinally in front of an aluminum-case transaxle (which came from Flavia), then drove the front wheels. The latter were suspended by wishbones and transverse leaf springs, while the dead rear axle was suspended by elliptic leaf springs and controlled by panhard rod. Like today's Audi Quattro, the whole engine was suspended fore of the front axle, thus resulted in 65 percent front-biased weight distribution. Fortunately, Lancia's trademark V4 engine was unusually short, enabling it to be fitted to the nose that didn't seem especially long. In order to lower center of gravity, the engine was canted to the left by 45 degrees. Such mechanical layout was very elegant.
Lancia had been using narrow-angle V4 for 40 years since Lambda. In the new car, the concept was further developed. For the first time, it adopted two overhead camshafts, one served all intake valves and another served all exhaust valves. This was made possible by the close distance between both cylinder banks, as the V-angle was only 13 degrees. In this way, the Lancia V4 was a true twin-cam engine like Alfa Romeo's inline-four. (remark: Volkswagen would copy this idea to its first generation VR6 in 1990s) Initially, the engine ran 1216 cc and produced a remarkable 80 horsepower.
By 1965, Lancia introduced HF model to Fulvia coupe. Not only its engine was tuned to 88hp, the HF got lightweight aluminum bonnet, doors and boot lid and plexiglass windows to reduce its kerb weight to 825 kg.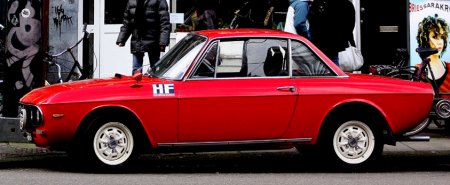 Later on, the engine was upgraded to 1298cc and 101hp. In 1968, it was heavily modified to 12-degree, 1584cc and produced 115hp. This 1.6 HF was the definitive version. Various states of tune were available. The extreme could get 132hp in road trim or 160hp in race trim. However, for everyday road use the 115hp version had the best balance between power and tractability. The 1.6 HF also received a new ZF 5-speed gearbox instead of the outgoing 4-speeder. Top speed was claimed at 118 mph, while 0-60 mph took 9.4 seconds according to a road test by Autocar magazine.
By the standard of contemporary fast cars, Fulvia Coupe 1.6 HF was a little slow in straight line. Nevertheless, its strength lied in handling. Doubts over the effectiveness of front-wheel drive were washed away when the Lancia won International Rally Championship in 1972, and triumphed in European Rally Championship in 1969 and 1973. Thanks to the combination of front-wheel drive and 61 percent-front-biased weight distribution, the Fulvia offered superior traction to its conventional FR opponents on slippery roads. That might be key to its rallying success. Of course, its lightweight, agility, powerful brakes, long-travel suspensions and robust build also played an important role.
As a road car, the Fulvia was praised for predictable handling, supple ride, smooth engine and excellent build quality. In its 1966 road test, Road & Track described it as "a precision motorcar, an engineering tour de force".