Lamborghini Gallardo

Debut: 2003
Maker: Lamborghini
Predecessor: Jalpa
Since the V8-powered Jalpa died in 1988, Lamborghini has been relying solely on a V12 model (Countach, Diablo and Murcielago) for survival. The company always wanted to have an entry-level model to rival the V8 lines of Ferrari and to increase sales volume. In 1988 it nearly made it - a new V10-powered car, internally called as P140, was almost completed before the plan was scrapped due to financial difficulties. During the 90s, Lamborghini was sold to Malaysian and Indonesian. Without an adequate financial backing and technical support, the plan for "Baby Lambo" was again put on shelf.

The turning point came in 1998, when Audi - on behalf of Volkswagen group - bought the Italian supercar maker. Audi has the money, expertise and determination required to revive the Lamborghini marque. The first act was to redesign the L147 supercar, which was already under development. It eventually became the successful Murcielago. The second act, also more important to the prospect of Lamborghini, is to launch the baby Lambo - Gallardo. It will be produced at a rate of 1,000-1,200 units a year, compare with Murcielago's 400-500 units / year. Assembly time required for each car will be reduced from the Murcielago's 500 hours to just 150 hours, hence greatly reduces production cost. This allow it to be priced just marginally above its target rival, Ferrari 360 Modena. In the UK market, it is sold at £117,000, versus the Ferrari's £103,000. Porsche 911 GT2 (£116,000) and 911 Turbo (£88,000) could also be affected by the baby Lambo, although they have rather different characters.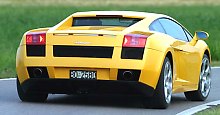 Gallardo - pronounced as "Ga-yardo" - is named after a famous fighting bull in the 19th century, just like Murcielago. In terms of size, it is much smaller than Murcielago, of course, being 18cm shorter, 10cm narrower, but the roof is 3cm taller to improve headroom. Even compare with 360 Modena, it is also considerably shorter, thanks to short overhangs.

Like the Ferrari, its chassis is made of aluminum space-frame, engineered in Germany by Audi's ASF technology and manufactured in the Neckarsulm plant where A8 is built. Torsional rigidity reaches a remarkable 23000Nm/degree. The body is also made of aluminum panels (except the plastic bumpers), cheaper than the carbon fiber ones used by Murcielago. The whole car weighs 1520kg, 130kg heavier than 360 Modena. This extra weight is mainly contributed by the larger 5.0-litre V10 engine (versus 3.6-litre V8) and the adoption of 4-wheel-drive system. That said, the baby Lambo is by no means overweight.

The exterior design is handsome - not as stunning as older generations of Lamborghini but still a spectacular look. The body profile is purely Lamborghini - wedge shape, cab-forward, short front end, high and muscular tail. The side profile has the same pureness as Murcielago. Up front, it has vertical headlamps, in contrast to Murcielago's polygon-style ones. The big air intakes are, however, polygon-shaped. At the rear, the styling is a bit fussy, angular and complicated. A tiny adjustable spoiler recesses into the trailing edge of the tail. At speed its angle will be increased to reduce lift. Flat bottom also helps reducing drag and lift.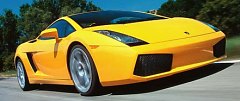 Who style Gallardo? the original design came from a proposal by Italdesign (it was penned by Fabrizio Giugiaro instead of his famous father Giorgetto Giugiaro, however). Audi did not use the design directly, but modified it by its star designer Luc Donckerwolcke, who designed Murcielago. This is very much like the styling of Diablo - originated by Marcello Gandini and refined by Chrysler. According to Lamborghini, the production car retains 30-40% the styling of the original design.

Heart of the car is a new 5.0-litre V10 engine. It was developed primarily in-house but, as we know, Cosworth Engineering - another subsidiary of Audi - gave a helping hand, although Lamborghini denied that. The block was derived from Audi's V8, sharing the same 90° V-angle, bore center and chain drive. Theoretically, 72° is the smoothest configuration for V10, but 90° helps lowering center of gravity, as you can see in many Formula One engines.

The 40-valve V10 displaces 4961cc, far larger than its Ferrari rival. It also beat its rival by using continuous variable valve timing at both intake and exhaust valves, plus a 2-stage variable intake manifolds. Maximum power is 500 horsepower at 7800rpm, a full 100hp more than 360 Modena.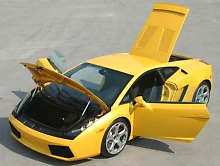 Specific power of the V10 is exactly 100hp / litre, not as high as the Ferrari's 112hp / litre. This is because it is designed to pump out a whole lot of torque as well. Each combustion chamber measures 82.5mm in bore and 92.8mm in stroke, the longer stroke of course benefit torque delivery. Maximum torque is 376 lbft at 4500rpm, knock out the tiny Ferrari V8 by 101 lbft. Moreover, from just 1500rpm, it already generates 80% of the peak torque. This engine is very torquey.

Lamborghini claims a 192mph top speed while 0-60mph takes 4.1 seconds. This seems totally believable to me. It beats 360 Modena convincingly and runs very close to the more expensive Murcielago. In fact, in terms of power-to-weight ratio the baby Lambo almost matches the flagship Lambo - 329hp / ton versus 333 hp / ton. Ferrari Modena is just 288 hp / ton.

The Gallardo is offered with either a 6-speed manual gearbox or a paddle-shift semi-automatic. It is installed behind the engine, unlike Murcielago / Diablo / Countach which place it inside the transmission tunnel in front of the engine. This arrangement does not benefit weight distribution (42:58 for the Gallardo), but it lets the transmission tunnel to be narrower thus improves interior space of the smaller Lambo. The semi-automatic is supplied by Magnetti-Marelli, the same supplier to Ferrari's F1 system. But Lamborghini wrote its own software to achieve smoother gearshift than its rival. In Normal mode, a shift takes a min. 220ms. This could be shortened to 170ms when Sport mode is selected.

Like Murcielago, drive is sent to all 4 wheels by a simple viscous-coupling center differential (no electronics involved at all), with 30:70 torque split between front and rear under normal condition to deliver a rear-bias handling characteristic. In case of tire slip, up to 50% torque can be transmitted to the front wheels.

Suspension is by classic double wishbones. Unsurprisingly, the wishbones are made of aluminum. Gallardo does not have any electronic adaptive damping like Ferrari, but it uses a set of self-adjusting Koni damper which can adjust damping rate according to the frequency of movement.

Now, with 100 more horsepower, 100 more pound-feet of torque and a 4-wheel-drive system, can the baby Lambo gun down its Ferrari rival?

On the Road

Open the door, you can't help a little bit disappointed, for the way it opens is purely conventional. This is the first Lamborghini in 15 years without adopting scissors doors !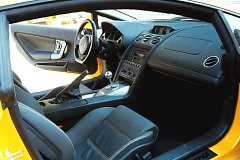 Anyway, that's not a fault. EVERYBODY ELSE in the class employs conventional doors. Once you get inside, you will enjoy three things. Firstly, the style and architecture of the cockpit is purely supercar. Secondly, the quality is good. You may find the climate control and audio system at the center console come from Audi A4, but their quality is actually better than that of Ferrari and Porsche. Thirdly, the cabin is spacious and comfortable for a mid-engined supercar. 6ft 4in people will find sufficient headroom and legroom, actually better than Murcielago. Nevertheless, it doesn't have a light and airy ambience like Ferrari 360 Modena, because the shoulder-line is high and all-round visibility is limited - this follows the tradition of Lamborghini. However, the driving position is good, thanks to multi-adjustable steering wheel and seats. The pedals are no longer offset, very un-Lamborghini.

Start the V10, Oh, what a special exhaust noise ! it sounds like neither the dramatic scream of Modena's V8 nor the mellow roar of conventional V12s. There is some sharp-edge element inside, especially when it is on full song. Yes, it does sound like a Formula One engine.

The V10 is definitely a brilliant engine - powerful, torquey and linear. Up to 60mph, it might not be faster than a 360, because of its taller 1st gear, but at any other gear, the Gallardo is so much faster. The thrust pumping out from the five-litre V10 overwhelms the higher-revving but much smaller Ferrari V8. Besides, the Gallardo engine is so torquey and linear that you don't need to work hard to squeeze out big power. Just like a 911 Turbo, its strong performance is easily accessible. So easy that sometimes you might want more character, say, wouldn't it have been more interesting if the power curve were more dramatic? that's a good question. Ferrari's V8 is so lovely because once its variable intake and exhaust enter the second phase it becomes a wild animal. This is why it inspires its driver to get more and more out of it. In the Gallardo, you tend to be a lazier driver. Thanks to (or blame to) the tremendous torque, you are likely to change up a gear at 6,000rpm rather than 8,000rpm. The same to 911 Turbo.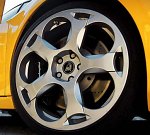 Like Murcielago, Gallardo is heavily influenced by the philosophy of Audi. It replaces the Italian bull's uncompromising character with a completely obedient manner. Sometimes even a little too predictable. You will never believe that it actually matches 911 Turbo for ride comfort and handling friendliness. On wet surface, the 4-wheel-drive system gives you confidence. On dry surface, it is so grippy, so stable and predictable. It feels much smaller than a Murcielago, better balanced and more agile. It doesn't oversteer unless you switch off ESP and provoke aggressively. In objective sense, it is a perfect road car.

But if you assess it as a piece of art, you might find it lacking a soul - at least an Italian soul. It does not inspire and involve its driver like a 360 Modena or 911 GT3 does. You can feel that once you turn the steering wheel - there is some initial understeer built into the chassis, making it not as keen to change direction as its rivals. Once the speed is up, the understeer disappears, but no matter at any speed the steering never feels communicative. Very Audi-like. Is it due to the drive transmitted to the front wheels? unlikely, because Murcielago and 911 Turbo steer much better.

If you want more driver involvement, Gallardo is not the choice. While 360 and 911 GT3 can be driven into controllable powerslide easily, the Gallardo simply doesn't like to slide. It understeers at the limit. When you want to show your superior driving skill, the notchy gearshift, springy and long-travel clutch pedal of the manual gearbox version doesn't inspire. The £6,500 semi-automatic is actually more refined, but like all these systems, it devoid of your driving pleasure.

Ultimately, Gallardo manages to edge out the 4-year-old Modena because it takes supercar power, performance, quality and sense of occasion to a price level never seen. With 500 horsepower and all the expensive ingredients, it should have been a member of supercar club consists of Murcielago and 575 Maranello. This would not have been possible without the help from Audi. However, it is also the influence of Audi which made it less inspiring than what we would expect for an Italian supercar. Next time a little wilder, a little more dramatic, a little unrefined please.


The above report was last updated on 23 Aug 2003. All Rights Reserved.
Gallardo vs 360 Challenge Stradale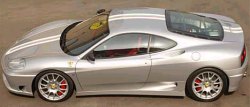 So, Gallardo has edged out Ferrari 360 Modena, but can it beat the Challenge Stradale version as well? interestingly, the Gallardo is priced exactly between the two Ferraris - 14% more expensive than the standard Modena and 14% cheaper than the rarer Challenge Stradale. However, the Gallardo and the Challenge Stradale are made with very different philosophies. The Lamborghini is designed to be purely a road car, one that is easy to live with and easy to control, if losing a bit sharpness and driver involvement.

On the contrary, 360 Challenge Stradale is a road racer, a stripped-out, more driver focused version of the 360 family. It weighs a massive 240kg less than the Lamborghini, enough to compensate the deficit in power (75hp). Power-to-weight ratio marginally betters the Gallardo - 332hp / ton versus 329hp / ton. Straight line acceleration is too close to distinguish, but once in the bends, the Ferrari's lighter build and sharper setup shines. Gallardo has huge brakes, but the Ferrari's are even larger and are made of ceramic composite for the benefit of fade-free braking, therefore no matter on roads or tracks the Ferrari should be quicker.

However, what make the Ferrari knock out the baby Lambo is how it involves its driver. Its steering is even sharper and more communicative than the standard 360, what a contrast with the Gallardo's numb steering. Its reaction to steering and throttle is much more responsive than the Gallardo. It is a real driver's car, a car the driver will enjoy pushing to the limit. In contrast, the Lamborghini is looser, lazier and not much fun to drive at the limit, where it will understeer.

Surprisingly, the Ferrari doesn't lose much to the baby Lambo in ride comfort and cabin comfort. Its biggest fault is perhaps the noise - the V8 is mad and there is no sound insulation. This prevent it from being a proper road car for daily use. That said, its greatness is still untouchable by the Lamborghini.


The above report was last updated on 29 Aug 2003. All Rights Reserved.
Gallardo Spyder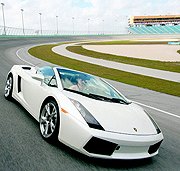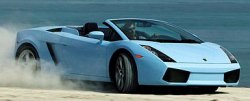 Whenever we evaluate whether a convertible conversion is successful, we consider four factors: roof effectiveness, styling integrity, chassis stiffness and performance loss. Judging by these factors, Gallardo Spyder is undoubtedly a success.

The Spyder is the last Lamborghini styled by Luc Donckerwolcke, who had promoted to head the design department of Audi. Compare with the coupe, it lost the flying buttresses thus a flat engine cover is revealed. Amazingly, it actually looks more mid-engined, more exotic than the coupe ! The more aggressively sculptured engine lid and the enlarged intakes above the rear wheels deliver a wild appearance that every good old Lambo renowned for. Yes, this is what the Gallardo should have been from Day 1 !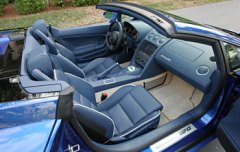 Have a visual inspection to the exterior, you cannot find any trace of hood cover. So you must think it is a barchetta - those nonsense open sports cars without any rain protection. Enter the cockpit, a naughty you press a button on the console and suddenly the carbon-fiber engine lid raises automatically. You might think it could reveal a pair of 007-style missiles - your fancy idea is understandable because the Gallardo Spyder looks so exotic - but it actually reveals the electric fabric roof. In only 20 seconds the roof is closed. It is a well engineered system. Audi's high-standard engineering ensures the roof won't leak or blow off at high speed. If you want to enjoy sunshine without troubling by buffeting, you can leave the roof open and press a button to raise the glass rear screen - very specially, it is mounted vertically at the body and independent of the fabric roof.



On the road, the chassis feels stiff and the handling is generally unaffected by the loss of roof. This must thanks to the reinforcement at the side sills and windscreen pillars. The downside is 140 kg of weight gain - the Spyder tips the scale at 1570 kg in dry, versus the coupe's 1430 kg. Add engine fluid and a full tank of fuel will bring it to around 1660 kg. That's also 140 kg heavier than Ferrari F430 Spider.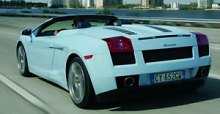 So what? to compensate the weight gain, Lamborghini has upgraded the 5.0-litre V10 to 520 horsepower at 8000 rpm (admittedly, all Gallardo will get the improved engine from now on). Besides, the gear ratios have been shortened to sharpen engine response and acceleration. As a result, the Spyder can top 195 mph (or 191 mph when the roof is down) and accelerate from rest to 60 mph in 4.2 seconds. There is virtually no performance loss.

Like other Gallardos from this year, the Spyder gets 20% quicker steering setup and new dampers. Now it steers more eagerly and more satisfying. Overall, the Spyder is an excellent open-top supercar. It might not be as good an emotional choice as F430 Spider, but it is no less desirable, even regardless of its slightly lower price.


The above report was last updated on 8 Feb 2006. All Rights Reserved.
Gallardo Superleggera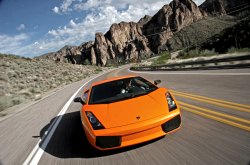 Until now, Lamborghini Gallardo has been renowned for effortless performance and fool-proof handling, but it is not quite as emotional to drive as Ferrari F430. To take the limelight back from Ferrari, Sant'Agata has produced a lightweight version of Gallardo called "Superleggera", or Superlight in English. The trick is no different from Ferrari's Challenge Stradale or Porsche's Renn Sport. By eliminating 100 kilograms and adding 10 horsepower, the Gallardo Superleggera accelerates, stops and corners faster than the standard Gallardo. 0-60 mph is reduced by two-tenths to 3.7 seconds, although the official top speed is unchanged at 196 mph.


The 5-liter V10 engine has smoother intake and lower back-pressure exhaust system to generate 530 horsepower at 8000rpm. Max torque stays at 376 lbft, but it arrives at 4250rpm, some 250 rpm earlier than before. To the driver, such minor increment might be hardly perceivable from the accelerative force, but the engine noise is ever louder, thanks to both the new exhaust system and the discard of sound insulation. Squeeze the throttle and listen the angry bark, the Superleggera is definitely more exciting to the ears.

However, the focus of Superleggera is not power gain but weight reduction, otherwise it would have been called Gallardo SV (Super Veloce, or Super Fast) instead. Among the 100 kg slash, 8 kg comes from the new exhaust system, 5.5 kg comes from the deletion of sound deadening materials and 46 kg comes from the striped-out cockpit. Predictably, carbon fiber is used extensively throughout the car, such as engine lid, diffusers, undertray, rear-view mirrors, door inner panels, the covering of transmission tunnel and the optional rear wing, which adds 50 kg downforce. New DTM forged alloy wheels with titanium bolts are lighter than the standard items. Ditto the optional Brembo carbon ceramic brakes. Besides, the rear window and engine glass are replaced by lightweight polycarbonate. In the cabin, Lamborghini is very kind to retain the air conditioning and power windows, but everything else are striped out. For example, leather trim is replaced by dark Alcantara, electric seats are replaced by fixed carbon-fiber buckets while satellite navigation, audio system, carpets and side airbags are all deleted.



What about the 4-wheel-drive system ? sorry, Lamborghini determined to keep it on board because it believes: a) 4WD has been the DNA of modern Lamborghini; b) Lamborghini's drivers cannot control the car as well as Ferrari's drivers; or c) the subsidiary of Audi should not work against the philosophy of its boss. No matter what reasons, the existence of 4WD system robs the chance of eliminating another 50 kg. Overall, the 1420 kg Superleggera is only 30 kg lighter than the standard Ferrari F430, probably not enough to fend off the challenge from next year's F430 Challenge Stradale - I expect the latter will undercut the Superleggera by around 80 kg.



Keeping the 4-wheel-drive system also brings a question mark over its handling characteristic. We expected the Superleggera to steer sharper and more neutral than the standard Gallardo if it switch to rear-wheel-drive. Now with all-wheels traction continues to serve the car and a power-to-weight ratio only 9 percent higher than the standard Gallardo, the Superleggera doesn't feel much different from the standard car on the road. That is, of course, a reflection of how fast and how accomplished the Gallardo used to be. However, if you look for the communication and emotion of Ferrari's Challenge Stradale, the Superleggera could be a let down. It still grips hard all the time. It still understeers a little. It still filters some feel from the steering.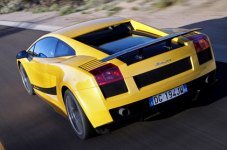 The beauty of Superleggera is that it preserves the finest elements of the regular Gallardo, namely, easy handling and fine ride. The trouble is, people are asked to pay 20 percent more than the standard car to enjoy much the same performance and feel. That is quite absurd. The last generation Ferrari 360 Challenge Stradale gave its drivers 15 percent better power-to-weight ratio and aggressive chassis modifications like lower ride height, stiffer suspensions and wider / lower profile Pirelli P-Zero Corsa tires. In contrast, the Lamborghini Superleggera has less power-to-weight gain and retains much the same suspension setup - it actually softened the springs a little. It does get Pirelli P-Zero Corsa to boost grip, but then the standard Gallardo has never been short of grip. Moreover, the tires have the same size as the regular car. These factors explain why the Superleggera drives so similar to its lesser brother.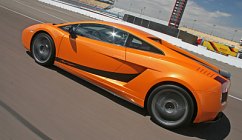 Then why did some magazines say it is more sensational to drive ? because they drove it on race tracks. To discover its superiority, you will need a race track and storm the lightweight Gallardo to the sort of speed impossible on any public roads. Then you will find its lightweight plus the Pirelli Corsa tires lift its cornering limit to astonishing level. Unfortunately, when you push it to that very limit, you will discover the biggest flaw of the Superleggera - at the limit it could suddenly turn from understeer to radical oversteer, which is difficult to rescue. Perhaps its chassis setup is less well balanced than the standard car. Perhaps its suspension setting does not make the best use of the P-Zero Corsa tires. Comparatively, the standard Gallardo is much more friendly at the limit. Ferrari F430 can also contain oversteer much better using its clever active differential.

Lamborghini seems isn't sure what it want to deliver in the Gallardo Superleggera. Is it a track car like Challenge Stradale or GT3 RS ? not exactly. Is it a better road car than the standard Gallardo, neither. The bottom line is, you can go for the standard car and use the remaining £22,000 to buy a Caterham for track days use. That will serve the two requirements better than a single Superleggera.


The above report was last updated on 22 Apr 2007. All Rights Reserved.
Gallardo LP560-4

| | |
| --- | --- |
| | 5 years gone, Gallardo is now ready to gun down its arch-rival Ferrari... |
This year Lamborghini Gallardo is 5 years old. In the past 5 years, nearly 7,000 Gallardos were built, by far more than any other Lamborghini models in history. Moreover, Gallardo has silently replaced Murcielago as the core model of Sant' Agata, not only because of its higher sales revenue but also because it offers more satisfying combination of style, performance and usability than the bulkier V12 model. That is why more and more people would think of Gallardo when we mention the name Lamborghini.

Apart from looking back to its achievement, 5 years anniversary is also a perfect time to give the Gallardo a major update. Sant' Agata calls the new car as Gallardo LP560-4, where LP is the Italian for longitudinal rear-mounted engine, a designation that traces back to Countach. While the numbers in Countach referred to engine capacity, the new nomenclature cleverly changes the number to represent horsepower count (i.e. 560 horsepower here), as it is easier to use horsepower than engine capacity to distinguish different iterations. The only question over the new name is the suffix "4". Lamborghini said it means 4-wheel drive, but aren't all Lamborghinis employ 4-wheel drive these days ? Does it imply a future lightweight Gallardo could be rear-wheel drive ? This is an interesting question that nobody can answer now.
| | |
| --- | --- |
| | Boosting a power-to-weight ratio equaling Superleggera, now the standard Gallardo feels just as quick... |
The purpose of this update is to beat Ferrari F430, of course. To do this, the first thing Lamborghini did was to sharpen its exterior design. Up front, a sharper nose and more aggressive intakes improve visual effect a lot. They are now more coherent with the wedge-shape Lamborghini body profile. The side has virtually no changes because they are already the most beautiful part of the old car. More attention was paid to the tail design, which gets more elegant. As in the outgoing Superleggera, the engine lid has a big glass screen for you to count its 10 cylinders – something its driver will be proud of when parking beside a F430 Spider.

There is basically no changes to the spaceframe chassis. Instead, improvements were made to suspensions (retuned springs and dampers, new rear suspension geometry plus an addition control link), aerodynamic package (e.g. the Ferrari Enzo-like front air splitter adds 30 percent downforce), larger brakes (365/356mm steel discs or 380/356mm ceramic discs) and new Pirelli P Zero tires. Thanks to a lighter gearbox and 4WD driveshaft, kerb weight has been reduced by 20 kg to a respectable 1500 kg. This is quite impressive when you know the new V10 engine is actually 10kg heavier.

| | | |
| --- | --- | --- |
| | | |
Lamborghini said the new V10 has no relationship with the one serving Audi S6 / S8, but both engines displace 5204 cc, both have a very un-Lamborghini undersquared combustion chamber dimensions (84.5mm bore x 92.8mm stroke), both employ direct fuel injection to achieve the same 12.5:1 compression ratio… Take it easy, Bull, using an engine developed and built by Audi is not necessarily a shame to admit. What you have to be proud of is its actual performance: 560 horses at 8000 rpm and 398 lb-ft at 6500 rpm, some 40 horses and 22 lb-ft higher than before. More brilliant, such power gain comes together with a vast reduction of fuel consumption and emission. EU combined cycle consumption has been improved from 16.6 mpg to 19.2 mpg (or even 20.6 mpg for E-gear semi-automatic transmission). CO2 emission has been reduced from 400 g/km to 351 g/km (327 g/km for E-gear). This would not have been possible without the know-how of Audi. Thank Ingolstadt.



On the Road



| | |
| --- | --- |
| | Handling feels more precise and agile, yet at the limit more friendly than Superleggera. However, it still lacks the sharpness and intimacy of 430 Scuderia... |
On the road, the new V10 sounds more musical than ever, thanks to a reorganized firing order. It is not the angry bark of Ferrari's flat-crank V8, but a more harmonized mechanical symphony. That said, to say which one more beautiful is very subjective. What cannot be questioned is the extra performance over the outgoing 5.0 engine. Boosting a power-to-weight ratio equaling Superleggera, now the standard Gallardo feels just as quick as the latter. I would not doubt the 202 mph top speed that Sant' Agata claimed, but the 0-62 mph acceleration figure of 3.7 seconds is obviously underrated. Expect 0-60 mph in around 3.4 seconds and 0-100 mph in sub-8 seconds. This will be very close to, if not equaling, the lightweight Ferrari 430 Scuderia (in which Quattroruote timed 0-60 in 3.3 sec and 0-100 in 7.3 sec).

One of the advantages Ferrari still holds is its F1 transmission. In the fastest mode it takes a lightning 60ms to shift a gear. In contrast, Gallardo's E-gear takes 120ms, and this is already an improvement from the previous 200ms. Shift quality is also quite brutal, so this option is best to be left empty. Comparatively, the 6-speed manual gearbox is more satisfying to operate. However, it won't give you the response and sensation of Ferrari's F1 transmission.
| | |
| --- | --- |
| | Now being more beautiful and more exciting to drive than ever, Lamborghini believes it is in a favourable position against Ferrari F430... |
The suspension calibration and revised rear suspensions are successful. Ride quality has been improved, while less kickback is transmitted to the steering wheel, so the Gallardo becomes even more user-friendly than before. Handling also feels more precise and agile. At the limit, its handling is more predictable and friendly than Superleggera. Yes, the viscous-coupling 4WD system still induces moderate understeer should you push too hard in tight corners, so it lacks the sharpness and intimacy of 430 Scuderia. On the plus side, the LP560-4 provides immense grip, traction and rock-steady body control. Its cornering limit is beyond reach in most conditions.

The new Gallardo still excels for being a hugely capable machine that is simultaneously easy to drive. It is one of the few supercars that you won't mind go shopping with - what a pity its storage spaces are too small to fulfill that task. Now being more beautiful and more exciting to drive than ever, Lamborghini believes it is in a favourable position against Ferrari F430, something I would not disagree. No wonder it dares to raise the base price for 15 percent to nearly £150,000. The problem is, after adding ceramic brakes and a few other options, it will be very close to the level of 430 Scuderia. Then the balance will reverse to the other side.
The above report was last updated on 28 May 2008. All Rights Reserved.
Gallardo LP550-2 Valentino Balboni

| | |
| --- | --- |
| | To a test driver, what can be more honorable than having a car bearing his name? |
Valentino Balboni worked as test driver of Lamborghini for the past 40 years. He joined Sant' Agata in 1968, involving development of every Lamborghini supercar from Miura P400S to Gallardo. When he retired in late 2008, Lamborghini decided to give him a present - a special edition Gallardo bearing his name ! To a test driver, what can be more honorable?

Gallardo LP550-2 Valentino Balboni is not just about a special name and racing paint work. It is tuned to the liking of Mr. Balboni, reflecting the taste of a professional driver. Like all keen drivers, Balboni is not totally agree with the 4WD policy of Sant' Agata. He prefers the feel and throttle adjustability of rear-wheel drive. As for gearshift, he insists to do it manually. Beside, he appreciates the linear pedal feel of conventional steel brakes rather than high-tech ceramic discs. Therefore you will find all these elements in LP550-2 Valentino Balboni. Traditionalists must be happy.

What Mr. Balboni cannot explain is a slight drop of horsepower. As implied by its name, LP550-2 has its V10 tuned to produce 550 horsepower instead of the standard car's 560. And that is released at the same rev. Torque delivery seems identical to LP560-4, too, so the revised rating is more likely to be a marketing trick - perhaps the top management of Lamborghini doesn't want this car to distract the superiority of its 4WD models. The same goes for its performance figures - top speed is lowered slightly from 202 to 199 mph. 0-60 mph is lengthened from 3.6 to 3.8 seconds. Only the latter is credible, because the rear-wheel-drive car does not produce as much traction.

If Gallardo were designed as rear-wheel drive from the outset, it could have been 50-100 kg lighter than today's. However, because the chassis of LP550-2 is taken straight from the 4-wheel drive model, what it can save are only the front differential and central viscous coupling - totaling 30 kilograms... Note that many magazines incorrectly reported that it undercut LP560-4 by 120 kilograms. They apparently made a wrong calculation by subtracting the 1380 kg dry weight of LP550-2 from the 1500 kg kerb weight of LP560-4. Because so many big magazines did the same mistake (CAR is the only one giving the correct figure, I think), I did some research and finally understand why. If you go to www.lamborghini.com, you will find even themselves misprinted the 1500 kg kerb weight of LP560-4 as dry weight. In fact, we always know the latter tips the scale at 1410 kg dry or 1500 kg wet. Guiding by my heart, I would have liked to believe the rear-drive model undercut the 4-wheel-drive model by 120 kilograms, but unfortunately this is not the fact.
| | |
| --- | --- |
| | Its rear tires break away progressively, and the attack angle can be controlled beautifully by throttle... |
Anyway, the strength of Balboni edition is not lightweight, but the feedback and interaction it delivers to the driver. Start the engine, you will find the same aural excitement as the standard car. The loss of 10 horsepower - real or not - cannot be felt anyway in reality. However, its trump card is handling. As soon as you turn the steering wheel, you will find it noticeably lighter and more communicative than that of LP560-4. The removal of driving torque from the front wheels makes steering alive ! Besides, the lighter nose is more eager to turn into corners. In other words, it understeers less.

Well, compared with the mighty Ferrari 430 Scuderia, it still displays a little more initial understeer to keep the handling in the safe side. On public roads, it is very difficult to unsettle its tail, thanks to the immense grip at the back. On a track, however, you can easily induce power slide as you wish. Its rear tires break away progressively, and the attack angle can be controlled beautifully by throttle. All these are down to the rear-wheel drive, harder compound rear tires, firmer suspension setting and a revised ESP stability control, whose Corsa mode allows greater drift angle before intervention. The firmer suspension is partially offset by a set of lighter wheels taken from Superleggera, so its ride quality suffers little.

Apart from handling, the deletion of 4WD also improves gearchange. As the gearbox is no longer loaded with a front differential, gearshift becomes slicker, while clutch operation becomes much lighter. This make the optional E-gear superfluous.

Since Murcielago was introduced in 2001, Lamborghini has not built any rear-wheel drive models. Thankfully, our prayer has been answered by Valentino Balboni. What a pity only 250 units of this car will be built. While it is more exciting to drive than the standard LP560-4, its £163,000 price tag, 12 percent higher than that of the standard car, is unreasonable. Considering its lesser components and complexity, it ought to be cheaper. Let's hope Lamborghini will offer a production LP550-2 in the near future.
The above report was last updated on 20 Sep 2009. All Rights Reserved.
Gallardo LP570-4 Superleggera

| | |
| --- | --- |
| | Power-to-weight ratio is lifted by 7 percent, and higher than that of Ferrari 458 Italia... |
This is the second generation Superleggera (or "superlight" in English). Like the original one-off built in 2007, it is lighter yet slightly more powerful than the standard car. Its name implies its V10 has been boosted to 570 horsepower, 10 hp up from the standard car, purely due to tweaked engine management. But more important, its dry weight has been cut by 70 kg to 1340 kg. This mean its power-to-weight ratio is lifted by 7 percent, and higher than that of Ferrari 458 Italia. Sant' Agata claims its 0-60 mph is shortened by three-tenths to only 3.3 seconds, although top speed is unchanged at 202 mph. Incidentally, its max. power, max. torque, top speed and 0-60 mph figures are all identical to its Ferrari rival.

Most of the weight saving, or 40 kg, comes from carbon-fiber materials, such as the exterior's fixed rear spoiler, side sills, door mirrors, engine lid and diffusers, as well as the interior's transmission tunnel, door panels and bucket seats. Another 13 kg comes from lighter forged alloy wheels and their titanium bolts. Besides, the glass (side, rear and engine) are now made of lightweight polycarbonate. Nevertheless, the lightweight Gallardo is not exactly a striped out road-racer. It still offers creature comfort such as air-con and power windows. It also retains the 4-wheel-drive system - you have already known this from its name - for the benefit of traction and safety. E-gear is the standard transmission, while manual is a no-cost option. The standard steel brakes are unchanged from LP560-4 as they are already large and powerful enough. Suspensions get stiffer shock absorbers and anti-roll bars. As in the old Superleggera, Pirelli P-Zero Corsa tires are employed to enhance grip in the price of wear.
| | |
| --- | --- |
| | Superleggera recalls the wild side of Lamborghini, once lost under the administration of Audi... |
Externally, you can easily distinguish a Superleggera from lesser models by its oversized lip spoilers, rear spoiler and a side stripe with its name printed, all are black.

So how does the new Superleggera drive ? On the road, the additional performance is not too obvious, but its chassis certainly feels sharper. Its turn-in is more responsive. Its body roll is very limited. Its suspensions react instantaneously to road undulation. On rough surfaces, the ride is quite harsh, lacking the forgiving manner of the standard Gallardo, though hardcore drivers may still find that tolerable. Grip from the Corsa tires is sensational, so strong that you will need to exploit its limit on a race track. On the flip side, drive it on public roads and the Superleggera still understeers more than we like. It might be safer as an everyday car, but when you exploit maximum thrill you will find it less satisfying than the swiss-watch-precise Ferrari 458, or to lesser extent its rear-wheel-drive sibling LP550-2 Balboni.

The E-gear software has been improved again. Gearshift becomes less brutal than before, although it is still far from perfect. The gearshift, the ride quality and the angry bark of V10 make the Lamborghini a more brutal machine than Ferrari 458. It is therefore not as good as a road car. However, the Superleggera does recall the wild side of Lamborghini, once lost under the administration of Audi. That is probably the most significant to its existence.
The above report was last updated on 12 Apr 2010. All Rights Reserved.
Specifications
General remarks

Layout

Chassis

Body

Length / width / height
Wheelbase
Engine

Capacity

Valve gears

Induction

Other engine features

Max power

Max torque

Transmission

Suspension layout

Suspension features
Tires


Kerb weight

Top speed

0-60 mph (sec)

0-100 mph (sec)


Gallardo 5.0



Mid-engined, 4WD

Aluminum spaceframe

Aluminum

4300 / 1900 / 1165 mm
2560 mm
V10, 90-degree

4961 cc

DOHC 40 valves, DVVT

VIM

-

500 hp / 7800 rpm

376 lbft / 4500 rpm
6-speed manual

All double-wishbone

-

F: 235/35ZR19
R: 295/30ZR19
1520 kg (1430 kg dry)
192 mph (c)

4.1***

9.0***


Gallardo 5.0 E-gear



Mid-engined, 4WD

Aluminum spaceframe

Aluminum

4300 / 1900 / 1165 mm
2560 mm
V10, 90-degree

4961 cc

DOHC 40 valves, DVVT

VIM

-

500 hp / 7800 rpm
376 lbft / 4500 rpm
6-speed automated manual

All double-wishbone

-

F: 235/35ZR19
R: 295/30ZR19
1520 kg+

192.4 mph*

4.1* / 4.1**

9.1* / 9.0**

Gallardo 5.0 Spyder



Mid-engined, 4WD

Aluminum spaceframe

Aluminum

4300 / 1900 / 1184 mm
2560 mm
V10, 90-degree

4961 cc

DOHC 40 valves, DVVT

VIM

-

520 hp / 8000 rpm
376 lbft / 4500 rpm
6-speed automated manual

All double-wishbone

-

F: 235/35ZR19
R: 295/30ZR19
1660 kg (1570 kg dry)
195 mph (c)

4.1*** / 3.8^

8.8*** / 8.8^










General remarks

Layout

Chassis

Body

Length / width / height
Wheelbase
Engine

Capacity

Valve gears

Induction

Other engine features

Max power

Max torque

Transmission

Suspension layout

Suspension features
Tires


Kerb weight

Top speed

0-60 mph (sec)

0-100 mph (sec)


Gallardo 5.0 Superleggera



Mid-engined, 4WD

Aluminum spaceframe

Aluminum

4300 / 1900 / 1165 mm
2560 mm
V10, 90-degree

4961 cc

DOHC 40 valves, DVVT

VIM

-

530 hp / 8000 rpm
376 lbft / 4250 rpm
6-speed automated manual

All double-wishbone

-

F: 235/35ZR19
R: 295/30ZR19
1420 kg (1330 kg dry)
196 mph (c) / 195 mph*
3.7* / 3.4*** / 3.4^ / 3.5^^
8.0* / 7.8*** / 8.1^ / 7.9^^

Gallardo LP560-4

Mid-engined, 4WD

Aluminum spaceframe

Aluminum

4345 / 1900 / 1165 mm
2560 mm
V10, 90-degree

5204 cc

DOHC 40 valves, DVVT

VIM

DI

560 hp / 8000 rpm
398 lbft / 6500 rpm
6-speed manual

All double-wishbone

-

F: 235/35ZR19
R: 295/30ZR19
1500 kg (1410 kg dry)
202 mph (c)

3.6 (c) / 3.7*** / 3.5****

7.7*** / 7.3****

Gallardo LP560-4 E-gear

Mid-engined, 4WD

Aluminum spaceframe

Aluminum

4345 / 1900 / 1165 mm
2560 mm
V10, 90-degree

5204 cc

DOHC 40 valves, DVVT

VIM

DI

560 hp / 8000 rpm
398 lbft / 6500 rpm
6-speed automated manual

All double-wishbone

-

F: 235/35ZR19
R: 295/30ZR19
1500 kg+
202 mph (c)

3.2^ / 3.2^^

6.9^ / 7.0^^










General remarks

Layout

Chassis

Body

Length / width / height
Wheelbase
Engine

Capacity

Valve gears

Induction

Other engine features

Max power

Max torque

Transmission

Suspension layout

Suspension features
Tires


Kerb weight

Top speed

0-60 mph (sec)

0-100 mph (sec)


Gallardo LP550-2

Mid-engined, RWD

Aluminum spaceframe

Aluminum

4345 / 1900 / 1165 mm
2560 mm
V10, 90-degree

5204 cc

DOHC 40 valves, DVVT

VIM

DI

550 hp / 8000 rpm
398 lbft / 6500 rpm
6-speed manual

All double-wishbone

-

F: 235/35ZR19
R: 295/30ZR19
1470 kg (1380 kg dry)
199 mph (c)

3.8 (c) / 3.5^ / 3.6^^ / 3.4^^^

7.5^ / 7.8^^ / 7.5^^^


Gallardo LP570-4 Superleggera

Mid-engined, 4WD

Aluminum spaceframe

Aluminum + carbon-fiber

4345 / 1900 / 1165 mm
2560 mm
V10, 90-degree

5204 cc

DOHC 40 valves, DVVT

VIM

DI

570 hp / 8000 rpm
398 lbft / 6500 rpm
6-speed automated manual

All double-wishbone

-

F: 235/35ZR19
R: 295/30ZR19
1430 kg (1340 kg dry)
202 mph (c) / 202 mph*

3.3 (c) / 3.3* / 3.0^ / 3.3**

6.8^ / 6.9**










Performance tested by: *Quattroruote, **AMS, ***Autocar, ****Auto (Italy), ^R&T, ^^C&D, ^^^MT

Copyright© 1997-2009 by Mark Wan @
AutoZine