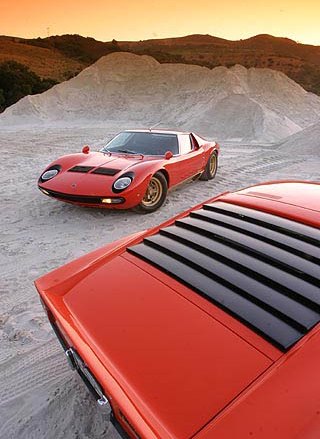 Ferruccio Lamborghini established his sports car company in order to beat Ferrari. His first car 350GT was born in 1964 and immediately well received as a match to contemporary Ferrari grand tourers. However, what really struck a big blow to Maranello was his second car, the mid-engined Miura. Miura had a very special position in automotive history. It was seen as the world's first "supercar" - a term automotive writer LJK Setright created for this car with reference to its exotic looks, advanced design and incredible performance. The latter might be somewhat exaggerated by Lamborghini, who initially claimed it could top 300 km/h (186 mph) !
Many people believed what Lamborghini said because the Miura really looked so. This must thanks to a 25-year-old designer at Bertone called Marcello Gandini. At the time Gandini had just replaced Giorgetto Giugiaro who had left Bertone for Ghia. Throughout his design career he created two of the greatest supercar designs ever - Lamborghini Miura and Countach. Surprisingly, the smooth-flowing theme of Miura differed very much from the wedge Countach and simply whatever he designed afterwards. It had a sexy waistline running from the shark nose to the tail. A large and curvy windscreen rose to a roof that stood only 1050 mm from the ground. The twin-circular headlamps were sourced from Fiat 850 Spider, but they were used cleverly here. When they were not activated, they recessed flush with the nose to reduce drag and enhance beauty. Switch on the lights and they would swivel up. Equally combining style and function were the side air intakes located at the B-pillars. By chance or not, the Miura excelled at high level of finish, more so than any other designs from Gandini. Countless of people regarded it as the most beautiful car ever drawn, no wonder it repeatedly appeared at the top of such polls.

The Miura was branded as a supercar also because of its advanced mid-engined construction. At the time mid-engined layout was reserved for race cars and considered as either infeasible or unnecessary for road cars (among them included Enzo Ferrari). A few cars prior to the Lamborghini had tried it for road use, however, most of them were actually road-legal race cars, such as the 1954 Porsche 550 Spyder or 1964 Ford GT40. Only De Tomaso Vallelunga, which debuted one year ahead of Miura, was truly a mid-engined road car. But the 4-cylinder De Tomaso was not a supercar, of course. Lamborghini was the first one to adopt mid-engine at serious performance level.
The engineering team of Miura again consisted of chief engineer Giampaolo Dallara, his right-hand man Paolo Stanzani and test driver Bob Wallace. Dallara designed a semi-monocoque chassis with steel monocoque cockpit section and front and rear subframes. Race-car-like all-round double wishbone suspensions were inevitable. Although the mid-engine design was inspired by Ford GT40, Dallara did not copy its format straight because a longitudinally-mounted V12 and 5-speed gearbox would have required a very long wheelbase and resulted in undesirable weight distribution. Instead, he opted for a transverse layout for the engine. It was installed East-West just in front of the rear axle. The gearbox located behind the V12 and was made an integral part of the engine sump to save space. In this way, the Miura needed only 2500 mm for its wheelbase, just 100 mm longer than contemporary SWB Ferraris.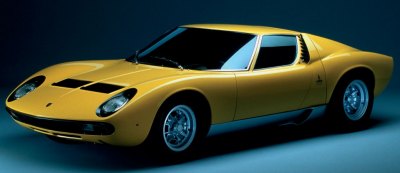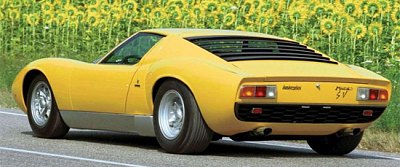 The Bizzarrini-designed quad-cam 3929cc V12 was carried over from 400GT. Output increased from 320hp to 350hp thanks to increased compression ratio and the upright positioning of carburetors. This overwhelmed Ferrari 275GTB by as much as 50 horsepower ! Road tests found the Lamborghini had a real top speed at about 170 mph, easily became the fastest car in the world.
Unsurprisingly, the world got in fever with the new mid-engined Lamborghini. Pop stars and playboys snapped up most of the production even though each Miura cost 4 times the price of Jaguar E-type. In less than 3 years, Lamborghini built 474 units of the first generation Miura P400.
However, the P400 was quite underdeveloped as it was rushed to the market. Serious drivers criticized its chassis flex and skinny tires which did no justice to its unpreceding straight line performance. Besides, at high speed its handling became instable due to aerodynamic lift. These problems were addressed in later versions. In 1969, Miura P400S debuted with a reinforced chassis and new Pirelli low-profile tires. Power increased to 370hp by means of larger intake ports and faster cams (though Lamborghini's wild claim also accounted for some of the gain). Its handling was more faithful than the original car while performance remained unchanged.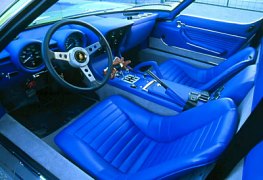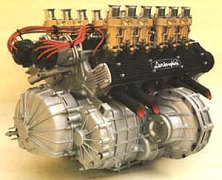 In 1971, the ultimate Miura was born in the form of P400 SV – Italian for "Tuned Fast". It was benefited from the development works done in Miura Jota race car. It addressed the aerodynamic lift by raising the rear suspensions while lowering the front slightly. The rear track was widened (hence a pronounced rear fenders), so were the rear tires. The chassis was stiffened again. The engine was boosted by another 15hp thanks to another round of enlarging ports, faster cams and wild claims. The transmission was separated from engine sump to improve lubrication under high g-force. SV was unquestionably the best handling Miura of the trio, although its increased weight meant it was probably slower than the previous cars.
The most significant influence Miura made to history was that it kickstarted a 2-horse supercar race between Lamborghini and Ferrari. In 1969 Ferrari responded with Daytona 365GTB/4, which regained the world's fastest car title from Miura. Lamborghini struck back with its even more ambitious Countach in 1974, then Ferrari counter attacked with 365/512BB… The battle still goes on today.