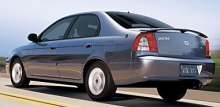 Kia is still selling the Spectra in the US, but it is an outdated car indeed and relies solely on keen pricing to find buyers. A few years ago, it was also available in Hong Kong under the name "Shuma", but it disappeared quickly and quietly because simply no one bought it. People used to see it as the cheapest Corolla-class car on the market and no more. Apart from a few fools misled by Kia's salesmen, people would rather spend the same amount of money to buy a smaller Japanese-built mini car.

In fact, the Spectra / Shuma is not necessarily roomier than many cars a class smaller. Although it rides on a 2560mm wheelbase, it proportion is old-fashioned. That means a low roof, low and tilt seating. Rear headroom and legroom are tight as a result. The cabin is very basic, uninteresting to see, uncomfortable to sit and inconvenient for storing stuffs. Remember, it was born in the late 90s as a cut-price model to Toyota Corolla etc, therefore goodies like soft-touch plastics, damped switch gears, high quality trimming and magical storage cubbies were not in its wish list. Admittedly, even if it were born today, I doubt if it would have these things.

The Spectra / Shuma is powered by either a 100hp 1.6-litre 16V or 124hp 1.8-litre 16V engine, none of them are renowned for refinement. The 5-speed gearbox is rubbery. Like many Japanese and European cars a decade ago, its chassis lacks rigidity thus the steering kickbacks on bumps. Despite of a multi-link rear suspension, body control is poor. Moreover, the cabin is not well insulated from engine and road noise.

As long as such poor cars soldier on, the image of Kia won't be improved. It is better to accelerate its product integration with Hyundai. The sooner the better.