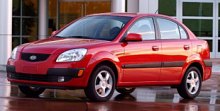 If you compare the new generation Rio with the outgoing version, you will be astonished by the vast progress Korean car manufacturers have made. Yes, they are not only the fastest growing car companies in the world, but their products are also improving at double speed of other car makers. In my opinion, in a few year's time Korean invasion will be just as fearsome to the Western as what Japanese did in the 80s. It is running exactly on the same path as the Japanese.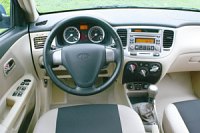 So, what did it do to the Rio? you might remember how cheap, rough and uninteresting the old Rio was. Wind forward to 2005, the new Rio (and its twins sister car Hyundai Accent) has grown up to European standard. It still lacks excitement and innovation, nor it set any new standards, but it is highly competitive in most important areas. It no longer needs to sell on low price only.

One of the surprising area is engine and performance. Previous Korean cars used to have unrefined and low-tech engines to deliver mediocre performance. Now the Rio has some competitive engines - the smallest one is already a 96 hp 1.4-liter 16V, 20 more horsepower than its rival's smaller entry-level engines. The next petrol engine is a 112 hp 1.6-litre 16V, and surprisingly, it is equipped with expensive CVVT (continuous variable valve timing). However, the biggest surprise is the powerful diesel engine of 1.5CRDi. With 16 valves, common-rail injection and a variable geometry turbocharger, it looks more like coming from the best diesel engine makers in Europe. Its 110 horsepower and 173 lbft output also beats all its class rivals, giving the Rio very good performance as well as refinement. Can't believe this is a Kia.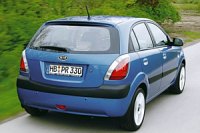 For a small car weighing a little over 1 ton, such powerplants deliver lively acceleration. The diesel engine has especially strong overtaking power. Just like other diesels, in real world it is far faster than the 0-60 figures (around 10.8 sec) suggest.

The previous Rio looks like a Japanese car. The new Rio has switched to European style. The biggest difference is body profile - now fatter, taller but shorter. This is a compact yet volume-optimized shape. Its clothes is a little bit boring and lack of character, but the design is neat and panels fit tightly like any European mini cars. Likewise, the cabin looks uninspiring but solidly constructed. Ergonomics is fine too.

Thanks to lower production cost, Kia can make the Rio bigger than its European rivals yet undercut them in price. The car therefore has a long wheelbase of 2500 mm, hence a spacious cabin. 2 body styles are offered: 5-door hatch is for European market, whose target sales volume is 45,000 cars a year; 4-door sedan is designed for North America, which could swallow 50,000 cars annually, plus its home market South Korea (where it is called "Pride" instead).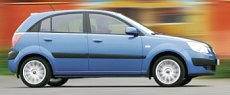 On the move, the Rio's cabin is well insulated from noise sources, no matter from engine, road or wind. This is a vast improvement from previous Korean small cars, proving the company has spent a lot of effort in NVH suppression. The grown up feel also spread to its handling, which is safe, well-mannered and predictable, if not fun to drive. The handling was tuned in Germany, so it can't fail.

Admittedly, the biggest weakness of Kia Rio is lack of driving fun and individual character. This is what separate a competent car from a desirable one, just like a Ford vs a BMW. To car enthusiasts, Rio is certainly not their cup of tea. However, to the majority people who want a practical car at an affordable price, the Rio is an attractive choice, especially now they have little to sacrifice for the low price.