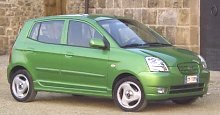 Korean car industry has been growing rapidly during the last decade. Not only Hyundai group became one of the world's top 10 car makers, but the quality of products also reflect its rising trend. Today's Korean cars are still cheaper than their rivals, but they are far more competitive than before in other areas such as styling, build quality, comfort and dynamics. Following the footprints of Hyundai, its subsidiary Kia is also going the quality route. However, until now all of the "New Age" Kia are derived from equivalent Hyundai models, for example, Cerato is derived from Hyundai Elantra, Opirus is converted from Hyundai Equus, Optima is simply a reskinned Hyundai Sonator. Now the first self-developed New Age Kia is finally born - Kia Picanto. It uses a new platform and, at least for now, not sharing with any Hyundai models.

Being called "Morning" at home, Picanto is destined to Europe, the toughest battleground for mini cars. If it could succeed there, it could also win at anywhere else. According to the comments by European car testers, the sign is pretty good.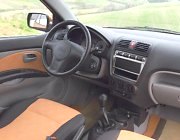 No one knows where Picanto was styled. Korean car makers prefer to employ Italian styling houses but they don't like to let you know. The exterior design looks very much like European mini cars. It's pretty without being special, except the odd grille. The fat profile encloses a spacious cabin. 4 adults can sit comfortably. In particular, rear passengers enjoy more generous legroom than its strongest rival, Fiat Panda, though the swoopy roofline doesn't offer as much headroom. The trunk volume measures only 157 litres. Luckily, rear seats can be folded to increase luggage volume to 882 litres. Better still, the load floor is flat when the seats are folded.

It is sad to see the design of dashboard and console are so outdated while the plastic materials cannot match the Fiat. The driver's seat cannot be adjusted up and down, so you need to adjust the steering column instead. Visibility of mini cars is often good, this one is without exception.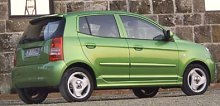 Predictably, the chassis is conventional monocoque while suspension is MacPherson strut up front and torsion-beam at the rear. As the Picanto was tweaked on European and UK roads, it is not as softly sprung as most Japanese K-cars, giving it European-style body control and ride character. Nevertheless, its ride cannot match the suppleness of Fiat Panda and the best European minis. It feels most at home in town traffic, thanks to light steering and smooth gearshift, but on highway it also runs stable and quiet.

The 1.1-litre four-cylinder engine has only a single camshaft and 3 valves per cylinder. In addition to long stroke design, it produces just 65 horsepower. This car is therefore never fast, but the maximum 69lbft of torque arrives at just 2800rpm, sparkling its performance in town. However, it cannot match Fiat Panda's Super Fire engine in refinement, because it gets noisy and coarse at high rev.

Although Picanto does not have any single area outstanding, its overall package is competitive. Unlike most other Korea cars, it is quite fun to drive. In addition to the low price / high equipment level advantage, it is likely to attract a lot of customers.