In the past, we thought Kia was only capable of making small and cheap cars (the mid-size Optima is not counted because it is actually a rebadged Hyundai Sonator). Surprisingly, without establishing a solid image, Kia decided to launch a luxury executive car called Opirus in Korea and Amanti overseas. The car is based on Hyundai Equus - the luxurious car used by wealthy businessmen and top government officials in Korea. The Opirus measures 5 meters in length and weighs 1822kg. Is it a wise act?

Although the Opirus looks more modern than the rectangular Equus, it is still a conservative design. The body profile is 2-dimensional rather than 3D, like a brick with its front end, rear end and top smoothened a bit. In my opinion it looks like an early-90s Buick or Cadillac. The big chromed grille tries too hard to make itself look prestige. The quad circular headlamps is a carbon copy of the last generation Mercedes E-class. This car does not have its own character.

The proportion of its chassis is outdated. Measuring almost 5 meters, it should be able to accommodate a long wheelbase. However, the Opirus actually rides on 2800mm wheelbase, some 50mm shorter than a Mercedes E-class, let alone the similarly-long S-class. No wonder you can see the Opirus has old-fashion long overhangs at both front and rear. Kia has its own explanation: the Opirus is priced so low that it actually competes with cars a class or two smaller. In Korea, it is an alternative to Hyundai XG rather than Equus. In the United States, it rivals with Toyota Avalon (the forgotten 6-seat Camry), Volkswagen Passat or the like. Then people will appreciate its "big-car look" for it is more graceful.

This is not a new idea. General Motors has been doing business like this for decades. Today, Buick LeSabre and Park Avenue still follow this philosophy. Especially is LeSabre, which is still a solid player in the field. If Amanti want to be successful, the LeSabre is the one it should beat.

Like the Buick - perhaps more so - the dinosaur size of Opirus handicaps its handling seriously. It works best on straight line, hate most tight corners. The soft suspensions lead to a lot of roll, understeer and floaty ride on undulation. The light and uncommunicative speed-sensitive steering never inspires its driver.

Performance is also hampered by the 1822kg kerb weight. Unlike its platform-donor car, the Opirus is offered with only a V6 but not V8. This is an outdated Mitsubishi design, 3.5 litres, 24 valves, without any tricky intake system or variable valve timing. It still employs iron block, but this doesn't matter to the 1822kg Opirus. What hurts is the lack of power - it pumps out just 195hp and 220 lbft, even weaker than a typical 3.0-litre V6. Even though it is helped by a 5-speed automatic, it takes nearly 9 seconds to accelerate from 0 to 60mph. In short, performance is sluggish.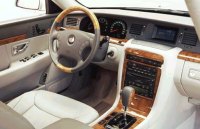 It is better stay calm and enjoy its near-luxury cabin. This is a roomy place - not as roomy as Ssangyong Chairman though - a true 5-seater. Leg and head room at the back is generous. The interior design and ambience is very much like Japanese executive sedans, Toyota Crown and Nissan Gloria in particular. Plastic and leather used are pretty good quality. Switch gears have quality feel. The instrument is EL backlit like some Lexus (although increasingly more Toyota now share this feature). What a pity it still employs fake wood. Admittedly, only the highest class Korean cars like Chairman and Equus can afford real wood. Anyway, the Kia is loaded with so many standard equipment that admirers of Korean cars won't be disappointed.

The best way to enjoy the Opirus is to drive it slowly on straight. Enjoy the smooth engine and gearbox, the soft ride, the comfy seats and the quality materials surrounding you. Slow down, slow down.... if you have retired and do not have a lot of money to spend, this could be the right car for you. Unfortunately, to most of us, cars are not "houses in wheels". Once we take dynamics into account, this Kia is immediately discarded from the list.