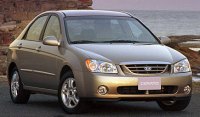 Kia Cerato is also called as Spectra in the USA. It is the sister car of Hyundai Elantra, sharing the same chassis, suspensions, steering, engines and drivetrain. They are sold at the same price and to the same kind of customers, that means they are inevitably direct competitors. So why does Hyundai group need two cars?

This is not easy to answer. Although the Cerato looks prettier than its Hyundai sister, it has the same set of highs and lows. On the positive side, the cabin is spacious, the build quality, solidity and quietness are good for its price (if not matching the best European and Japanese family cars in this class). It could be a satisfying bargain if you see practicality as top priority. On the negative side, it is rather boring to drive, it lacks any innovation and desperately cries for fun factors.
You can see this shortcoming easily from the cabin. While the materials and fit and finish are not bad, the design is notable for the lack of it. The cabin is grey and plain. You want style? go to Mazda 3 or Peugeot 307. You want elegance? go to Golf or Astra. Cerato's cabin is the last place you will think of.
Space-wise, it is remarkable. 4 tall adults can sit comfortably, even more so than the Elantra, thanks to the slightly taller roof. It's not Civic matching, however.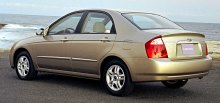 In town driving, the cabin is quiet, the ride is absorbent, the chassis feels solid. Undoubtedly, Kia has no intention to rival the European to make exciting cars. It just want to fulfill the needs of the majority, workmen, housewives etc. When you ask for fun, it will surrender. At above 4000rpm, the engine - despite of continuous variable valve timing - sounds noisy and coarse. Shift up a gear, you feel it rubbery and imprecise. Push it into corners, the soft suspensions can't resist body roll. And the steering? like Elantra, it is light and lack of feel.
No wonder Kia won't develop a hot version of this car. This is another average car which AutoZine will never recommend.