KIA Cee'd

Debut: 2007
Maker: KIA
Predecessor: no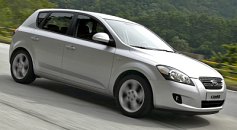 Kia Cee'd might be built on the same platform as Hyundai Elantra, but it looks much prettier, handles far better and is built with higher quality. Never before Kia had produced a car so competitive. Never before it had presented so serious threat to the European giants Volkswagen, Ford, Opel, PSA and Renault. The story started 5 years ago…



The Plan



In 2002, Kia head hunted Frenchman Jean-Charles Lievens to establish its European R&D operation. The ex-Toyota Europe executive hired many European designers and engineers from rival makers and installed them in Hyundai and Kia's joint R&D center in Russelsheim of Germany, i.e., the backyard of Opel ! in the beginning, the R&D center was responsible for developing advanced common-rail injection diesel engines for use in Europe. This resulted in the state-of-the-art 1.6CRDi and 2.0CRDi engine. Then it also took the leading role in designing a new C-segment family hatch for European market. This is Cee'd.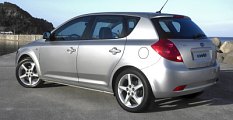 Designed by European designers, the Cee'd looks far more modern and stylish than its Hyundai cousin (which was designed in Korea). It is prettier than Ford Focus, Toyota Auris and Mazda 3, if not have as strong personalities as Renault Megane, Opel Astra or Volkswagen Golf. Lievens also persuaded the headquarters to give the car top-class materials in its cabin. Besides, every aspect of the car was benchmarked against Peugeot 307, Volkswagen Golf and Ford Focus. For example, the aerodynamic drag coefficient of 0.33 and lift coefficient of 0.01 are better than Golf and Focus. Torsional rigidity of the monocoque chassis is 27% higher than Focus. Finally, to make sure the car handles and rides brilliantly, a fleet of prototypes were tested extensively in Europe under the watch of Russelsheim. Some 1 million of test kilometers were covered to fine tune the suspensions, steering, brakes etc. and sorted out quality problems. In the end, Kia is so confident that it dares to offer 7 years and 150,000 km warranty to the car, more than any other European car makers !

Cee'd is not only designed and tuned in Europe, but also produced in Europe. A new plant in Zilina, Slovakia, will produce 100,000 Cee'ds this year and 150,000 units from 2008. If the reception exceed estimation, the plant can output up to 300,000 units. Furthermore, its twins sister car, Hyundai i30, is going to enter production in another new plant in Nosovice, Czech Republic, which is only 95km from Zilina to take advantage of the same supply chains. That plant has another 200,000 units of capacity. Sorry to European car makers…



The Car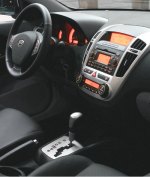 To Korean car makers, quality will be the key of success, or failure. From the tight panel fittings and fine paint finish, the Slovakia factory seems to achieve the same high quality standards as Wolfsburg or Russelsheim. Open the doors, the cabin continues to impress you with a sense of style and quality. The dashboard design is tasteful. The instruments are clear. The switch gears are ergonomically placed. Almost everywhere is made of soft-touch plastics and solidly assembled in the same way as Volkswagen Golf. All switches and buttons work smoothly and precisely. Besides, there are some expensive features, such as the dials and displays illuminate in soft orange at night, a glovebox cooled by air conditioning, or the availability of an i-Pod socket. The standard audio system is also a good one. If there are anything preventing it from rivaling Volkswagen Golf ultimately, they must be the shiny hard plastics used in door handles and power window switches, or the unsupportive front seats.

Given a 2650 mm wheelbase and 1790 mm width, it is unsurprising that the car offers a roomy cabin. There is more shoulder room and rear legroom than most cars in the class.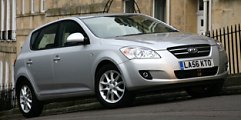 As mentioned, the chassis of Cee'd is very stiff. Some 67 percent of the body-in-white is made of high-strength steel. Both front and rear suspensions are attached to subframes to decouple from shocks and vibration. To save weight, the front subframe is produced by hydroformed process. Suspensions are MacPherson struts up front and, listen, multi-link system at the rear. The latter consists of dual transverse links and a longitudinal leading arms. It goes without saying that multi-link suspension provides superior handling and ride compare to conventional torsion-beam suspension, otherwise Focus and Golf would not have won so much praise.

On the road, Cee'd handles very much like German cars. Its ride is rather firm – firmer than both Focus and Golf – but in return it gets good handling. It corners stable and feels agile to steer. The electric power steering is quick and accurate, if not very communicative. Smooth gearshift and well judged braking complete the fine driving experience. Ultimately, Focus is more talented while Golf is more rounded, but the Kia is already one of the best drives in the class, and the best ever for a Korean car.



The powertrain is also up to the job. Hyundai group's 1.4 and 1.6-liter CVVT petrol engines are reasonably smooth and eager, but the most impressive is the Slovakia-built 1.6CRDi turbo diesel, as it is gusty, refined and frugal simultaneously. Not so good is the 2.0-liter petrol and 2.0CRDi, because both of them sounds noisier and vibrates more than the smaller engines.

Overall speaking, Cee'd is a surprising success from Hyundai-Kia group. Although it is not yet in the league of Golf and Focus, it beats most rivals fairly, even before considering its keener price and generous standard equipment. Oh yes, and the attractive 7-year / 150,000 km warranty.
The above report was last updated on 7 Feb 2007. All Rights Reserved.
Sister car: Hyundai i30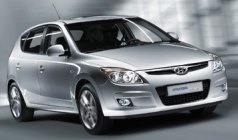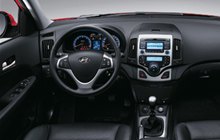 Hyundai i30 is basically a Cee'd with different clothes. Hyundai wants to make it appear to be more luxurious and classy, but in the end its design is neither as stylish as nor as tasteful as Cee'd. Mechanically, the car is identical to its Kia sister, including powertrains and chassis. Only a slightly softer ride sets it apart. You can also see similar seats and dashboard structure in its cabin. Although the Hyundai is built in Czech Republic instead of Slovakia, its factory is only 95km from the Kia's one, so both cars can share the same supply chains. As the Hyundai asks for a higher price for virtually the same thing, I can't see the point of purchasing it.
The above report was last updated on 7 Mar 2007. All Rights Reserved.
Procee'd
| | |
| --- | --- |
| | Apart from bonnet and front wings, Procee'd shares no body panels with Cee'd... |

Forget the different name (officially "pro_cee'd" but I prefer to skip the underscore), this is actually the 3-door hatchback version of Cee'd. Kia's European studio tried hard to differ it from the 5-door. It gave the Procee'd a sportier proportion - the roof is 30 mm lower, the rear screen angle is faster, the shoulder more pronounced at the back, the tailgate spoiler is larger, the characteristic recessed line at the lower part of the doors get more aggressive, the grille gets thinner and the bumper intake gets wider... As a result, the body shell of Procee'd shares only bonnet and front wings with its 5-door sibling. It does look more stylish, but it won't arouse the same sensation as Opel Astra GTC, which is still the most successful 3-door-hatch-pretend-to-be-a-coupe in my eyes.

Without any surprises, inside the car you will find the same dashboard as the 5-door. Visibility is inevitably worsened by the small rear windows and thick C-pillars. There is less head room due to the lower roof. Front occupants still find plenty of headroom, but rear passengers over 6 feet will find their heads rubbing against the roof, although legroom remains generous. Access to the rear seats is aided by large doors that open up to 70 degrees. As expected, the boot is smaller and the tailgate is smaller too. This is what you have to sacrifice in exchange for a sportier look.


| | |
| --- | --- |
| | Sporty looks alone is not enough... |

Disappointingly, Kia has no intention to make the Procee'd a real hot hatch. It has the same engines as the 5-door. In other words, the most powerful units are 143hp 2.0-liter 16V petrol and 140hp 2.0 turbo diesel. However, the best engines are actually the smaller 1.6 petrol, which is smooth and eager, and the 1.6 turbo diesel, which is considerably more refined and frugal than the larger diesel. Parent company Hyundai has developed a 2-liter turbo engine for its Genesis coupe. I hope Kia will adapt it to transverse mounting and put it in the Procee'd.

For now, the Procee'd drives sportier than the 5-door just because of stiffer springs and dampers. Unfortunately, its ride is hard to the extent that uncomfortable on most roads except the smoothest. Hit a mid-corner bump and its handling could become nervous. It lacks the fluency and flexibility of the class-leading Ford Focus, VW Golf and Opel Astra GTC. Apparently, sporty looks alone is not enough. It begs for a better chassis tuning as well as a stronger engine.
The above report was last updated on 26 Jan 2008. All Rights Reserved.