Jaguar XJ

Debut: 2003
Maker: Jaguar
Predecessor: XJ8 (1997)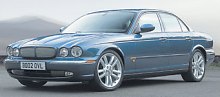 The new generation Jaguar XJ is full of surprise. Firstly, its styling changed little from the original XJ, which was born in 1968. Secondly, behind the classical appearance is a radical aluminum chassis and bags of advanced technologies. Thirdly, it provides interior room matching the roomiest cars in class. Surprise?

Those who criticized the new XJ looking too close to the old car must be mad. Why bother to change the look if the original was so beautiful? The original XJ6 was styled by one of the world's best designers ever (William Lyons, or Jaguar's founder) and was seen as a design classic. Time does not change our taste of beauty. A beautiful car is always a beautiful car no matter how many years have passed. Throwing tradition away in the pursuit of changes - like what BMW's Chris Bangle is doing - does not make sense to Jaguar. Jewel of the crown needs just polishing.

So, what you see here is the most classical-looking luxurious car in the world currently on offer. Penned by the late Geoff Lawson before he died and finished by his successor Ian Callum, the new XJ retains the features of its predecessors, such as the traditional grille, quad circular headlights (bigger outside, smaller inside), heavily sculptured bonnet, low waistline (if only visually), long tail and a lot of chromed details. Parking beside it, a 7-series looks odd, a S-class feels cheap, a Lexus becomes incredibly dull, ditto Volkswagen Phaeton. Only Audi A8 stands a chance.

However, some changes have to be made. Over the years, the Lyons XJ was praised for its sports car-like shape but also suffered from lack of headroom for the same reason. This hurt its competitiveness. Therefore, product planners required the new XJ to offer a cabin as large as its rivals. Geoff Lawson had to raise the roof together with waistline significantly, push the windscreen forward and raise the boot lid (to improve luggage capacity). Luckily, clever styling hide these bulky dimensions very well and the car still look sexy in the same way as the original.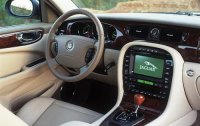 The effort is paid off in the cabin. According to tape measure, the XJ provides more headroom and legroom than Mercedes S-class (surprise?). Its rear accommodation is even the largest in the segment. Look at the exterior dimensions and you won't be surprised - it is 5mm taller and have a wheelbase 70mm longer than a standard S-class! subjectively, it does not feel as roomy, because the driver sit deep and is cocooned by the instrument panel. Disappointingly, despite of leather and wood, the dashboard looks very much the same as that of the entry-level X-Type. Material quality is better than Mercedes, but there are some rough edges in fit and finish while some insignificant places are trimmed with plastics instead of leather. Audi, Volkswagen and BMW still lead in the quality field.

In contrast, the chassis is undoubtedly state of the art. Jaguar follows Audi's footprints to put aluminum chassis technology into mass production. However, both technologies are different. The XJ's chassis is a monocoque, unlike A8 which is a space-frame. It consists of 284 stamped aluminum parts, 35 aluminum extrusions and 15 die-cast aluminum (for stressed parts like suspensions towers), bonded by rivets and further strengthened by adhesive glue like Lotus Elise. While the low-volume Elise applies rivets and glue by human hands, the mass production XJ is by robotic arms. In the Audi camp, A8's chassis uses less stamped parts but more extrusions and castings. They are bonded by rivets (like the Jaguar) and welding (unlike Jaguar). It seems that the Jaguar technology is less costly.



Using aluminum cuts 140kg from the bare chassis, which is now only 220kg. In other words, that's a saving of 40% compare with conventional steel monocoque. The new chassis is also 60% stiffer in torsion than the old XJ, but such a comparison is rather meaningless because the old car was just too outdated. The effort of weight reduction can also be seen in using magnesium parts, e.g. the cross-brace for mounting dashboard and steering column, and the seat frames. Besides, most parts in the double wishbone suspensions are cast in aluminum.

I used to criticize Audi A8 for not being light enough. On the contrary, the new XJ exceeds my expectation. The entry-level XJ6 (powered by 3.0 V6) weighs an unbelievable 1545kg, almost 200kg lighter than Mercedes S350 and even 100kg below its steel-body little brother, S-Type 3.0. The XJ8 4.2 (powered by 4.2 V8) tips the scale at 1615kg, again, far lighter than Audi A8 4.2 (1780kg), BMW 745i (1870kg) and Mercedes S500 (1800kg).

This mean the XJ does not need big engines to achieve good performance. It is offered with 4 engines:
XJ6: 240hp 3.0-litre V6 - this engine first appeared in the X-Type. It has infinitely variable timing at intake valves and a 3-stage variable intake manifold. In the XJ6, it is installed longitudinally and drives the rear wheels.
XJ8 3.5: 262hp 3.5-litre V8 - this is the short-stroke version of the 4.2 unit. It replaces the old 240hp 3.2 V8.
XJ8 4.2: 300hp 4.2-iltre V8 - the latest 4.2-litre version of the AJ-V8 engine has already been introduced to the updated S-Type and XK8. Its root can be traced back to 1996, but still deliver competitive output and smoothness.
XJR: 400hp 4.2-litre V8 with supercharger - taken from S-Type R and XKR. We'll talk about XJR in a separate report.
Performance-wise, these cars can target rivals with bigger engines. For example, XJ6 vs S350, XJ8 3.5 vs S430, XJ8 4.2 vs S500. They are therefore greener and more economical to run. Fuel consumption is also enhanced by the use of ZF 6-speed automatic gearbox throughout the range.

Apart from aluminum chassis, a range of good engines and 6-speed auto, the XJ also introduced a set of sophisticated suspensions. All wheels are suspended by double-wishbones on Bilstein variable air spring (same supplier to Mercedes) and Jaguar's own CATS adaptive damping. Air suspensions also lower the body to improve high-speed stability. How well do they perform? let's see...

XJ8 On the Road

Start the V8 motor, it spins quietly and smoothly. Sound insulation is remarkable to keep the cabin unintrusive... until you start pushing the car. As this is no Lexus, and Jaguar has no intention to make it a Lexus, when you press deep into the throttle the AJ-V8 engine starts emitting a purposeful noise to excite you. You feel it does not have the same level of bottom-end torque as BMW or Audi V8, but it loves to rev and runs smoother than Audi's at high rev. You feel the lightness of the body helps performance a lot. Even though it has a 35hp deficit, it loses nothing in performance. In other words, 0-60mph can be done in 6 and a half second.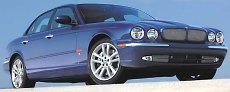 The ZF automatic mates flawlessly with the V8. Shift is seamless and quiet. Jaguar's traditional J-gate shifter is also easy to use.

The air suspensions ride smoothly in most circumstances but it is not perfect yet. If you remember, the previous XJ was famous of absorbing low-speed sharp bumps, which is essential to the UK where poorly surfaced B-roads are very common. The new XJ no longer shines in this field, because of the fundamental limitation of air-spring suspensions. Now, you may ask why Mercedes S-class - also with air suspensions - does better job than the Jaguar in low-speed ride. Maybe because its heavier body result in lower unsprung weight ratio. Maybe simply because Mercedes did a better job in the tuning. So far, no one else in the segment can match the S-class for low-speed ride without sacrificing handling, the new XJ included.

On smoother A roads and less undulating B roads where most people drive, the XJ8 rides perfectly. Road irregularities are overcome calmly. At high speed, the XJ displays some instability and the ride gets floaty. However, overall speaking the ride quality matches BMW 7-series and beats Audi A8 convincingly.

The suspension setup is quite soft. As a result, it could build more body roll than keen drivers like, although the car actually handles very well. It may lack the traction of the 4wd Audi, or the body control of the active-anti-roll BMW, but it excels in agility, thanks to its lightness. This car feels nimbler than others, easier to control and generates less understeer.

The steering is another delight. At first, it seems to be too light at low speed. But then it loads up beautifully at speed and its linearity, communication yet free of kickback give it an edge over rivals. In short, this ZF rack-and-pinion steering is the best in class.

However, because of the light steering, soft suspension setting and less torquey engine, the XJ8 does not feel as sporty as the 7-series and A8. Because of its poorer low-speed and high-speed ride, it does not match the completeness of S-class. Therefore, just like the first generation A8, the new XJ does not have a clear identity. Besides, I also have reservation about its interior design, attention to details and build quality. The new XJ is an impressive car. It combines classical look, sophisticated technology with all-round ability, but it still lacks the fine polish that the German marques have managed.
The above report was last updated on 22 May 2003. All Rights Reserved.
XJ6
With the introduction of X-Type's 3-litre V6 engine, Jaguar is able to resurrect the famous XJ6 label. Now it becomes an entry-level model of the XJ range.

All previous XJ6s were powered by Jaguar's in-house inline-6. In contrast, the new V6 is derived from Ford's Cleveland V6 first used in the American Taurus. Jaguar provided a pair of new cylinder heads with 3-stage intake manifolds and continuously variable intake valve timing to raise output to 240hp and 221 lbft.

All these are the same as X-Type 3.0. However, the aluminum XJ6 is actually 50kg lighter than the baby X-Type (unbelievable!) thus it makes very good use of the smaller engine. It does not have any manual transmission, but the ZF automatic with 6 ratios compensates. Jaguar claims it take only 7.8 seconds for 0-60mph acceleration. Although Autocar magazine recorded 8.4 seconds, it is still a remarkable performance for an entry-level luxurious sedan.

Nevertheless, XJ6 is not the pick of the range, because the V6 is rather coarse at high rev (think about its Ford origin). It also mates less well with the ZF gearbox. Upshift is less fluid than the XJ8.

Of course, those interested in the XJ6 are likely to be tempted by its keener pricing and lower running cost.
The above report was last updated on 22 May 2003. All Rights Reserved.
XJR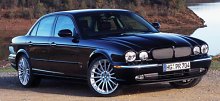 As described by Jaguar, the XJR is a higher performance extension of the XJ range rather than a full-blooded sports sedan. If you like the XJ8 4.2 but want more performance and control, you will certainly prefer the XJR. Its 400-horsepower V8 is the supercharged version of the 4.2, come straight from the S-Type R. That's 100hp and almost 100 lbft more than the XJ8 4.2. Autocar magazine recorded 0-60mph in 5.2 seconds and 0-100mph in 12.5 seconds, virtually the same as the smaller S-Type R. That's quick enough, but still a bit disappointing because theoretically it should be quicker. Considering the car weighs only 1665kg, it should be noticeably quicker than the steel-body, 1800kg S-Type R.

Compare with regular XJ8, the XJR gets slightly stiffer air springs, 10-15mm lower ride height, big wheels, wide tires and big brake discs. However, the conversion is far more modest than, say, from BMW 540i to M5, or from Audi A6 4.2 to RS6. The XJR is not the same kind of performance cars as them. It is more comfort-biased and more user friendly. Its easy-going manner can be seen in its light steering, supple ride and more roll in cornering. Although its lightweight chassis feels agile, the soft suspension and light steering does not deliver the same sporting response as the German performance sedans. Its smooth power delivery and gearshift also lack the explosiveness that its rivals have. That said, the only direct rival is Mercedes S55 AMG, which is also in the same size and class.
The above report was last updated on 10 June 2003. All Rights Reserved.
History of XJ

The original XJ6 was born in 1968. Penned by Sir William Lyons and described by himself as his best design, the XJ6 won the admiration of car lovers by its classical, sports-car-like shape and excellent XK straight-six engine. XJ earned Jaguar a high place in the luxurious car market.

From 1968 to 1978, XJ6 evolved into Series II and then Series III, also introduced V12 powerplant from the E-Type. However, it was getting old in the early 80s and its market position was overshadowed by Mercedes S-class and BMW 7-series.

In 1986, the second generation XJ6 was born (it was internally known as XJ40). Though the low-slung classical shape was retained, the body was straightened and, controversially, square headlights were introduced. New generation AJ6 24-valve 3.6 straight-six (upgraded to 4.0 later) replaced the old XK unit.

The next major re-engineering was made in 1993. It switched back to quad circular headlights and worked on improved quality and mechanical refinement. The AJ6 engine gained more power.

V8 engine was finally introduced in 1997 accompany with a modernized interior. The car was therefore renamed to XJ8. By then, XJ just lacked one thing: space.
The above report was last updated on 22 May 2003. All Rights Reserved.
Facelift 2007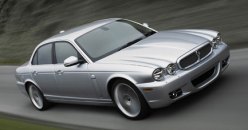 4 years have passed and it's time to give Jaguar XJ a facelift. Ian Callum apparently doesn't like the classical theme of his predecessor Geoff Lawson, so he modernized the XJ with sporty new bumpers, XK-style side ventilation holes, deeper skirts and a tiny spoiler at the boot lid. In the cabin, there is new ventilated front seats, digital radio and Bluetooth connectivity added. The front seats also get slimmer seatback to free up a few mm to rear knee room.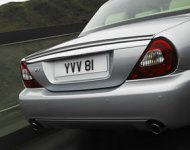 As the mechanicals of XJ is still deemed to be modern, nothing has been touched in the facelift, except that the unpopular 3.5 V8 has been dropped. The most popular engine is the 2.7-liter twin-turbo diesel V6 which joined the lineup a couple of years ago thus was not mentioned in my original report. This engine was developed by Ford and shared with PSA (such as Peugeot 407 Coupe and Citroen C6) as part of their joint venture agreement for diesel engines. Although 204 horsepower isn't much, it produces a lot of torque to enable a decent performance – 0-60mph takes 7.8 seconds. Even better, its twin-turbo design lets power to build up smoothly and responsively, while NVH suppression is excellent. This is probably the world's best diesel V6. Coupled to the superb ZF 6-speed automatic transmission and the relatively lightweight aluminum chassis, the XJ 2.7TDVi is unusually green and economical. It returns 35mpg and emits a class-best 214g/km of CO2. No wonder most XJ sold in Europe are powered by this engine.

Facelifting the XJ has always been a difficult task. Jaguar tried to modernize its look in the 1986 remake, but classical theme won again in the 1993 facelift. Geoff Lawson successfully evolved the classical design to fit modern packaging requirements, but some details, such as front and rear bumpers, start looking dated today. Undoubtedly, Ian Callum this time did a good job to refine the tail and sides. The chromed side vents are especially elegant details. But the blocky front bumper and bold central intake go too far, destroying the harmony of the front design. However, the controversial facelift does fresh up the image of the old XJ and just might draw more attention to the underrated British luxury car.
The above report was last updated on 9 May 2007. All Rights Reserved.