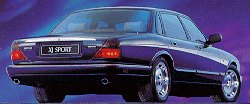 Mercedes is the most spacious, BMW is the most dynamic, Audi represents sophisticate technology, Lexus means harmony.....Concerning these qualities, Jaguar XJ8 can hardly compete with them - it is the crampest luxurious sedan available, it has few high-tech, it is not as refined as Japanese luxury, although pretty dynamical. However, none of its competitors can compare with its royalty image. No matter the classical styling, the elegant finish and the first class wood and leather used in the cabin, royal image is emitted everywhere.

Despite of the new name "XJ8", it is not a new car. The original XJ6 launched in the 70's, since then there was 2 major revisions - the first one (1986) introduced a more boxy body with square lamps, plus an all new 24valves straight 6 ; the second one is in 1993, it was polished with better build quality, vastly improved reliability, smoothened engine and switches back to the 4 circular lamps configuration. This was not a major improvement, but it cures the weakest points troubling XJ6 for a long time - quality and reliability.

However, XJ6 still being inferior to its competitors in terms of the no. of cylinder - all of them has 8. Although the AJ6 is smooth and extremely responsive, it reached its due date and hardly increase power and refinement further. Logically, XK8 coupe's V8 should be the most obvious replacement.

In fact, without planning to use this V8 in the larger-volume production sedan, who would develop it solely for the coupe ? This dohc 32 valves all-alloy AJ-V8 (available in 240hp 3.2 and 290hp 4.0 with variable valve timing) will not only replace the AJ6 engine, but also the long-serving V12. It brings highest-ever level of power, smoothness and eagerness to the XJ series sedan. Further accompany with XK8's 5 speed automatic, XJ8 is vastly improved.

Besides, retuned suspensions and a modernised interior are also new features.

With the marvellous engine and crisp handling, XJ8 reminds us that the company used to build sporty sedans and sports cars since WWII. Until you have driven a BMW, you will find XJ8 being the most sporty luxurious sedan. Besides, surprisingly, it rides even more supple than Lexus LS400, especially on rough road. While the German cars are tuned for the flat autobahn, XJ8 remains to be the best ride luxurious sedan available.

Its fatal weakness is the interior space. Since the original, XJ6/8 used to be the crampest luxurious sedan. Curiously, Jaguar has no intention to enlarge the cabin space, some said because the re-construction is too costly for Jaguar, some said because Jaguar prefer to maintain the current sleek styling. Anyway, it is too short of headroom and rear seat leg room, even compare with smaller cars such as BMW 5 series / Mercedes E class. Imagine, what will it be if it offers a descent cabin room ? 5 stars, I have no hesitation.