Jaguar X-Type

Debut: 2001
Maker: Jaguar
Predecessor: no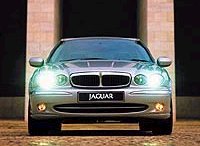 For the first time, the German domination of compact prestige sedan segment (say, 3-series etc.) is going to end. Who can do that? not Rover, not Volvo, not Alfa, it is Jaguar. The car that will do that is called X-Type, a typical Jaguar name.

X-Type has many inherent advantages over its German rivals. First of all, the British premium marque always has stronger image than BMW, Audi and - may I say - Mercedes-Benz. You need not to recall the glorious history of SS, XK120, C to E-Type, MkII ... just look at the XJ sedan and you'll feel the sense of occasion the big cat delivers. Here, X-Type is benefited from the corporate image as well as traditional styling cues. You can see its beautiful shape combines the best of various Jaguars, such as the grilles, headlights and sculptured bonnet of XJ, the side windows and C-pillars of S-Type and the tail lights of XK8 coupe. But just combining them is not enough, you need a great tailor like the late Geoff Lawson to merge them smoothly into a curvy, taut body. That's not easy, especially there are a hell lot of features to be shown in the smaller body. The 4 circular headlamps, for example, are difficult to implement in style (see Mercedes E-class). Lawson was clever. He compressed the height of both grilles and headlamps, raised the bumper line thus made the nose slimmer. Yes, slimness is always the philosophy of Jaguar's traditional styling, so Lawson decided to sacrifice a bit headroom in exchange for a sleek streamline from nose to tail. Besides, to inject a sense of sportiness unfound in S-Type and XJ, he added extra muscle to the shoulder at around C-pillar. As a result, X-Type looks far sexier and far more characterful than any German rivals. It is also, if arguably, the best looking modern Jaguar.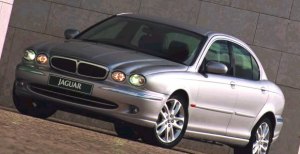 Predictably, a mass-production Jaguar must share cost with Ford's product, in this case is, Mondeo. I said it predictable because the S-Type is already doing so with Lincoln LS. Moreover, the new X-Type is produced in Ford's Halewood plant in England, where Escort used to be assembled. However, the decision to base it on Mondeo platform is more a concern of development time (slash at least a year) instead of cost (we shall see later why). Basically, the Mondeo platform provides 20% common components, including front MacPherson struts and rear torsion-control multi-link setup. The front suspensions employ twin-tube and twin-bearing. The rear is a space-saving design coming from the Mondeo estate. Strangely, as opposed to Jaguar's tradition, the rear suspension was chosen to optimize luggage space to a remarkable 452 litres. In contrast, the wheelbase is shortened from 2754 to 2710 mm in order to make the car smaller than S-Type.

Now comes the problem: no matter how brilliant the Mondeo chassis is, it is still a front-driver. Question 1: can it cope with Jaguar's bigger engines (3.0 V6 and then a supercharged R model) and higher expectation ? unlikely; Question 2: will the public accept a premium sporty sedan - especially a Jaguar - to be front-driver ? definitely not. That's why Jaguar would rather add a cost of £900 and a weight of 80kg per car to make it 4-wheel drive. It is a simple design employing epicyclic center differential and viscous-coupling LSD to direct 60% torque to the rear wheels in order to obtain a rear-bias, fun-to-handle character to match rivals. In case of wheelspin, viscous coupler will lock up the differential thus send more torque to the axle with more grip. You can see, this is a full-time 4WD like Audi (which uses Torsen LSD instead of VC), thus is superior to the part-time system used by Volvo and the LSD-less BMW xi models.

In reality, handling of this Jaguar is eye-opening: what Audi's quattro system learned in the past 20 years, Jaguar surpasses in its first attempt. Yes, yes, this baby Jaguar is as surefooted in any corners, any surfaces as the new A4 Quattro while being more entertaining to drive. It attacks corners confidently at amazing speed, displaying superior body control and balance while ride quality is unexpectedly good. In mid-corner, it can be balanced easily on throttle, thanks to the rear-bias torque split. It let us wonder why Audi hasn't scrap its 50:50 Torsen system yet. At the limit, it will understeer gently like the Quattro to provide a secure characteristic that rarely needs the intervention of DSC.

Comparatively, Audi is less involving while rides far stiffer. Jaguar's superior combination of handling and ride must thanks to the super-rigid body shell which is claimed to be 30% stiffer than the "previous class leader" (implying 3-series). Its ride quality is at the firm side by Jaguar's standard but excellent by the standard of German marques. In fact, it is only bettered by Mercedes C-class.

The ZF speed-sensitive power steering is another contribution to the great handling. Since the S-Type mid-life makeover, Wolfgang Reitzle did not allow Jaguar to use Ford's flawed steering rack again. 2.6-turn lock-to-lock is a good balance between directness and refinement. Admittedly, it is a bit inert at low speed due to the friction generated by the 4-wheel-drive, once up to 40 mph the steering is full of communication, again, more than Audi A4 Quattro. The weighting is just perfect, from light effort at parking, increase consistently and linearly as speed rise. As it isolates from vibration and unwanted ground intrusion very well, cruising can be done with just finger tips on the steering wheel. The last goodness about steering is the lack of torque steer, thanks to the unusual twin-bearing Mondeo front struts and relatively less torque driving through the front wheels.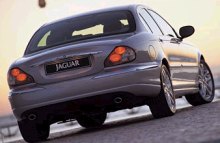 What about C-class and 3-series? they might provide even better-informed steering and more entertaining power oversteer, but the Jaguar achieves better balance between sheer capability, confidence and entertainment. Its chassis is world beating.

Powering the baby Jaguar is S-Type's 3.0-litre V6, now re-rated to 231 hp perhaps because the transverse installation restricts a little bit breathing. Remind you, it is based on Ford's Cleveland V6 (powering Taurus) but is equipped with Jaguar's very advanced head (continuous intake VVT, 3-stage variable geometry induction manifold, electronic throttle) and 32-bit microprocessor, the last two were designed to comply with Euro VI emission regulation to be effective in 2005. Remind you again, despite of these goodness, it used to be a weak link in S-Type. No matter what Jaguar say, such as 80% peak torque from 1500rpm, 90% from 2500rpm etc., it is still obviously a loser. Remember, a BMW 330i develops 90% of its 221 peak torque at 1500rpm, that equals 199lbft. In contrast, the Jaguar produces just 167lbft at the same rev. No wonder the Jaguar V6 needs rev to realise its performance suggested by the claimed 231 horsepower. Apart from mid-range torque, it is also lack of the last 5% refinement. For instance, the engine gets booming at high rev, the throttle pedal has little response at its first half an inch of travel.

A smaller, 2.5-litre V6 is available as entry-level model. It is essentially a small-bore version of the 3.0 unit. Power and torque are 194 hp and 180 lbft respectively. Although its bore / stroke ratio is more healthy than the larger one (which is very oversquare at 89.0 x 79.5mm), their characters are similar. Both engines are smooth and quiet most of the time, but the lack of instant-torque, top-end refinement and a beautiful sound track send them to the second class.

Lack of fine-polishing is also found in the 5-speed manual gearbox. Basically is Mondeo's MTX-75 with some modifications. It is generally smooth (if heavy) and accurate to shift, with short throw, but in a hurry it can be balky. Another transmission is a Ford 5-speed automatic with Jaguar's unique J-gate shifter. It suits the 3.0 engine while blunting the performance of 2.5. No matter which gearbox, there is some driveline shunt occurs when stuck in traffic, which is in common with other 4WD cars. In contrast, the braking system is impressive - powerful, fadeless and good pedal feel.

As for performance, given a lot of rev, mating with manual gearbox, both 2.5 and 3.0 achieve remarkable performance (see specification table below). In fact, the 3.0 is quicker than equivalent A4 and C320, just marginally edged out by the fire-breathing 330i. Now I really believe it has 231 horsepower on tap. It will be more remarkable if you know that the super-stiff, 4WD-equipped Jaguar weighs 100 kg in excess of rivals !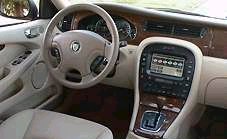 To many Jaguar lovers, the best of Jaguar, besides exterior styling, is the leather-and-wood cabin. Having disappointed by the Ford-influenced S-Type, this baby Jaguar is not going to make the same mistakes. You'll find everywhere is trimmed with leather and bird's eye maple wood. The dials recessed in a wooden panel like some Saab. They are colored in British racing green in a retro style. Center console is designed like that of XJ, but a big, 7-inch LCD touch screen dominates it thus looks sophisticated. The screen provides a lot of functions, such as climate control, audio control, navigation, (optional) TV and mobile phone. As in other Jaguars, there is an optional voice activation too. Fit and finish of the cabin is up to standard, but there are two flaws: 1) the door panel looks dull. Why not incorporate an elegant grab handle like that of Rover 75 ? 2) Low quality plastics used. Actually no better than Mondeo. Luckily, most surfaces are covered with either leather or wood instead of plastics.

Driving position is excellent, with everything adjustable. Nevertheless, space is not its strength. To preserve Jaguar's traditional low roof line, front and rear headroom are sacrificed, especially the latter, where passengers of 5ft 10 (me !) will find touching the roof. What a pity. The rear legroom actually matches 3-series and A4, if not C-class.

In short, the new X-Type is a far better attempt than S-Type to invade the segment used to be dominated by the German. In terms of styling, character and dynamic, it leaves the German rivals trailing. Had it got a real in-house-made engine, and a little bit extra effort in fine tuning, it would have been a clear class winner, a rare 6-star car in AutoZine's verdict. Anyway, even without these improvements, the baby Jaguar is still a remarkable car. It seems that Jaguar's sales target of 100,000 units / year is too conservative. You know, BMW is selling some 450,000 Three-series this year. Halewood can build a maximum 140,000 cars annually. I think that will be easily exceeded when the X-Type get a diesel V6 from PSA.
The above report was last updated on 10 June, 2001. All Rights Reserved.
X-Type 2.0

Inside Jaguar, there was a strong argument whether they should build an entry-level, front-drive X-Type. The pro-side said they should not ignore the big market now being dominated by BMW 318i and Audi A4 2.0 or 1.8T. In Europe, this market is so big that BMW actually sells more 318i than any other 6-cylinder 3-Series. Ditto the A4. At the other end of boxing corner, the against-side pointed out that front-wheel-drive does not fit into the image of Jaguar, as the British marque has never built any front-driver in its 70 years history.

Is this a good reason for rejecting new development ? If so, they should have already rejected the X-Type for its first-ever 4-wheel-drive system and transverse engine, so were the first V6 used in S-Type and V8 introduced to XK8 and XJ8. Didn't people once say Jaguars should have straight-6 ?

In fact, people seemed rarely care about through which wheels Audi A4 drive. The same goes for Alfa 156, one of the most fun-to-drive car in the class. As long as the engine is not too powerful, the latest FWD technology is good enough to provide satisfying handling.

To Jaguar X-Type, switching to FWD is easy. Remember, its basic architecture was derived from the front-drive Ford Mondeo, therefore by employing more Mondeo bits at transmission and front suspensions the conversion was done at minimum cost.

Inside the engine bay, the 2.5-litre V6 has been de-stroked to 2099c.c. - oddly, Jaguar calls it a 2.0-litre. Power and torque drop to 156hp and 148lbft respectively, more than BMW 318i and level with the turbocharged A4 1.8T. Performance is not remarkable, but the smoothness and free-revving quality of the V6 certainly makes the Jaguar feel classier than its four-cylinder rivals.

It should, because it is thirsty - a thing that matter to the buyers of this segment. Combined cycle fuel consumption is 30.7mpg, versus 34.5mpg of A4 1.8T and - thanks to Valvetronic - 39.2mpg of 318i. With 2 more cylinders than rivals, the V6 wastes more energy via thermal loss and frictional loss. There is no free lunch, you pay the price for superior engine refinement.

Devoid of 2 differentials and drive shaft, in addition to the lighter engine, some 100kg was eliminated compare with the X-Type 2.5. Despite of this, at 1450kg, the baby Jag is still a heavyweight. On the other hand, the short-stroke V6 delivers its peak torque at a high 4100rpm, therefore to exploit good performance need an enthusiastic foot on throttle and a busy hand on shifter. Doing this is a joy, thanks to the eager engine and positive gearshift. That said, like other X-Types, the 2.0 encourages its driver to involve deeper.

Push it into corners, the baby X-Type feels like a grown-up Mondeo, where "grown-up" means better damping and control over undulations. Its handling, balance and steering are as impressive as the Mondeo. Compare with 4WD version, you can still detect a touch more understeer at the limit. Torque steer, however, is absent unless pushing hard in tight corners at low gear. Similarly, the less torquey engine rarely pushes the car beyond its grip limit.

In short, X-Type 2.0 handles better than Audi A4 and nearly good enough to challenge the rear-drive BMW 318i. The management made a correct decision: front-wheel-drive works in a Jaguar !
The above report was last updated on 18 Mar 2002. All Rights Reserved.