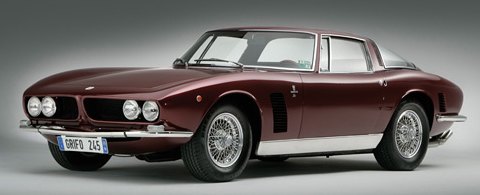 In the supercar-booming 1960s, apart from Ferrari, Maserati and Lamborghini, there was another Italian supercar maker called Iso Rivolta. Iso was originally a producer of motorcycles and miniature cars – for example, it created the egg-shape Iso Isetta that licensed to BMW for production. Entering the 60s, Iso turned its interest to luxurious grand tourers. The Grifo was its most successful car during that period. It was engineered by ex-Ferrari 250GTO engineer Giotto Bizzarrini and styled by the young Giorgio Giugiaro of Bertone. Unlike other Italian supercars, its engines were sourced from America. Chevrolet provided inexpensive, reliable yet powerful V8s for this car. People described it combining the best of both worlds.

Grifo may not be the most beautiful car during its time, but its Bertone-built bodywork looked elegant and matched its luxurious manner very well. Although mechanical layout was conventional front-engine and rear-wheel drive, the V8 sat behind the front axle to achieve near perfect weight distribution, something Bizzarrini learnt in Ferrari GTO. Its steel monocoque chassis was noticeably heavier than those employed by Ferrari GT cars, but it had power to match – a Chevrolet 327 cubic inch (or 5.4 liters) small-block V8 tuned to produce a claimed 365 horsepower (gross). Transmission could be either 4-speed manual or 3-speed automatic, again came from Detroit. Autocar recorded 161 mph in its 1966 road test, which was the magazine's fastest record until the arrival of Lamborghini Miura.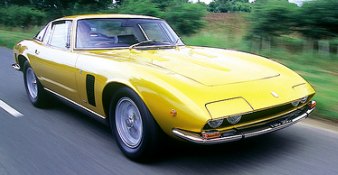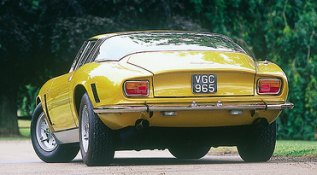 Series 2 (from 1970) got a sleeker nose and semi-hidden headlamps


An even stronger engine joined the range in 1968, i.e. Chevrolet's big-block 427 (7-liter) V8. It produced as much as 435 horsepower (again gross power) and 460 lb-ft of torque. Iso wildly claimed its top speed at 300 km/h (186mph). Although that was obviously overoptimistic, it should had no problem to reach 170-plus mph and able to challenge Ferrari Daytona as the world's fastest car.

The Grifo's front suspension was conventional double-wishbones with coil springs, while the rear consisted of De Dion axle, trailing arms, Watts link and coil springs. All wheels employed disc brakes. Its handling was not as good as Ferrari due to its excessive weight and slow steering. After all, it was not a true sports car, but a luxurious high-speed grand tourer. Its cabin was roomier, more luxuriously trimmed and better equipped than Ferrari or Maserati. However, Iso had neither the fame nor money to match those established marques. By the time Energy Crisis hit the world in 1973, it could no longer survive.

Grifo A3/C (Bizzarrini 5300GT)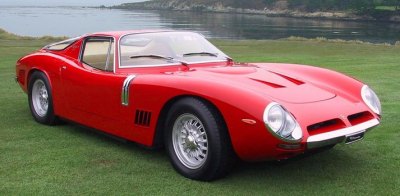 In fact, Grifo was the name of not one car but two very different cars. The aforementioned luxury grand tourer was referred to Grifo A3/L (where L stands for Lusso, or Luxury), while a race-oriented version was called Grifo A3/C (C for Corsa or Competition). They shared the 365hp 327cu powertrain and running gear, but Bizzarrini gave the A3/C a completely different chassis, which was constructed by race car-style tubular spaceframe and clothed with aluminum skin. The wheelbase was shortened, while the engine was moved further back to achieve even better balance in expense of cabin space. The bodywork – again designed by Giugiaro – was lower and sleeker to enhance straight line speed. The whole car was about 250 kg lighter than A3/L.

Iso boss Renzo Rivolta had never supported the idea of the competition car. Its was Bizzarrini's desire to bring it into reality. Bizzarrini even financed its development and built it in his own workshop, albeit using the running gear supplied by Iso. After completed thirty cars, they agreed to part ways. Iso continued to make Grifo A3/L, while Bizzarrini renamed his car to 5300GT and sold under his own name. In total, about 110 Grifo A3/C and Bizzarrini 5300GT were made before the company went bankrupt.