| | |
| --- | --- |
| Published on 22 Mar 2012 | All rights reserved. |

Opposing to the industrial trend of globalization, Hyundai produces the i-series models specially for European market. i10, i20, i30 and i40 are tailored to the needs and tastes of European motorists, which can never be fulfilled by the American-biased Accent, Elantra and Sonata. This shows the company's determination to succeed in Europe. It goes without saying that winning the hearts of European motorists is the hardest thing yet the highest honor one can achieve.

The first generation i30 debuted in 2007 as the badge-engineered sister of Kia Cee'd. Both cars caught us a small surprise by offering competitive packaging and dynamics, but no one would confuse them with the best European family hatches, namely Volkswagen Golf, Ford Focus and Opel Astra. Now the second generation i30 is going to close the gap again.

In certain areas, the new i30 could really threaten its established rivals. Most notable is the exterior design, which was penned by Hyundai's European HQ at Russelsheim, Germany. It looks sporty, tasteful yet original – I know the last adjective is rarely associated with Asian brands, but you had better to get used to it for nowadays' Hyundai and Kia, because they take design very seriously. Take the hexagonal fascia for example, it is radical yet very well integrated with the nose, something not even Audi A3 or Alfa Romeo Giulietta managed. It makes VW Golf conservative and Ford Focus odd. The side view shows a similar story. Sharp, flowing crease lines reveal an unusually dynamic graphic, which is best described by Hyundai's own language - Fluidic Sculpture.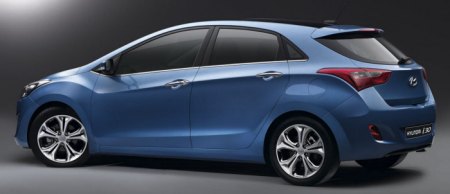 Apart from styling, the i30 was also engineered at Russelsheim. Its production takes place at the Nosovice plant of Czech Republic, just like the old car. No wonder it smells and drives exactly like a European car. Although its basic platform is shared with Elantra and Veloster, it is fitted with expensive multi-link rear suspensions instead of the usual torsion-beam axle in order to deliver a more sophisticated ride and body control that many European motorists demand. This lets it to stand proudly beside Golf, Focus and Giulietta and have a psychological advantage over Astra, Megane, 308 etc. Up front, the usual MacPherson struts are mounted on subframe to isolate from NVH. Further noise insulation is provided by double-layer door seals and increased foam-filling in the A-pillars. As expected, the monocoque chassis employs more high-strength and ultra-high-strength to increase rigidity. A reduction of drag coefficient by 10 percent to 0.30 helps cutting wind noise as well as highway fuel consumption.

The packaging is also improved. Although wheelbase is unchanged at 2650 mm – that's 50 mm shorter than Elantra – front occupants enjoy 30 mm more headroom, 11 mm more legroom and 5 mm more shoulder room compare with the old car. Space at the back is mostly unchanged, but a lower central tunnel eases the pain of the middle passenger. Cargo space is increased from 340 to 378 liters, which is bigger than both Golf and Focus.



In the cabin, the roominess you sense is even more than the tape measure suggested, because the base of the windscreen is set further away, freeing up more space in front of you. The build quality and materials used throughout the cabin is certainly better than Elantra, again to please European buyers. Soft-touch plastics are used on the dashboard and door panels. Gloss and metallic inserts look good enough. Overall, it fails to match the quality feel of Volkswagen, but it won't be shame to compare with any other European rivals. Ergonomics are excellent. Buttons are large and logically placed. The only complaint is the rear seats that don't fold entirely flat.

As usual, the Hyundai is better equipped than rivals of the same prices. In addition to its unique 5-year warranty, value for money is unrivalled.

So the new Hyundai is very strong at packaging, styling and value, but what about its driving dynamics? Look at the specification sheet, you will find some very promising mechanicals. For example, the electric power steering offers 3 modes – Comfort, Normal and Sport – to change the level of assistance according to your will. The 1.6 GDI engine uses direct injection and dual variable valve timing to produce a remarkable 135 hp. Equipped with an automatic stop-start system called ISG, it claims an eye-popping economy of 56.4 mpg and carbon-dioxide emission of only 118 g/km, which is the best in 1.6-liter class. Even more impressive is the 1.6CRDi turbo diesel engine, which quotes 128 hp, 192 lbft, 76.3 mpg and 97g/km. Both engines can mate to either 6-speed manual or 6-speed automatic transmission. Everything looks good on paper.



In the real world, things do not turn out as good. Both engines fall short of their rated fuel economy by a large margin (by the way, the same happens in the American Elantra). The 1.6 GDI offers plenty of power if you are willing to stretch its rev, but doing so will undoubtedly hurt its frugality. For day-to-day use it is not as flexible and frugal as the small turbocharged motors on Golf 1.4TSI and Focus 1.0 Ecoboost. The 1.6 CRDi has similar problems. While it is quiet and rattle free, its power band is narrow. This mean it does not feel as strong as its output figures suggested.

The chassis is competent. Its primary achievement is to deliver a comfortable ride without compromising body control. Most buyers will love its new found rolling refinement, safe and predictable handling. Compare to the old car, it feels more grown up to the extent that you can easily confuse it with some of the best European rivals. Nevertheless, the car is not fun to drive. Its comfort-biased suspension setting fails to translate into a handling as sharp as Focus or Golf. Its power steering feels artificial regardless of modes, something its best rivals managed to avoid. Consequently, the driving experience is rather dull.

Undoubtedly, the new i30 has improved a lot from its predecessor. Buyers will be foolish to ignore it when purchasing a new C-segment family car, especially taking financial factors into account. However, it still needs to inject more driving fun, character and innovation before it can be get our recognition as the best of the class.

Verdict: