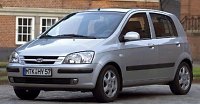 With the addition of Getz into its expanding product lineup, Hyundai is finally targeting the huge European supermini market. Getz is sized and positioned between Atoz and Accent. However, its modern architecture actually provides more interior space than the outdated Accent. Though being 400mm shorter, its wheelbase exceeds the Accent's by 15mm and, more importantly, its roof is a massive 100mm taller. This means it is very close to the biggest European superminis, such as Volkswagen Polo, in every dimension. As a result, Getz provides a spacious cabin matching the best of its rivals. In particular, the rear seats provide plenty of legroom so that 6-footers can travel comfortably for long distance.
From styling, packaging and mechanical design, Getz follows the trend set by its European rivals. But this also mean the car lacks character, let alone any innovations or new ideas. It looks ordinary, not ugly but just like another no-one-knows product. It handles well and rides OK, has fluent steering, well-weighted controls and slick gearbox, but then it does not offer an impression of refinement because the suspensions get bouncy on bumpy roads and the engine is noisy on motorway. Both engines - 82hp 1.3-litre sohc 12-valver and 105hp 1.6-litre dohc 16-vavler - are coarse at the latter half of their rev range, and both of them are not strong performer. Hyundai's engine department is still far from world class.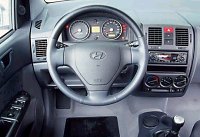 However, the worse of Getz is that it lacks a modern interior packaging. The whole dashboard is not only dull to look at but also constructed with poor grade hard plastic. Switch gears and nylon fabrics feel as cheap. Front seats are flat and unsupportive. While European and Japanese superminis succeeded to upgrade their visual quality to match bigger cars, the new entry from Hyundai feels hopelessly cheap and outdated.