| | |
| --- | --- |
| Published on 14 Jun 2008 | All rights reserved. |
| | |
| --- | --- |
| | To a car maker renowned for selling cheap cars, the arrival of Genesis couldn't be more surprising... |

Undoubtedly, Genesis is very important to Korean. It is the country's first attempt to build a real luxury car that could challenge European and Japanese premium brands like Mercedes, BMW, Audi, Jaguar, Lexus and Infiniti. To a car maker renowned for selling cheap cars, this couldn't be more surprising.

Like what the Japanese started doing some 20 years ago, Hyundai's uphill challenge is driven by – apart from passion, as Hyundai would lead us to believe – some realistic economic factors. Following the rapid economic growth, Korean labors are not cheap any more. Wages of Hyundai's production workers grow between 6 and 9 percent every year. Furthermore, during the past 3 years Korean Won rose nearly 30 percent against US dollar. This make building cheap cars more and more difficult in South Korea. Today the cheapest car of Hyundai, i10, is built in India instead of its home country in order to be profitable. Like what Japanese car makers found in the 1980s, the only way to fight against inflated costs is to build higher price, higher value-added products. That is why in recent years Hyundai concentrated a lot of energy on upper class vehicles, such as Sonata, Azera and Veracruz crossover. Genesis is the next logical step, albeit a big step.


| | |
| --- | --- |
| | After countless of HCD design studies, how come Hyundai still come up with a copycat design ? |

As Hyundai does not deliver a premium image, and it doesn't want to spend big marketing money on building a Lexus-like luxury brand, it once again adopted the typical Korean strategy for Genesis -

more car for less money

. Compare to Mercedes E-class, BMW 5-series, Audi A6, Jaguar XF, Lexus GS and Infiniti M-series, Genesis is around 25-35 percent cheaper. At the same time, it is bigger inside and outside. It measures 5 meters long and runs a 2935 mm wheelbase, something between an E-class and S-class. It is not just all about the amount of metal. Hyundai proudly said it has a remarkable drag coefficient of 0.27, a chassis rigidity exceeding BMW 5-Series and Mercedes E-class by 12-14 percent. Of course, to match its rivals it has a brand new rear-wheel drive platform, with a good weight distribution of 53:47 front to rear. This car costs Hyundai US$600 million to develop, among which US$260 million went to developing the new "Tau" V8 engine. This engine and the entry-level 3.3 and 3.8-liter V6 feature all-aluminum construction, DOHC 4-valve per cylinder, dual-CVVT and a two-stage variable intake manifolds system. All of them mate with 6-speed automatic transmissions with manual override, and one of them is supplied by a company called ZF. The chassis rides on 5-link aluminum suspensions at all corners, supplemented with Amplitude Selective Dampers (a kind of mechanical variable dampers). Everything sounds at least up to international standard.

Even its exterior design delivers an upmarket feel. You can see a Mercedes-style front grille, a BMW side profile, Lexus LS headlights, some Infiniti influence outside and inside. After countless of HCD design studies, how come Hyundai still come up with a copycat design ? I guess because it wants to play safe for this $600 million investment. Customers of luxury segment are generally older and more conservative in taste. Therefore the safest approach is to copy the existing benchmarks. No wonder the Genesis looks inoffensive. On the negative side, it lacks its own character, and it will look outdated once its benchmarking rivals are renewed - this is likely to happen in a couple of years time.







Does it deliver top notch build quality ? The answer is negative...

One big question you may ask is: does it deliver top notch build quality ?

Well, build quality is generally good... as long as you don't look at the small details. For example, open the boot and you will see a poorly trimmed inner surface, while the boot lid employs the cheapest gooseneck hinges without gas struts. These are nigglings, but they just won't happen in other luxury cars. Turn to the cabin, it is undeniably very spacious and well designed. People up to 6 ft 4 can sit comfortably front and rear simultaneously. Besides, you can opt for some classy equipments, such as an i-Drive-like control system using rotary knob, HD satellite navigation, voice recognition, a superb sound system, parking camera and a heated and cooled driver seat. Nevertheless, in terms of material quality, it is once again disappointing. The cabin of Genesis V6 is dominated by fake wood trim which appears to be outdated and tasteless. On V8 model, leather trim is used instead of fake wood on the large surface of dashboard, but that piece of leather is a low grade item. Turn your vision to the headliner and all you will see is polyester. Cost saving is obvious in this cabin.

The Genesis works better in the mechanical side, especially is powertrain. As mentioned before, there are three engines in total. A 3.3-liter V6 and 3.8-liter V6 are existing engines in Sonata and Azera but adapted to longitudinal mounting and produce more power, i.e. 264hp and 290hp respectively. They mate with a 6-speed Tiptronic-style automatic transmission made by Japanese supplier Aisin. Both combinations are refined, but only the torquer 3.8 engine could deliver class-matching performance, because the Genesis is about 100 kg heavier than the class norm - something predictable for its larger size. We expect it could sprint from zero to 60 mph in 6.3 seconds, about the same as its 3.5-liter rivals.


| | |
| --- | --- |
| | Powertrain, performance, ride and quietness are all up to luxury class standard. Only handling fails to please keen drivers. |



The 4.6-liter Tau V8 must be a pride to Hyundai. It is not the first V8 in Hyundai - the outgoing Equus used to have a Mitsubishi-sourced 4.5-liter GDI V8 - but it is the first V8 developed by the Korean themselves. A rigid bedplate design makes sure it spins with little NVH, while dual continuous variable valve timing and two-stage intake manifolds ensure good power efficiency, something as high as 81 horsepower per liter. In other words, the 4.6-liter unit produces a remarkable 375 horses at the top end, although its maximum torque of 333 lb-ft is less remarkable. The engine is coupled to a ZF 6-speed automatic transmission like BMW or Jaguar, so we have no doubt in its seamless gearshift. However, due to the 1820 kg weight, 0-60 mph acceleration takes an estimated 5.9 seconds using European test method (without 1-foot rollout tolerance), so it is faster than the smaller-engined Jaguar XF 4.2 and Audi A6 4.2, about the same as Infinti M45 and Lexus GS460, but slower than BMW 550i and Mercedes E500 (E550).

The chassis of Genesis could be stiffer than BMW and Mercedes because it employs as much as 75 percent high-strength steel and a lot of structural adhesive. Its cabin is well insulated from wind, road noise and engine noise, thanks to the use of laminated glass windows, a lot of damping pads and sound insulation. Customers will be satisfied with its acoustic refinement.


| | |
| --- | --- |
| | Genesis maybe not a new Lexus, but it could please those seeking a comfortable luxury car without spending big money... |

In the dynamic side, the Genesis is clearly softer than its European counterparts as well as Infiniti M-series, especially in the Korean version. Even the American version, whose suspension has been tuned 10 percent stiffer, is not very much fun to drive. Its steering is overlight and lifeless. Despite of the fine weight distribution, the soft suspension leads to moderate understeer when it rushes into corners, let alone the keen driver's request for throttle steer. Braking power is modest, and the pedal is non-linear. The Genesis chassis is isolated from the road like Lexus - though ultimately not as absorbent or quiet as GS - thus it fails to engage its driver like BMW, Mercedes, Jaguar or Infiniti do.

However, the civilized manner of Genesis may please older customers or companies that seek a comfortable luxury car without spending too much money. Hyundai foresees there will be 35,000 such customers in Korea, 30,000 in USA and Canada and a further 15,000 in China and Middle East every year. That means the total sales target is 80,000 units a year. Apparently, to recoup the US$600 million investment, it will need to build more derivatives, such as Genesis Coupe and a possible crossover.
Verdict:



| | |
| --- | --- |
| Published on 22 Jun 2011 | All rights reserved. |
Genesis update 2011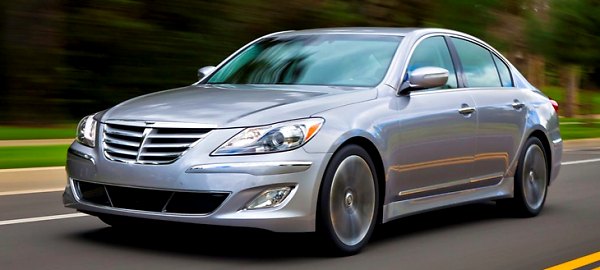 Three years could be a long time to the automotive world. Three years ago Hyundai Genesis entered the executive car market with plenty of applauses – not from AutoZine, but from the motoring journalists elected it the North American Car of the Year. At the time people said it rivaled respectably well with European and Japanese executive cars that cost 25 to 35 percent more to purchase. However, since then most of its rivals had been renewed – most notably BMW 5-Series (2009), Mercedes E-class (2009), Nissan Fuga / Infiniti M (2009) and Audi A6 (2011), and don't discount the highly affordable Chrysler 300 (2011). As the landscape changed, the Korean star fell to near the bottom of the league. It's time to have a refresh.

Therefore in 2011, the Genesis gets a facelift accompanied with some important mechanical upgrades. Outside, the cosmetic changes concentrate at the nose, where you can see a restyled bumper and fog lamps. They cannot change the fact that Genesis looks quite outdated now, so we had better to turn our focus to the mechanical side, where good news lies. All 3 engines have been upgraded with direct fuel injection and higher compression ratio. Now the entry-level 3.3-liter V6 produces 300 horsepower instead of 264 hp, along with 23 pound-foot more torque. Similarly, the 3.8-liter V6 gets 333 hp instead of 290 hp and 291 lbft instead of 264 lbft. The flagship V8 also has its capacity pumps up from 4.6 to 5.0 liters, releasing 429 horsepower and 376 lbft of torque, up from the previous 385 hp and 333 lbft. Moreover, the outgoing ZF 6-speed automatic transmission has been replaced with a new 8-speeder developed by Hyundai itself. All these changes point to increased performance and lower consumption.

When you look at EPA figures, you may be a little disappointed, because the V8 model actually increased its fuel consumption by 1 mpg. Of course, you may say it is a worthwhile sacrifice in the view of the increased power. However, its European rivals are more successful as they lift power and fuel economy simultaneously. They show a real progress in efficiency and environmental concern that the Hyundai has yet to follow.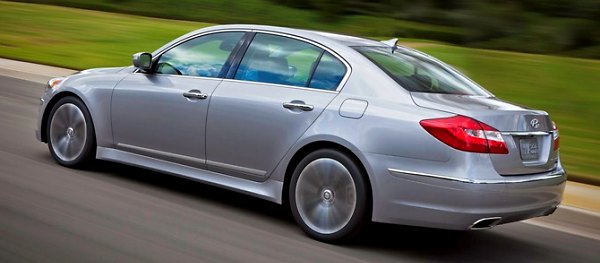 Moreover, the 5-liter Genesis does not feel significantly quicker than the old car on the road. The problem does not lie on power, but on torque. The new V8 gets its extra capacity by increasing the bore size. This benefits its top-end power rather than low-end grunt, which is weak by class standard. The engine needs some 5000 rpm to realize the max torque. Although Hyundai said at least 80 percent of which is available from 1500 rpm upward, it is still a far cry from the tremendous bottom-end torque offered by rival engines, most notably the BMW 4.4 twin-turbo, Mercedes new 4.7 twin-turbo or the old 5.5 V8. In addition to a muted exhaust note and a slightly sluggish 8-speed gearbox, the Genesis may disappoint those expecting strong driver appeal.

Similar can be said to the chassis. A slightly thicker rear anti-roll bar might improve its body control a little, as is the effect of larger brakes to braking, but the Genesis is still a machine strongly biased to the comfort side. You won't confuse it with a 550i or XF.

In the US, the 5-liter Genesis gets a sportier chassis tuning called "R-spec". It features stiffer springs, dampers and rear anti-roll bar, and lower-profile 19-inch tires shod with grippier tires. The intent is to raise its handling to match its rivals. Nevertheless, the work is considered to be a failure. It ruins the ride quality without improving handling as much as desired. The result is a car satisfying neither keen drivers nor comfort seekers.

What saves the Genesis is again its affordability. To stretch that advantage to the maximum, you had better to skip the V8 and opt for the smaller engines. In those cases you will find a large executive car at the price of a mid-trim 3-series. That makes more sense than choosing the V8.

Verdict: