| | |
| --- | --- |
| Published on 8 Jun 2009 | All rights reserved. |
| | |
| --- | --- |
| | Genesis Coupe is built on the premium rear-drive platform of Genesis sedan. It just doesn't show that in price tag... |

The emergence of Hyundai Genesis Coupe reminds me that the world is so short of affordable rear-wheel drive coupes these days. Wind back 20 or 25 years, all affordable coupes on the road relied on that handling-optimizing layout, for example, Toyota Levin and Celica, Nissan Silvia 200SX, Mitsubishi Starion, Opel Manta, Ford Capri, Alfa Romeo GTV... However, as the world's mass production sedans and hatchbacks had switched to front-wheel drive architectures, RWD platforms were found in short supply. Car makers calculated the costs and found they could not afford to build dedicated RWD platforms for their coupes whose sales volumes were most likely less than 100,000 units a year. That would either push the price too high or result in losses. Therefore, in 1985 Toyota Celica kickstarted a wave of transition to FF layout. Within a few years' time, nearly all the aforementioned coupes were replaced by front-wheel drive successors.

That is why today RWD coupes are deemed to be reserved for premium brands like BMW, Mercedes, Jaguar, Maserati, Infiniti etc. The only exceptions are American "pony cars". Ford managed to develop a dedicated RWD platform for its Mustang because it was willing to sacrifice sophistication and quality for low prices, hence driving volume in excess of 100,000 units a year. Its historical image also helped it to secure enough orders to make this dedidated platform economically viable. Chevrolet Camaro adopted a similar strategy, just further benefited by the availability of Holden Commodore platform. The same goes for Dodge Challenger, which was derived from Chrysler 300C.


| | |
| --- | --- |
| | A sleek and sporty profile envelops a wide body and long wheelbase to disguise its actual size. |

The approach of Hyundai is somewhat different - its new Genesis Coupe is built on the premium rear-drive platform of Genesis luxury sedan. A question is raised immediately: will it be too expensive to build ? Don't worry, the Genesis sedan has always been renowned for offering BMW 5-Series content at 3-Series price. With some cost-down efforts, Genesis Coupe should have no problem to offer 3-Series Coupe content at pony car price, thanks to the superior productivity of Hyundai group. So what exactly are the cost-down efforts? First of all, the Coupe has abandoned the sophisticated Tau V8 and relied on a tuned version of the 3.8-liter Lambda V6. If that's not enough, there is a 4-cylinder turbo motor offered as entry-level choice. Secondly, the sedan's classy multi-link front suspensions have been replaced by cheap MacPherson struts to save money. Thirdly, compare with the sedan, the cabin of Genesis Coupe employs cheaper materials and basic equipments to justify the price.

In terms of price versus features, the Genesis Coupe is unique in the market place. US$22,000 will buy you a 2.0 turbo Genesis Coupe completed with decent level of equipments and a proper rear-drive chassis. A little more than $30,000 will give you a flagship Genesis Coupe with 300 horsepower, full equipments and sport package. If you look else where, the same money will most likely buy a front-wheel drive Mitsubishi Eclipse, Honda Accord Coupe or Nissan Altima Coupe, a poverty-spec BMW 128i Coupe or a nice-but-slow Mazda RX-8. None of them are considered to be the direct competitors of this car. Instead, Hyundai sees Ford Mustang and Chevrolet Camaro as its target, at least in America.


| | |
| --- | --- |
| | Overall, it is a stylish, if unimpressive design. |



Compare with those American icons, the new Hyundai coupe looks far more modern. Its exterior design was inspired by the countless of HCD concept cars preceding it. A sleek and sporty profile envelops a wide body and long wheelbase to disguise its actual size. The nose intake looks a little characterless, as are the irregular-shaped headlamps, but the kickdowned rear quarter windows are unique. Overall, it is a stylish, if unimpressive design.

From the thump of door shut, you can feel the solidity of Genesis sedan is carried over to the coupe. That said, the cabin shows a noticeable downgrade in quality. Soft plastics cover only the dash top, leaving the majority surfaces of dashboard, doors and seatbacks to cheap hard plastics. The center console looks quite bland, not helped by the faux alloy treatment. Cost cut is also found in the lack of telescopic steering wheel, which means tall drivers will find the driving position compromised. The lack of electric adjustment for the front passenger seat is similarly odd. Strangely, these essential features are not even offered as options, although the car is otherwise quite well equipped.

For a big coupe running a 2820 mm wheelbase, its 2+2 cabin is definitely a let down. Slip into the rear seats, any human beings taller than 5' 7" will have their heads rubbed against the sloping rear window and their knees squeezed by the front seatbacks. This effectively limit its usage to children. The trunk space is decent in size, but access is made difficult by a small aperture and the lack of hatchback. Hyundai has a lot to learn from European and Japanese car makers for packaging efficiency.


| | |
| --- | --- |
| | In terms of packaging efficiency, Hyundai still has a lot to learn from European and Japanese car makers. |

As before, Hyundai's Lambda V6 features contemporary technologies such as all-alloy construction, DOHC 24-valve heads, dual-continuous variable cam phasing and a 2-stage variable intake system. In addition to a smoother intake and exhaust system, the Coupe-specific engine has its output boosted to a respectable 306 horsepower at 6300 rpm. In reality, however, it doesn't feel as powerful as the number suggested. On the one hand, it is quite short of torque at bottom-end and mid-range. Even the maximum torque is just 266 lb-ft, less than the V6 of Camaro and Infiniti G37 Coupe, and that is not available until 4700 rpm. On the other hand, its maximum rev is limited at only 6500 rpm, not as high as a sports car powerplant should be. Ridiculously, the V6 is dubbed "RS 3800" (see picture), where RS stands for Rear-drive Sport. Rear-drive refers to its longitudinal mounting position, but Sport ? No kidding. Carrying 1578 kg, the Genesis Coupe needs nearly 6 seconds to do 0-60 mph and over 14 seconds to 100 mph, probably not enough to lure American customers from their muscular pony cars.

The base 2.0-liter turbo comes from the "World Engine" joint-venture with Mitsubishi and Chrysler. It produces 210 horsepower and 223 lb-ft of torque. Performance is just as disappointing – even a Volkswagen Golf GTI would be 2 seconds quicker to go from 0-100 mph. It also loses the smoothness and consistent throttle response of the V6, although its lighter weight benefits handling a bit.

Both engines mate with a 6-speed ZF manual gearbox which offers a short throw and decent shift quality. What a pity it is mated to a heavy clutch. Lazier drivers may opt for a 5-speed automatic for the 2.0 turbo or a ZF 6-speed paddle-shift automatic for the V6. Both software calibrations are yet to perfect.


| | |
| --- | --- |
| | Its rev is limited at only 6500 rpm, how dare Hyundai calls it "RS 3800" ! |

The Genesis Coupe can be serious to keen drivers if "Track" package is ticked. This includes a Torsen limited slip differential, front suspension tower brace, Brembo performance brakes (340mm front and 330mm rear, with 4-pot calipers all-round), stiffer suspension setting and 19-inch alloy wheels shod with stickier Bridgestone Potenza RE050A tires. As such equipped, it delivers decent handling and enough driving pleasure to fight against its key rivals.

Thanks to the wide stance and long wheelbase, the Coupe corners with good poise and stability, tracks straight on highway without affecting by side wind. It's not as sharp as BMW coupes, but a little bit more agile than the heavier Chevrolet Camaro and way more precise than Ford Mustang. Its steering is a little over-assisted and vague on center, but it loads up nicely in corners and gives decent feedback locks. Its handling attitude bias towards mild understeer, just as its weight distribution of 55:45 suggested, but with stability control disabled and a big push in throttle pedal, you can get a progressive power slide as desired. At the limit, it is more friendly than the American muscle cars. The only obvious shortcoming is a harsh ride on coarse surfaces.

Overall speaking, the Genesis Coupe is a decent coupe at a reasonable price. However, after the impressive Genesis sedan, we can't help feeling a little disappointed. The Coupe not only lacks the strong character of its American rivals, but it is rarely outstanding in any areas. Its engine, chassis dynamics, design, accommodation and build quality are all located in the middle of the class. It fails to utilize the sounded fundamental. It seems that Hyundai could have perfectized it in many areas, but eventually decided to stop there just to keep costs under control. An unpolished diamond doesn't shine. A half-baked bread may stop you from hungry, but it won't taste delicious.
Verdict:



| | |
| --- | --- |
| Published on 28 Mar 2012 | All rights reserved. |
Genesis Coupe update 2012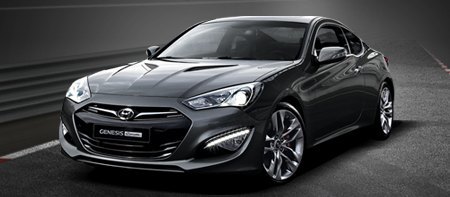 The mid-life revision made to Genesis Coupe this year is quite extensive. It covers a facelift, interior upgrade, modified engines, new gearbox and fine tuning to the chassis. We'll go through one by one.

Changes made to the exterior are most obvious. It abandons the sleek nose for an aggressive, huge hexagonal mouth to align with other new Hyundais. This gives it a clearer identity and a stronger character that the original design lacked. Whether it is prettier depends on your view, and I am in no better position than you to make the judgment. What I want to point out is that the bonnet vents are fake. In other words, they are purely cosmetic. Similarly, a large portion of the grille is sealed because neither the 2.0 turbo nor 3.8 V6 needs so much area for cooling. The new Genesis Coupe is just another example to prove that many modern cars are overstyled.

In contrast, modifications to the interior are underwhelming. There are soft-touch plastics on surfaces that you are most likely to touch or rest your arms on. However, the dashboard design remains uninspiring, as its architecture is kept untouched.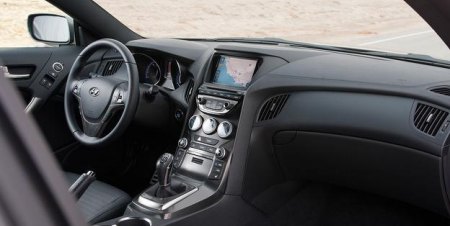 No such worry for the powertrains. Both engines have been upgraded to deliver more power. The 3.8-liter Lambda V6 gets direct injection (GDI) and higher compression ratio to squeeze out another 44 horsepower. With a total of 350 ponies, it easily overwhelms the V6s of Mustang, Camaro and Infiniti G37 Coupe, though you may point out Mustang 5.0 GT is significantly more powerful yet cheaper to purchase. The new V6 cuts 0-60 mph by about half a second, but it still takes more time than a BMW 135i Coupe. Although it is more sonorous than the old engine, its power delivery feels nothing like as urgent as it sounds. The result is still one of the least characterful six-cylinders in the class.

The 2-liter turbo four-pot engine has been added with exhaust variable valve timing. Its turbocharger has switched to twin-scroll type and it is now integrated with the stainless steel exhaust manifolds to cut weight, lag and quicken heat-up. Maximum output is lifted considerably to 275 hp and 275 lbft, along with less turbo lag. Sadly, it has yet to get GDI, something even the Sonata 2.0T has adopted a couple of years ago.

Hyundai claims the 6-speed manual gearbox is improved with better gearchange and clutch take-up, but road testers found its gearchange is still far from butter-smooth, while the clutch pedal offers little feel. In the self-shifter side, an in-house-built 8-speed automatic takes the space of the outgoing 5 or 6-speed auto. Unfortunately, its manual mode brings no better response thus it is no replacement to the 6-speed manual.

Handling should be improved by a 7-percent quicker steering rack and retuned suspensions. On the road, the Genesis Coupe shows slightly tighter control of its body roll. Turn-in is also a bit crisper. However, overall the chassis is still too civilized, more saloon than sports car. Understeer is its inherent nature when it approach corners. You have to apply throttle mid-corner to balance the understeer. Besides, hard braking at high speed could unsettle its tail, hurting confidence a little.

The 2012 revisions might be extensive, but they are not deep enough to change our perception on the Genesis Coupe. This is still an uninspiring, underdeveloped machine.

Verdict: