Hyundai Equus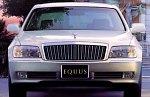 Although Equus is the largest and most luxurious sedan offered by Hyundai, its presence is bounded in home market. Therefore competitiveness is really in doubt. The chassis is actually shared with Mitsubishi's Proudia and Dignity as the two firms co-developed it. The standard Equus has a wheelbase of 2830 mm, not much longer than the export XG, but a long wheelbase version with 3080 mm is offered for those tycoons ask for limousine level of comfort. The limousine also possess a total length exceeding 5.3 meters, that's longer than the new Cadillac Deville and just shorter than Lincoln Town Car. Like those American dinosaurs, the Hyundai is conservatively styled and trimmed to please its target buyers - successful businessmen approaching their 60s.

Power trains also link closely with Mitsubishi. Entry-level 3-litre V6 is from Mitsubishi Diamante and has been using in Hyundai XG. Next up is Mitsubishi's 3.5-litre V6, good for 220 hp and 231 lbft. Top of the range is also from Mitsubishi - 4.5-litre GDI V8 capable of pumping out 260 hp and a lot of torque. All drive through 5-speed semi-automatic (Mitsubishi's Invecs-II).

The above report was last updated on 25 Feb 2000. All Rights Reserved.
Specifications
Model

Equus

Layout

Front-engined, Fwd.

Dimensions

L / W / H / WB: 5065 / 1870 / 1465 / 2830 mm

Lumosine: 5335 / 1870 / 1745 / 3080 mm

Engine

V8, dohc, 4v/cyl, direct injection.

Capacity

4498 c.c.

Power

260 hp

Torque

281 lbft

Transmission

5-speed semi-auto

Suspensions

F: strut / R: multi-link

Tyres

225 / 60 VR16

Weight

N/A

Top speed

N/A

0-60 mph

N/A

0-100 mph

N/A
---
Copyright© 1997-2009 by Mark Wan @
AutoZine