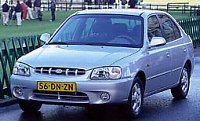 Another typical Korean car. What else could we say ? the previous generation Accent is pretty lovely, at least when considering its price tag. Not so the new car. Firstly, I don't like the angry face which is somewhat mirroring Lexus IS200. Secondly, behind the angry face is a rather modest chassis and engine - as the 108hp dohc 1.5-litre is bounded to home market, what most of us get is either a sohc 12V version with just 91 horsepower or a 1.3-litre sohc with 85 hp. The smaller one is more spirited, but offers just 83 lbft of torque. 1.3 or 1.5, the driver has to work hard on gear shifter in order to squeeze out the necessary performance. All because the new car is larger and heavier than ever.

Measuring 97 mm longer and 50 mm wider than before, the new Accent has a dimensions to match any European superminis. Therefore the cabin is quite roomy. 4-door version has a large boot. What let us down is the packaging: just like the exterior, the interior looks dull, without any imagination. Plastic looks cheap. Instrument and equipment layout is plain simple, though works well. No fun at all. No classy feeling.

Refinement is also under question. Ride is OK for all but rough roads. Road noise and wind noise are excessive by class standard. The 1.5-litre engine is loud and coarse. In terms of handling, Accent is not tuned to match European superminis, but in the States it is also likely to be compared with Toyota Echo, the saloon version of Yaris, so it could be quite embarrassed. Moreover, the Toyota's 105 hp VVTi engine can also make the Accent ashamed.