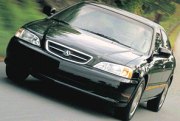 Being the upmarket version of Honda Accord, inevitably, Acura 3.2TL has to rival the very best European compact sedans, namely BMW 3-series, Alfa Romeo 156 and Audi A4. Now the rival list also include Toyota Altezza / Lexus IS. Mission impossible ? very likely.

The strongest aspect of the US-built 3.2TL is undoubtedly engine. Displacing 3210 c.c., the V6 output a massive 225 horsepower and 216 pound-foot of torque, thus outpowers anyone else. However, this is not to say it is the best engine among rivals. The sohc cylinder head prevent it from revving as eagerly as BMW's or Lexus' inline-6 despite the existence of VTEC. Worst of all is the induction noise - isn't it too quiet and unexciting ?

Against the clock, the Acura is not the fastest too. BMW 328i and Audi A4 2.8 Quattro, plus the forthcoming Lexus IS300, are all faster. In terms of transmission, the American-biased Acura is the only car not offer with manual gearbox. However, it has a 5-speed auto with sequential manual mode.

The worst element is the chassis, which was derived from the bread-and-butter Accord. To provide class-leading interior space, Honda decided to make the TL larger than the Accord - 30 mm longer in wheelbase, 45 mm longer overall - rather than making it more nimble and responsive to handle. I believe Honda will regret for this decision. Carrying 1565 kg kerb weight, how can the 3.2TL not be named as the bulkiest car in the class ? Furthermore, there's no Alfa-style sharp suspension tuning or super quick steering ratio, no BMW's refined aluminum suspension, no Altezza's 17-inch low profile tyres, no rear-wheel-drive or Audi's 4WD. Even the monocoque seems not as rigid as rivals. Steering feel is typically numb.

Admittedly, TL is already a sportier car than Accord due to the stiffer springs and dampers. However, compare with the aforementioned rivals, it is quite out of pace. In particular, BMW 3-series handles sharper yet rides smoother than it.

There is a price advantage for the TL, but not much. In the US, a similarly equipped 328i is 20% more expensive. After considering build quality, use of material (remember, the TL employs fake wood in the cabin), styling and reputation, it's not hard to see the little BMW is far more favourable.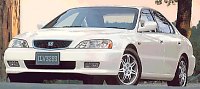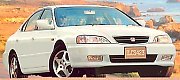 Japanese equivalents to Acura TL: Honda Saber and Inspire