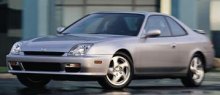 The current Prelude reflects the new policy of Honda's product development: eliminates all unnecessary technology and tricks, makes what the customers want. In other words, conservative. At the first sight, this Prelude is probably the most conservative and can't help being the ugliest among all 5 generations. The angular body is too dull to look at, nor the over-large headlamps are pleasing. Honda said many customers do not like the radical styling of the previous generation, but does the new design attract more sales ? Sales figures said no.

The most apparent improvement is a spacious cabin. Now the rear seats are no longer bounded to small children. I don't like the styling of cabin - it looks like a sedan rather than an exciting coupe. Although high grade of plastic is employed and the build quality is faultless, it is completely lack of style and colour.

The engine is virtually carried over from the previous generation : 2.2-litres four cylinder with twin cam and VTEC. Power rating is 200hp for America and Japan or 183hp for Europe. Japanese also gets an even hotter model - Type S - which raises compression ratio from 10.6:1 to 11.0:1, accompany hotter cam timing, higer valve lift, manual polished ports and smoother intake manifold, hence a peak power of 220hp (JIS). Converting to our familiar DIN scale, it's not quite in the Accord Type R territory, because the engine is simply a Type R unit minus the human-intensive forged pistons.

No matter which engine, the essential character is the same - high-revving, with sufficient torque but not quite explosive as its turbocharged rivals. I'd prefer Fiat Coupe's five-cylinder turbo. Burdening by the heavier body, the latest Prelude is actually slower than its predecessor. 0-60 takes about 7.7 seconds. An optional 4-speed Tiptronic-style automatic deteriorate performance further.

Suspensions have little change - who needs more than all wheels double-wishbones ? Undoubtedly, Honda works brilliantly in tuning the suspensions of all its coupes and sports cars, Prelude is with no exception. Handling is competent enough to upset Fiat Coupe and Alfa GTV, although Toyota Celica and the rear-wheel-drive Nissan Silvia could be more agile. It has a clever ATTS (active torque transfer system) active differential for eliminating understeer, or alternatively, the dying 4-wheel-steering can be fitted to reach similar effect. However, the chassis design can no longer matching the latest competitions.

However, Prelude's emphasis in comfort and elegance, hence a higher price, also place it in the danger zone occupied by Peugeot 406 Coupe and BMW 323Ci. Ultimately, the Prelude's handling and ride quality cannot match the brilliant BMW at all. In terms of practicality and comfort, it can't match these sedan-based rivals too. Furthermore, it looks far uglier and less classy than both. Lastly, it's not an easy decision to choose the high revving VTEC instead of a torquey V6 or straight six.
As a whole, Prelude bias towards comforts and practicality rather than fire-breathing driving excitement, this make it fail to please the racing boys as well as shirt-and-tie drivers.