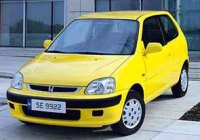 Being the successor of the once-popular Jazz (City), the Logo failed to repeat the miracle. After bounded in the domestic market for a couple of years, it is exporting to the Europe Continent (but not Britain, therefore we heard little about it.) However, it is no Toyota Yaris thus failed to match the very best European superminis.

Compare with today's rivals, Logo is very conventional, no matter styling or mechanical design. Short wheelbase, in the absence of a specially clever interior layout, limits the cabin space. Interior packaging is as uninspiring as exterior design. The 1.3-litre 16-valve engine, without VTEC, is short of power and is quite far from the standard set by Yaris' 1.3 VVTi or Ford Fiesta's 1.25 Zetec-SE. Yet this is perhaps one of the strongest areas of the car - another is the trustable build quality.

Without surprise, the Japanese market-oriented chassis failed to deliver handling matching competitors. However, the fatal fault is the lack of fun at all. Not just lack of driving pleasure, but the looks, the packaging and equipment are so lack of fun. Logo is one of the worst products currently offering by Honda.