Integra Type R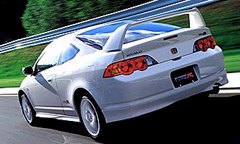 Not many people know that this Integra is the forth generation (do you remember the first generation was a 5-door family hatch?). Yet fewer people know that there were 2 generations of Type R appeared before this one. It doesn't matter, because it was the 2nd generation that successfully established the reputation of Type R and since then changed the way people look at Honda. Without the success of Integra Type R, we might not see Civic and Accord Type R, and probably S2000 as well.

What separates Type R from regular models is racing treatment - higher compression engine, forged pistons and lightweight con-rods, front and rear tower braces, stiffer suspensions, extensive weight reduction, sports seats ... all Type R are made and tuned in human intensive way so that production no. is limited.

However, the latest generation seems to break this mold - though neither Honda nor any car magazines mention - by becoming more popular. Evidence one: the i-VTEC engine involves less human work (we'll see that later); evidence two: it appears in the great USA market in the name of Acura RSX Type S, thus you can expect big sales no. You may argue that the Type S has less power and lack of some goodies, but they are highly similar.

Design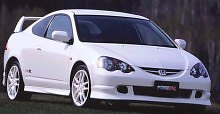 I love the previous Integra's styling very much. Compare with the latest one, it was cleaner and purer. The new one, styled in the USA, is fatter, tauter, undoubtedly more aggressive but also shows a lot of premature styling clues and rough edges, such as the odd headlamps and V-shape grille, the whole front air dam and side skirts. It looks no more original than any tuner's cars.
Luckily, the interior is another matter. Although being neither the prettiest nor the most long-lasting, the new dashboard with alloy-effect panel is much more attractive and better made than the old one, which was barely functional. Driving position is higher along with shoulder lines but there is also more headroom, thanks to the increase of height from 1330 to 1385mm. The rear seats are still reserved for small children, but the adoption of Civic's central-tunnel-less floorpan does help freeing some foot room.
Chassis
Yes, the Integra is based on the new Civic platform, using the same suspensions with MacPherson struts up front and a double-wishbones-based multi-link setup at the rear. That means bye-bye to the all-double wishbones era. Whether this influence the superb handling will be seen later in this article. Of course, for a 2+2 coupe, it does not need the concert-hall-like rear seat accommodation that characterized the Civic, so the wheelbase is shortened. Compare with the old Integra Type R, it grows just a little bit - 5mm longer, 30mm wider and 55mm taller. It even rides on the same 2570mm wheelbase.
In terms of chassis rigidity, the new R is in another league. It gains an astonishing 116% static torsional rigidity over the old car. That, accompany with better build quality, would have resulted in a lot of extra kilograms. Therefore Honda constructs many chassis components in aluminium alloy, such as front and rear tower bars, cross braces under floor, side impact beams, front bumper beam, front suspension lower arms etc. They even made the new engine and gearbox 10 and 2.5kg lighter respectively. Good effort, but I don't quite understand why the car still tip the scale at 1170kg (plus 10kg if loaded with air-con), in other words, 90kg heavier than the last generation. This should largely cancel the extra power from the new 2-litre engine.
Engine
Honda's B18C engine - which powered the previous Type R - was famous for explosive power and revability without sacrificing too much drivability (unlike B16C). However, after more than 10 years of evolution it finally came to an end and is replaced by a new 2.0-litre four, engine code K20C.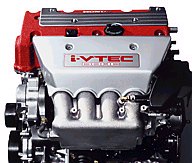 K20C is not developed exclusively for Integra Type R. It is a derivative of the mass production K20A which started serving Stream MPV recently. No matter K20A or K20C, they differ from the old B18 by three main improvements: 1) increasing displacement from 1797 to 1998c.c.; 2) using roller rockers to reduce friction at valvetrain; 3) in addition to the existing 2-stage, cam-changing VTEC, they gain a cam-phasing variable valve timing (VTC) mechanism at intake camshaft like many manufacturers do. Honda calls this combination of VTEC and VTC as i-VTEC, where i stands for intelligent (think of iMac or iPaq, or VVT-i ?). See it this way, the conventional VTC varies the intake valve timing continuously and smoothly throughout the whole rev range, so it flattens torque curve, which used to be the biggest weakness of VTEC. The VTEC, on the other hand, switch from "slow-timing, low-lift" cam lobes to "fast-timing, high-lift" cam lobes at around 6,000 rpm, optimizing ultimate power.
This sounds fabulous, but by no means in Type R territory because every Stream and regular Integra has them. What make the Type R producing some 60 more horsepower are: 1) with VTEC at both intake and exhaust camshaft instead of just intake side; 2) 11.5:1 compression ratio instead of 9.8:1; 3) straight and large intake port and manifold (but devoid of two-stage variable manifold as found in the lesser models); 4) two-stage variable back-pressure muffler; 5) lighter weight moving components such as high-strength con-rods, forged crankshaft and lightweight flywheel; 6) piston skirt added with lower friction coating.
As a result, maximum power becomes 220hp (JIS) at 8,000rpm, up from the previous 200hp at the same rev. Although not as astonishing as the 250hp (also JIS) S2000, the i-VTEC engine is cheaper (shares a lot of components with the mass production version) while being more user friendly, in other words, more torquey at low to mid rev. Peak torque is 152 lbft at 7,000 rpm, equaling the S2000 but occurs 500 rpm earlier. Although this cannot match the old Type R's 6,200 rpm, at any time the new engine deliver stronger torque, especially below 3000rpm, and is more linear.
Honda did not say a word about some traditional Type R goodies such as forged connecting rods, forged and polished pistons etc, letting us believing that the new engine is designed for higher production no. and lower cost. This coincide with the fact that the new engine is no more revvy than the old B18C although it has bigger bore and shorter stroke - the new combustion chamber is pure square, with both bore and stroke at 86mm compare with the old engine's 75mm bore and 90mm stroke. In terms of power per litre, the i-VTEC is also no more than the old VTEC.
Anyway, as long as the engine is more powerful, more user-friendly yet being 10kg lighter, why should we bother about racing treatment or not ?
Performance
The Type R can do 0-60 in around 6 seconds flat, which matches the likes of Nissan Silvia turbo and Fiat Coupe turbo. However, the way to exploit its performance is very different from those turbocharged rivals. It is best to use the whole rev-range by working closely with your best companion - the new, close-ratio 6-speed gearbox, whose short-throw shift is slick and light.
The high-revving character of i-VTEC engine still plays the most important role in Type R's entertainment. Like the old B18C, once the needle past 3,000 rpm, torque slides back a bit and bottoms at 4,000, from then it rises slowly until the second phase VTEC changeover at 6,000, then it becomes really exciting, revving strongly towards the 8,400 rpm red-line accompany with additive exhaust roar. Admittedly, the second phase does not come as explosive as the B18C, which may disappoint some VTEC hardcore.
In return, you get much more torque. At low rev, where the old Type R suffers, the new engine remains lively and tractable, this makes the car easier to live with in daily basis.
Handling
With a 116% stiffer chassis, wider tracks, 17-inch 215 tyres, quicker steering rack, Helical LSD and 4-pot Brembo front brakes, we expect a lot of improvement here. On super-smooth race tracks, it does impress us by lapping 1 or 2 seconds quicker, by showing higher cornering speed and stability, by displaying more predictable rear end movement. However, on public roads, especially the bumpy ones, it handles actually worse than before.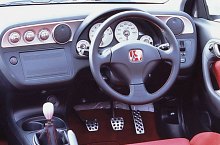 First to be noticed is the increase of understeer, which makes it not as agile and adjustable mid-corner. Where the old Type R drivers can floor down the throttle to swing the car out of corner, the new car has too much understeer to fight with. The rear end is particularly difficult to slide even with heavy provoke. Someone tried to explain that by pointing out the car has more weight at front, but in fact I found the new car's 61:39 front to rear distribution is actually 1 point better than before, so it seems that suspension setting is the one to be blamed.
We should notice that the new Integra has struts replacing double wishbones up front, the former might work brilliant enough in the family hatch Civic but has been never applied to the super-hot Integra Type R. MacPherson strut, if use in front-drive cars, is also famous of torque steer, that coincides with the second flaw of the Integra - too much torque steer. No one complained the old Integra about that, not only because of superior suspensions but also because its 1.8-litre engine did not have sufficient torque to upset the steering. The new engine only makes things worse.
Admittedly, the torque steer is not severe and is usually predictable, but what really upset keen drivers is the unpredictable bump steer. On any surfaces other than super-smooth, the steering is always nervous, letting surface irregularities deviating steering feedback and effort. This make judgement hard to be made. Once again, such weakness is due to the inherent flaw of the new Civic platform. The steering rack is mounted high on the firewall to save space and free up cabin room, but it also leads to a geometry easy to be influenced by bumps.
The only areas improved are: 1) marginally smoother ride (but still very stiff); 2) powerful braking.
In short, the new Type R is more difficult to handle and no where as controllable or as fun to drive as its predecessor. The slower, softer-tuned regular Integra might be another matter, but the Type R does not match the high standard its predecessor set. Honda pays the price here for going mainstream.