Integra Type R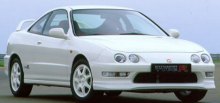 For those real street racer ( although we do not praise them ), Integra Type R save any modification. It is already installed with stiffer spring and dampers, NSX-sized brakes and tower bars.

The VTEC engine received free-flowing induction and exhaust, higher compression ratio, higher precision cams, lighter valves, higher valve lift, lower friction forged and polished pistons and a revised programme. As a result, it became even more powerful - 187hp (DIN), 195hp (SAE) or 200hp (JIS) ! Every Type R's engine is carefully assembled and tuned by human hands, thus it is relatively expensive and rare.

As usual, all the enhancement in power and handling are accompanied with weight reduction. Stereo has gone, racing buckets replaced the standard seats, thinner windscreen is used.....as a result, it weighs only 1101kg.
Type R can sprint to 60mph in 6.7sec and top 143mph, although no match for the rocket-fast Fiat Coupe turbo, it is amazingly fast for a car with only 1800c.c. and without charging. More important, Type R handles better than anyone else, with precise body control, sleek gearchange, close-ratio transmission, excellent brakes and still-brilliant ride. The only minus is the steering - 3.0 turns lock-to-lock is too slow and the road feel is not the best among rivals.
In my opinion, Type R is in its own class. It is not adequate to compare Type R with other coupes like Fiat Coupe and Mitsubishi FTO, because Type R is a road racer. Its performance and handling enhancement come from racing components. For example, without the tower bars, will it handle as precise? without being built by hands, can its engine pump out 17hp more than the standard Integra? Everything has its price. To Integra Type R, the price it pay is the high price - it is likely to cost as expensive as the 2 litres 5 cylinder turbocharged Fiat Coupe turbo.