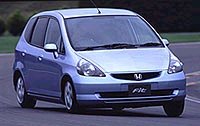 Listen: this little Honda is going to storm Europe like Nissan Micra and Toyota Yaris. After taking the 2002 Japanese Car of the Year award in an overwhelming style, it is quite possible that it could take the European award next year like Micra and Yaris did. In fact, domestic sales figures prove that it is even more popular than the Yaris.

Unlike many European traditional labels such as Polo or Fiesta, Fit comes in a rather low-profile style. This is partly due to the lack of pre-launch promotion, partly because the company's mini cars have been ignored for too long. Older readers may remember the innovative Jazz (City) of nearly 2 decades ago, but since then the company's mini car program slipped quickly behind competition. In prior to the introduction of Fit, Honda exported its not-so-new Logo to Europe as a preparation for the launch of Fit, straightening its path like John the Baptist. Undoubtedly, the outdated and halfhearted Logo never fulfilled this mission and was easily forgotten. Never mind, a good product needs no marketing strategy. It speaks for itself.

Fit is this kind of cars. It comes quietly without sign. It looks ordinary - although pretty - but it is actually very radical. Its floorpan architecture is as innovative as Mercedes A-class, maximizing interior space without deteriorating crash protection (expect a 4-star Euro NCAP rating). Facing it, all the latest Polo and Fiesta seemed hopelessly conservative. What a shame, European superminis have long forgotten what made the original Mini and Fiat 500 so innovative. They no longer pursue space efficiency as hard as the Japanese. In contrast, Honda worked hard in every department to squeeze out extra space rather than just stretching the body. Basically, Fit is very close in size to Fiat Punto (just 45mm taller, which is a predictable trend) while being smaller than most new rivals - Skoda Fabia, VW Polo, Ford Fiesta and Citroen C3 included. Nevertheless, its spacious cabin is bigger than all of them, even bigger than many C-segment cars. How can it achieve that ? firstly, Honda designed a very compact engine that occupies little space. This enable an unusually short engine compartment thus allowing the cabin to expand forward ("Cab-forward"). Secondly, Fit employs an innovative floorpan layout which places the fuel tank under front seats instead of rear seats. This frees up space around the rear axle and eliminates the central tunnel that occupies legroom. Thirdly, the rear seat is mounted higher than the front, not only gives passengers clearer forward view but also enables the seat itself to locate a few inches back without obstructed by wheel arches. No wonder rear passengers have so much knee and legroom. Lastly but not least, the tall roof (only eclipsed by Daihatsu YRV) provides generous headroom.
The special floorpan layout also gives the Fit strong advantage in luggage loading. As fuel tank no longer occupies the space under rear seat, the seat can be folded and dropped onto the floor, forming a completely flat load area together with the boot. The luggage area is big and deep enough to put a mountain bike or a big cabinet. Best of all, conversion is very convenient - unlike many MPVs that require detachment of seats or headrests. That said, the seating arrangement of Fit is cleverer than many real MPVs.
Although Fit is a supermini, it has strong resemblance to MPV. Big windows and high roof deliver a light and airy ambience. A lot of storage spaces and flexible seating plan (which can be arranged to form a bed or store a surf board or very tall things) give it versatility only matched by Yaris Verso. The cabin is also very satisfying to look. Facing the driver is a sporty 3-gauge instrument panel. Dashboard is made of good quality plastics - a welcomed improvement from Civic and Stream. Two-tone textile used in seats and door trimming looks fresh.
Packaging is a strong card of Fit, fuel-consumption is another. Its 1339c.c. i-DSI (dual sequential ignition) four-pot engine is the highlight of the mechanical side. Don't laugh at its sohc 2-valve-per-cylinder head, it is actually designed to achieve a world-beating fuel consumption for petrol cars. Unusually, the intake and exhaust valves are arranged in diagonal position of the combustion chamber, hence a cross-flow design (but requires the single camshaft to drive valves through rocker arms rather than directly). Twin spark plugs are placed at the adjacent diagonal positions of the chamber, ensuring quicker propagation of flame thus more efficient burning of air-fuel mixture. The combustion chamber and intake manifold are also shaped to generate swirl in air flow thus aid mixing of fuel. Moreover, piston skirts are impregnated with molybdenum to reduce friction. Mating with a CVT, Honda claims it achieves 51.4mpg for European combined cycle, easily being the most frugal supermini drinking petrol.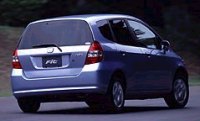 On the road, the i-DSI engine feels eager and refined. It produces 85hp at 5700rpm, matching the 16-valve Yaris 1.3, thanks to a high compression ratio of 10.8:1. On the other hand, torque delivery is in the best tradition of 2-valve engines, with a good 86 lbft appear at just 2800rpm. This give the car a spirited performance. Honda claims 0-60 less than 10 seconds.
The CVT transmission is similar to Civic's. Perhaps because the car is lighter or the program is improved, it works much refined. Starting from standstill, the CVT will lock up the ratio and let the car accelerate linearly rather than wasting time to search for a suitable ratio. Up to speed, it disables the lock-up and varies ratio to optimize fuel-economy.

Finally come to the downside of the car - handling and ride. Fit is never poor to drive. It has a well-weighted (heavier than Civic) speed-sensitive electric-power steering which gives decent feedback. It just fails to match the handling and ride of the best European superminis and Toyota Yaris. Here, the MPV-style body and high seating pay the price. Although suspensions are already tuned stiff, there is still more body roll than others. It won't hurt safety or predictability, it just tells you the car is running into its limit early. Very much like Mercedes A-class, you know it will never be converted into a hot hatch. At the same time, the stiffer suspensions lead to a sporty rather than comfortable ride. Over bumpy surfaces, ride quality can be harsh and a lot of suspension noise is generated, the latter is then amplified by the big cabin to further ruin refinement. If there is anything preventing Fit from dominating European COTY next year, it must be ride and handling. Honda is still working on the European-spec. suspension setup, let's see whether it can work out miracles.