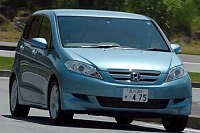 Compact people carriers - usually referred as MAV (Multi-Activity Vehicles) - used to be a compromise between size and accommodation. To carry more people than ordinary family cars, they employ 3 rows of seats. Because of limited length, the last row is usually too cramped for adults. Simultaneously, luggage space is eaten by the third row. Renault Scenic solved this by offering a long-wheelbase version, but it adds cost and deteriorates agility.

6 years ago, Fiat Multipla demonstrated a clever solution - by using an extra-wide body, its cabin can accommodate 2 rows of 3 seats for a total of 6-people accommodation. All passengers share abundance of legroom while leaving a lot of luggage space behind. Moreover, the short and wide profile, like sports cars, actually improve handling, limiting body roll (usually a problem for people carriers) while maintaining agility in cornering.

Strangely, in the following 6 years the Multipla revolution did not propagate to other cars in the class. They wanted to, but they couldn't. While the Multipla was built on a dedicated spaceframe platform, its rivals were derived from mainstream hatchbacks such as Megane and Golf. These monocoque platforms are difficult to stretch 100mm or so in width, as this would have created too many hurdles to overcome in engineering and production process.

In year 2004, Honda finally launched a car following the format of Fiat Multipla. Why Honda? to me, it is nothing surprising. Honda's production method has been seen as the most flexible in the world. It can produce Civic and CR-V, Accord and MD-X in the same production lines. It can enlarge the Japanese Accord to American Accord - a full size up. So why not do the same to the Civic platform?


This car is called Edix in Japan or FR-V (stands for Flexible Recreation Vehicle) in Europe. It is derived from CR-V, which in turn based on the Civic platform. Compare with the European 5-door Civic hatchback, its body has been widened by 110mm. It is also much taller (at 1610mm) to enable a higher sitting position and more headroom. In contrast, length and wheelbase are exactly the same as the Civic hatchback.

The Edix looks sharp and handsome. It does not have the funny or bulky shape of other MAV to attract female buyers. Instead, its aggressive and angular shape pleases men. Its rising shoulder line delivers a sense of sportiness while the high tail has clear resemblance to BMW X5. To certain degree it looks like a SUV fitted with smaller wheels.

Inside, the highlight is accommodation rather than style. A conventional dashboard might be alright, but the shinny hard plastics it employs is a let down by the standard of Honda. It looks no where as high-quality as Renault Scenic and Ford C-Max.

Like Fiat Multipla, all seats are independent and can slide back and forth to tailor the most comfortable sitting position for individuals. But unlike the Fiat, center seats are narrower than others as they are designed for children, thus the outer seats are benefited from extra width. This means when the car sits up to 4 persons, they will enjoy better comfort. When it holds 6 adults, 2 of them will suffer, unlike the case of Fiat. So whether it is more sensible than the Fiat depends on the frequency you need to sit 5 or 6 adults. To avoid passenger rubbing shoulders with the driver, the center front seat is positioned a few inches behind the driver seat, something like Smart Fortwo.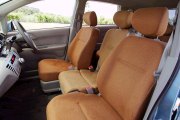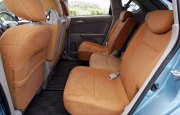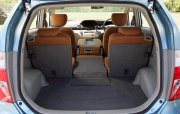 The chassis rides on the same suspensions as Civic - the front consists of MacPherson strut plus a toe-control link, the rear is a double-wishbones-based multi-link setup. Edix handles quite good by MAV standard, combining good ride comfort with decent body control. Body roll is well contained in cornering, thanks to the extra-wide tracks and a high roll axis set into suspension geometry. The latter makes body roll less noticeable to the driver. Besides, it uses conventional hydraulic steering rather than the fuel and money saving electric assistance used in Civic, ensuring better communication with the road.

Power comes from 2 existing petrol engines - 1.7 VTEC with 130ps (125hp DIN) and 2.0 i-VTEC with 156ps (150hp DIN). Both needs to rev hard in order to deliver acceptable performance and, unfortunately, they are noisy when doing so. A better choice is reserved for European market. FR-V is available with Accord's 2.2-litre common-rail turbo diesel engine, an engine highly praised as refined and frugal. The all-aluminum, 16-valve engine with variable geometry turbocharger produces 140hp and a remarkable 251 lbft of torque, enabling the FR-V to cope easily with its 1.5-ton body. It is undoubtedly pick of the range.