| | |
| --- | --- |
| Published on 21 May 2011 | All rights reserved. |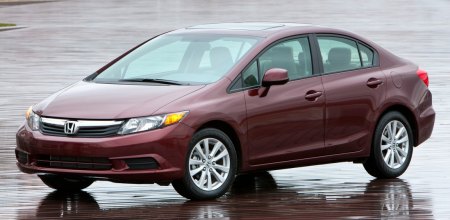 Until the mid-1990s, Honda was still an engineering-led company with an ambitious mind and strong motivation for success. Take its Civic for example, it introduced a new generation every four years, and each generation brought the world some of the most edge-cutting technologies. Somehow, the rising trend came to a halt as Japan fell into a long recession. Then it was hit by the strength of yen, the emergence of Korean competitors and, lately, the revival of Detroit. These unfavourable factors stretched its resources thin, limiting the progress it can make.

The 9th generation Civic was born under such circumstances. Honda still managed to keep a relatively short turnaround cycle of 5 years (the last gen was born in early 2006), but the result is the mildest progress we have ever seen in its 40 years history. In fact, keeping much the same styling, interior, chassis and powertrains, we may even describe it as a light evolution of the old car. Fans of Civic might feel being cheated.

The Civic sedan reviewed here looks remarkably close to the outgoing car. Not only its length, width and height are practically unchanged, it also carries over the monospace profile with fast A-pillars, huge windscreen and very short bonnet. There are some refinement though – the bumpers and shoulders are more sculpted, the waistline rises slightly towards the tail, the nose grille and headlights are made less flush with the body in order to shout for their existence. However, the benefits these changes bring are not too obvious, and some even work against it. For example, the new shape taillights look out of place with the rest of the design. There seems to be less coherence between the old and new elements. While the old car was all about futuristic, the new car dials back with some conservatism. The result is a mixed impression.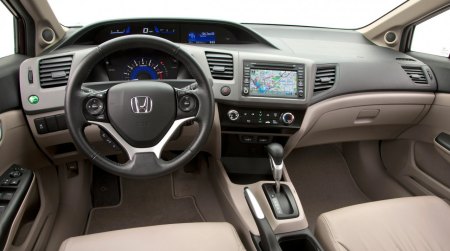 Inside, we are displeased to see the return of the two-tier dashboard. On the one hand its contribution to ergonomics is questionable, on the other hand it looks really ugly. Its blocky design looks outdated, so do the switch gears and the lack of quality materials. The interior design, colors and materials are at least a generation behind the latest European cars like Volkswagen Golf and Opel Astra. Even the new Hyundai Elantra can teach the Honda a thing or two. Equipment is equally outdated, as keyless entry and engine start button are absent here.

Well, the cabin is not all that bad. At least it offers plenty of space. Although Honda has shortened the new car's wheelbase by 30 mm to 2670 mm, it is still a generous dimension by class standard (only fall short of Hyundai Elantra's 2700 mm and Chevrolet Cruze's 2685 mm). Moreover, engineers managed to squeeze more room out of the body shell, so the rear seat actually gains 40 mm more legroom, while shoulder room gets a massive boost of 74 mm. Overall, the whole cabin is 4 percent bigger than before, according to America's EPA measurement.



Thanks to large glass area, the cabin feels light and airy. By using more high-strength steel to construct the chassis, Honda managed to slim up its A-pillars, improving visibility, while making the body-in-white 7 percent lighter and 10 percent stiffer. Aerodynamic drag is lowered slightly too. All these improvements are small but nonetheless they point to the right direction.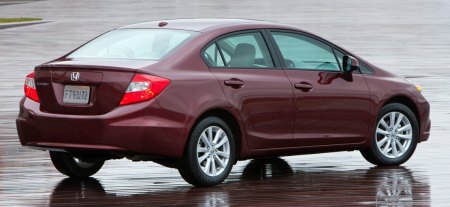 They need to, because the new Civic has no fundamental changes to its driving hardware. The 1.8-liter SOHC i-VTEC engine received only minor modifications to reduce friction and fuel consumption, but its failure to offer direct injection and all-valve variable cam phasing costs its output, which remains unchanged at 140 hp and 128 lbft. Honda claims it now offers more mid-range torque between 2000 and 4000 rpm, but in reality the gain is too small to mention, so its performance falls slightly behind the class standard. For a car used to be renowned for advanced engine and brisk performance, how can we not disappointed ? Also carried over is the 5-speed automatic gearbox, which is a ratio short of the industrial norm. To squeeze more miles out of each gallon of fuel, Honda has remapped the gearbox to promote the use of higher gears. This can hardly satisfy keen drivers, of course.



However, what disappoints keen drivers most is the steering, because it has been retuned to be slower and more isolated (numb) in the name of higher refinement. In this way, the Civic can no longer attract keen drivers like the last generation did. It feels boring to drive.

On the positive side, the new car is undeniably more comfortable, with a smoother and quieter ride, and a better isolated cabin. The stiffer chassis, more sound deadening and a longer travel suspension setup contribute to this refinement. Just like a 40-year-old man, the new Civic trades much of its athletic character for a grown-up manner. Trouble is, no one wants it to be another Toyota Corolla. It's time for Honda to rethink about its core values.
Verdict:



| | |
| --- | --- |
| Published on 21 May 2011 | All rights reserved. |
Civic Coupe Si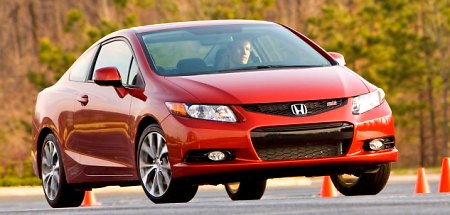 Traditionally, performance versions of Civic are highly desirable. Top of the pick is Type R, of course, but lesser models like Si, SiR or Type S are already exciting enough to please young drivers, especially considering their room for modifications. The wide availability of performance components for Honda's K20 engine is a strong reason to buy sporty Civics.

However, the same cannot be said to the latest Civic Coupe Si, because it has switched to the larger K24Z7 engine. This 2.4-liter motor has practically the same specifications as the one serving Acura TSX (i.e. Japanese and European Honda Accord). Both its VTEC and VTC (variable cam phasing) mechanism work on the intake valves only. Compression ratio remains a high 11.0:1, but the larger capacity by means of long stroke stresses on torque instead of power. The result is a boost of 31 lb-ft, and now the peak torque arrives at 4400 rpm instead of 6100 rpm. This improves the car's drivability as well as reduces fuel consumption a little. On the flip side, the larger engine redlines at only 7000 rpm, a full 1000 rpm lower than before. Its maximum output barely inches up by 4 horses to 201 hp.

Worse still, the K24Z7 cannot interchange parts with hot versions of K20, because its camshafts are longer and its exhaust manifolds are integrated with the cylinder head. This seriously limits its tunability, thus will put off many boy racers.




On the road, the wider power band of new engine does feel more useful, allowing you to make less gearshifts. In-gear acceleration is more responsive, even though standstill acceleration and top speed show no obvious progress. However, keen drivers would actually prefer to use more the 6-speed manual, whose shift action is as slick and short as before (because it is carried over from the old car). They would also prefer a more thrilling experience from the engine, accessing its ultra-high rev and listen to the switchover of VTEC cams. In the new car, these thrills have been largely reduced, sadly.

The rest of the car shows a similar story to the Civic sedan. We don't understand why Honda decided to slower its steering ratio from 13.6:1 to 16.1:1. This results in a laughable 3.1 turns from lock to lock, robbing the car a sharp turn-in. The electrical power steering also feels lifeless, especially at the straight ahead position. In short, the steering is significantly poorer than the old car.

The new Coupe runs a 2620 mm wheelbase, 50 mm shorter than the sedan and 30 mm shorter than the old Coupe. Si still gets the old car's helical limited slip differential to help it put down the power effectively. The same 215/45ZR17 tires provide traction and grip. As a result, the handling (save steering) is remarkably close to the old car. The only noticeably area is ride quality and quietness, thanks in part to a stiffer chassis.

Not only the dynamic aspect is disappointing, the packaging is the same. The new Coupe is an ugly duck, more so than the previous car. Its monospace shape with short bonnet and high fastback looks more like a Toyota Prius than a sporty coupe. The waistline looks too high, the nose looks a mess and the tail is characterless. Inside, the cabin is dominated by an ugly, low-rent double-decker dashboard like the sedan. Few coupes these days look as undesirable. Moreover, the fastback eats into rear headroom, limiting its usage to children. When you can buy desirable hot hatches like Golf GTI and Scirocco, there is no reason to choose the Honda.
Verdict:


| | |
| --- | --- |
| Published on 16 Nov 2011 | All rights reserved. |
Civic hatchback (Europe)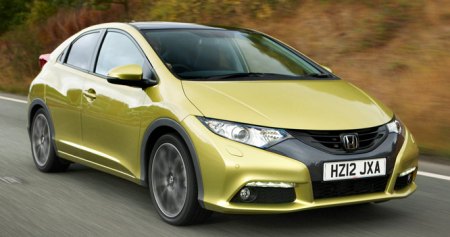 We know the new Civic sedan is a light evolution from the last generation. How about its European hatchback sister? Much the same story. Although you can name a lot of small changes, such as a 30 mm shorter wheelbase, slightly altered exterior dimensions (30 mm longer, 20 mm lower and 10 mm wider) and all new body panels, the car still looks remarkably close to the old car, thanks to a radical wedge profile that made the old car so distinctive. The shape is so familiar that you can easily forget the restyled nose (with new headlights and a black mask mirroring VW Golf GTI Mk5) and new taillights. If you notice the new nose and tail, that is only because they are less easy to eyes than the old ones. Style-wise, this is not a successful revision.

I don't understand why Honda decided to shorten its wheelbase while everyone else is lengthening. It appears that the only reason is to keep the hatchback's wheelbase 65 mm shorter than the sedan's like the last generation. Fortunately, the old Civic hatchback had a spacious rear passenger compartment, so the loss of 30 mm has not hurt it too much. There is still useful space for tall adults. Moreover, the boot remains a commanding 487 liters thanks to its unusual height.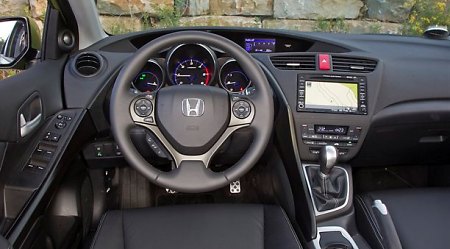 The radical dashboard remains. It still employs a two-tier, aircraft cockpit architecture. Good news is the digital instrument readings have been replaced with conventional gauges for better ergonomics. Materials have also been improved, with soft-touch plastics used on most surfaces you are likely to touch – something clearly better than its sedan sibling. On the downside, rearward visibility is still hampered by the split hatchback window and thick C-pillars.

As before, the hatchback employs torsion-beam suspension at the rear instead of the sedan's multi-link setup to free more space from the cabin and boot. This explains for its superior space efficiency and, in combination with the central-mounted fuel tank (located under front seats), a rear bench that can not only fold flat but also flip up like cinema seats to place tall luggage in the cabin. Honda hasn't altered this feature since the old car. It doesn't need to, as no rivals can match it yet.



The powertrains are also largely unchanged - the 99hp 1339 cc 8-valve and 140hp 1.8-liter 16V i-VTEC produce the same output as before, only the 2.2 turbo diesel gets an extra 10 hp to 150 hp. However, the expensive diesel is not going to account for too many sales, as it is a mismatch to this class (remember, it was originally designed for Accord; Honda has yet to build a small diesel motor for European market). The majority sales will go to the 1.8 petrol. It is not a bad motor, but the lack of turbocharging torque means you need to work hard on gearshift to overtake and, as a result, you have to tolerate with the excessive engine noise at higher rev.

That is a pity, because otherwise the Civic hatchback goes quite refined. Honda has listened to criticisms to the old car and spent extra efforts to solve its NVH problems. The torsion-beam suspension has been given softer springs and hydraulic bushings. Thicker windows, reinforced door seals and extra sound deadening materials also help cutting NVH. The result is much reduced road noise and harshness on motorway cruising. Its rolling refinement is definitely improved a lot, but it is not perfect yet – on harsher B-roads the suspension still delivers poorer primary ride than what you will find on Golf, Focus or many European rivals.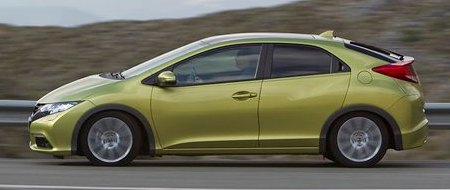 The softened suspension has little adverse effect on handling, but the new steering does hampers the old car's sporty character. Although it is still a pure electrical power steering, the mechanism is said to be new. With 2.5 turns instead of 2.9 turns from lock to lock, it is even quicker than before. It is also more linear and accurate. However, the steering is made lighter – good for regular urban driving but too light for the taste of keen drivers – and it does not deliver much feedback to involve the driver. As a result, the new car is actually less entertaining to drive than the old car.

Overall speaking, the new European Civic hatchback has taken a small step forward, but such a small step is not enough to challenge the best of the class, especially when the improvements are accompanied with some compromises hard to ignore.
Verdict:



| | |
| --- | --- |
| Published on 26 Dec 2011 | All rights reserved. |
Civic Hybrid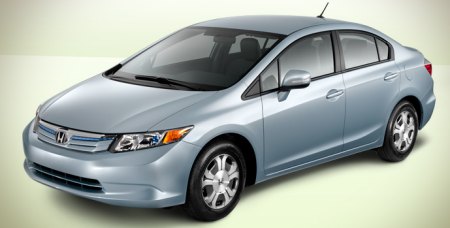 The last generation Honda Civic Hybrid was a compromised package, no matter in terms of technology, fuel economy or driving dynamics. The new car tries to improve these areas and close the gap from Toyota Prius. Nevertheless, judging from the measures it has taken, I doubt if it will succeed. Honda thought a larger petrol engine would give it better performance, but pumping the 1.3-liter SOHC 8-valve engine to 1.5-liter alone won't solve the problem. Its tuning is still oriented to fuel economy – as before, the so-called i-VTEC system has no variable cam phasing, just a 3-stage VTEC with a set of slow cams, fast cams and zero-lift cams (for deactivating the cylinders in EV cruise). It even lacks the 4-valves head of CR-Z. Horsepower is actually reduced a little bit to 90 hp, although max torque is improved slightly to 97 lbft.

To improve fuel economy and stretch the availability of electric mode, the DC motor is strengthened to produce 23 hp and 78 lbft instead of the outgoing 20 hp and 76 lbft. Such improvement is equally subtle. A better news is the NiHM battery has been replaced with Li-ion, whose higher energy density allows a smaller and lighter package. Having said that, the trunk of Civic Hybrid is still no match with that of Toyota Prius.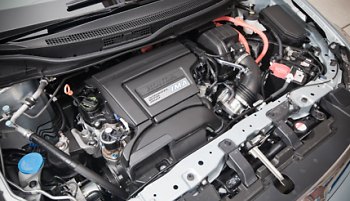 Honda's IMA (Integrated Motor Assist) system has its thin electric motor sandwiched between the engine and CVT, and the motor is permanently connected to the engine without clutch. Therefore the engine still spins and wastes energy when the electric motor propels the car alone. This means it will never match Toyota's HSD (Hybrid Synergy Drive) for efficiency. Moreover, its sole electric motor is responsible for both propulsion and regeneration, unlike HSD which uses a motor for propulsion and another motor dedicated to regeneration, so its energy recoverage is not as efficient as Toyota's. Furthermore, the Honda's EV mode is only available when the car is on light cruising. It cannot pull the car from start, unlike most other hybrids.

On the road, the new Hybrid does deliver improved mpg over its predecessor, although its EPA rating still lags behind Prius (44 mpg vs 51 mpg city; 44 mpg vs 48 mpg highway). The gain in performance is negligible, as it still takes more than 10 seconds to go from zero to sixty. The regular 1.8-liter Civic is still a better companion if you want a brisk drive. In terms of ride and handling, it feels like a normal car, albeit with an abrupt brake pedal (due to regenerative braking) and less grip (due to low-rolling resistance tires). Therefore it is a little bit more enjoyable to drive than Prius. On the downside is refinement. Its engine-motor integration is not the best in hybrid world, with noticeable vibration and noise whenever the engine cuts in.

In the end, the new Civic Hybrid is still a compromised package. As Toyota is expanding its HSD offerings to smaller cars, Civic Hybrid will find life getting harder and harder.
Verdict:



| | |
| --- | --- |
| Published on 20 Apr 2014 | All rights reserved. |
Civic facelift


When the current generation Honda Civic went on sale 3 years ago, it caught a lot of criticisms from magazines like Car and Driver and Consumer Report, blame mainly to its dull look, mediocre driving dynamics and cheap interior. Honda realized the problem and immediately started working on improvement. The result was an early facelift introduced in late 2012. Externally, it could be distinguished with a slightly smarter front grille. Internally, the dashboard received higher quality plastics while a few places, such as center console and air vents have been restyled, though it still looked too complicated and far from tasteful. Meanwhile, chassis dynamics was sharpened by stiffening the suspension springs, bushings and anti-roll bars. The steering got quicker ratio and reduced friction. Most models got larger brakes, too. Refinement was improved slightly by using a stiffer front subframe, more sound deadening and thicker glass.

This year, Honda added further mechanical upgrades. The 1.8-liter i-VTEC engine gets freer flowing exhaust hence gaining 3 more horsepower. The automatic transmission is replaced with a new CVT to boost fuel economy, but performance remains largely the same. Inside, the cabin gets improved infotainment system, some new equipment and better trims to match the competition. Overall, the new car is considerably better to drive and to travel than the original, but it still lags a long way behind class leaders like Volkswagen Golf, Seat Leon, Ford Focus and Mazda 3 etc.

Verdict:



| | |
| --- | --- |
| Published on 7 Jul 2015 | All rights reserved. |
Civic Type R (FK2)


There are many highly respected labels in the hot hatch world, such as GTi, R, RS, OPC or Cupra. However, in the hearts of hardcore drivers nothing can quite compare with Honda's Type R. This badge has always been associated with the world's fastest revving engines (thanks to VTEC), excellent gearshifts, superb seats and hardcore chassis tuning. Since 1997, Honda built 3 generations of Civic Type R, with the last introduced 8 years ago. Glorious history, but doesn't it sound a bit distant in 2015? Well, the hot hatch world has undergone fundamental changes in the past few years. Competition has never been so intense. Now 300 horsepower becomes the norm, while sophisticated suspensions, 4WD and electronic differentials become increasingly popular. The old Type R formula seems a bit outdated in comparison. Having rested for too long, it is time to reinvent the Type R.

In the making of the fourth generation Civic Type R, chief engineer Hisayuki Yagi san decided to overhaul its strategy. The new car is derived from the European Civic hatchback and therefore built in the Swindon plant in UK. Sadly to some fans, there won't be a Japanese-spec sedan anymore, as Japan will import the hatchback from UK. However, the really big news is the abandoning of high-revving naturally aspirated engine for a new 2.0-liter turbocharged motor, just like most rivals in Europe. Its hardcore fans will be definitely disappointing, but this is admittedly a must to deliver the power output necessary to compete. Apart from engine, the new Type R also shows significant upgrades in suspensions and aerodynamics. The aim is to be the fastest hot hatch lapping Nurburgring Nordschleife, a title held by Renault Megane RS275 Trophy-R at 7 min 54.36 sec. The car was developed as much in Japan (especially for powertrain and aerodynamics) as in Europe (chassis and track testing). Ridiculously, its engine is built in the engine plant at Ohio, USA, showing the multinational facet of Honda today.


Before looking at its new motor, we should talk about its striking exterior first. With massive air dam, skirts, extended wheel arches, large diffusers, quad-exhaust and that huge rear wing, this is easily the most aggressive looking hot hatch at present. It even reminds us the days of Sierra and Escort RS Cosworth, when boy racers shouted loudly about their performance purchase. Striking aside, the Civic Type R is by no means a beautiful car. As always, the MPV proportion inherited from the European Civic hatchback means it is an ugly duck. Even give it wings would not turn it into a swan. A fighting duck at best.

Almost the same story can be told for the interior. The red Recaro buckets are eye-catching and superbly supportive. They are just mounted too high to feel sporty. Even though they are already lowered by 30 mm compared with the standard Civic, the driving position is still more MPV than sportscar-alike. The 2-tier dashboard is as flawed as before, as the instrument is split by the steering wheel rim. The plastics and switches are ordinary in quality, which is a disappointment when you realize the same money can buy German hot hatches with premium quality. On the plus side, all the key driver controls are precise and have good weight. The aluminum spherical gear knob, another trademark of Type R, looks delicious and feels great in hand. Yes, this Honda keeps using old-fashioned 6-speed manual gearbox while many rivals have turned to faster responding dual-clutch transmissions. This inevitably hurts outright performance a little, but as usual the Honda box has near perfect gearshifts, i.e. slick, short and precise. Keen drivers will not mind to sacrifice a couple of tenths in 0-60 mph for the extra joy and engagement it brings. Less committed drivers might prefer the ease of use of DCT, but then they are not the target audiences of Type R.


However, the highlight is still under the bonnet. Generations of VTEC motors set us on fire with 8000 or 9000 rpm capability. Can Honda's new VTEC turbo overcome the shortcomings of turbocharging and result in a miracle? Let's look at its specifications first. The 1996 cc DOHC four-cylinder is an all-alloy design, with cast aluminum pistons, head and block. Forged connecting rods and the crankshaft are lightweight items, too. Being part of the "Earth Dream" family, it is the first ever Type R engine fitted with direct injection and turbo. The combination of direct injection, sodium-filled exhaust valves and improved water jackets at the cylinder head allows a higher, 9.8:1 compression ratio for better thermal efficiency and off-boost performance. As expected, the Honda motor features dual-variable cam phasing (VTC) and trademark VTEC variable valve lift. However, unlike the case of naturally aspirated applications, the VTEC mechanism here is used at the exhaust side. Its purpose is not to boost power but to reduce turbo lag (note: on a forced induction engine, VVL does not bring much rewards in power output because, with the present of boost pressure, the limiting factor of power output is no longer valve lift). At low rev, the exhaust valve VTEC switches to high lift to increase exhaust gas pressure, therefore helps spinning up the turbine more quickly. At higher rpm where exhaust pressure is already built up, it reverts to low lift setting. In this way, Honda said it has achieved a good balance between low-end response and high-end power.

On paper, this looks to be only partially successful. With 310 horsepower released at 6500 rpm, its maximum power is undeniably outstanding. It is easily more than Renaultsport Megane (275 hp), Seat Leon Cupra (280 hp) and even Golf R and Audi S3 (both 300 hp). In fact, among all production 2-liter class rivals, only the higher-boosted Mercedes A45 AMG trumps it. Its max torque of 295 pound-foot is also exceptional. Nevertheless, that peak torque is available from 2500 to 4500 rpm, which is not as low or as wide as expected. For example, Golf R has its max torque available from 1800 rpm all the way through 5500 rpm, although its peak value is a little lower at 280 lbft. The outgoing A45 AMG offers 332 lbft from 2250-5000 rpm. The benefit of VTEC is not obvious, at least from these numbers.


In the real world, the VTEC turbo also displays more lag than the mighty Golf R, whose engine is smoother, more responsive and nearly as powerful. The Type R's power delivery is strong but it is also strongly concentrated at the mid-range. It needs north of 3000 rpm to fly. If you are committed to the driving, you will find it very fast. Forget the 0-60 mph quote of 5.4 seconds. It feels faster than that, faster than Megane RS275 in the straight line and well matches the Golf R. The fact that it trails the latter in numbers is mostly down to the front-wheel drive.

Unfortunately, in the pursuit of speed, the CTR has lost its traditional attraction: high-revving fun. Its fuel cut-out point drops to 7000 rpm, just a tad higher than its turbo rivals. The lack of rev to play and the coarse soundtrack at top end make a big difference in emotion. While BMW M3 and Ferrari 488 GTB manage 7600 and 8000 rpm respectively with their turbo engines, Honda is not doing the best job.

But its aerodynamics is definitely the best among hot hatches. No rivals could do 167 mph (270 km/h) like it, because they lack the Type R's massive aero kits, including flat underside, functional diffusers and pressure-relieving vents on front fenders. Extensive fluid dynamics modeling and wind tunnel testing at Japan HQ resulted in low drag and negative lift at both axles, which is unique in the hot hatch class.

The chassis is also a big step forward. Its body is strengthened by 18% thanks to the use of adhesives and optimized bracketing. To deal with torque steer, Honda developed a new Dual-Axis Strut front suspension, which cuts King-pin offset from 60 to 40 mm hence torque steer by 55 percent. In other words, it is an equivalent of Renaultsport's PerfoHub, Ford's RevoKnuckle or Opel's HiPer strut. At the rear, the torsion beam is now made of crushed pipes to improve roll stiffness by 177% (sadly, a multi-link arrangement would not fit). Moreover, the suspensions have added adaptive dampers which allow independent and continuous control of each wheel to enhance roadholding. The suspensions ride on 19-inch alloy wheels and bespoke 235/35 tires. The front and rear tracks have been widened, which necessitate extended fenders made of aluminum. The car is also fitted with stronger Brembo brakes, especially the front with 350 mm cross-drilled discs and 4-piston calipers. The steering employs more sophisticated dual-pinion electrical assistance. As expected, different systems are linked up by a control. By pressing a button marked "+R", you will get faster throttle response, stiffer suspension, heavier and tighter steering, though no more exhaust noise as it is not variable.


The new Type R also features a helical LSD between the front wheels, which is said to be worth 5 seconds a lap in Nurburgring. A pre-production prototype – discarded of air-con, audio and front passenger seat to offset the weight of roll cage, but otherwise said to be the same as final production car – eventually lapped Nurburgring in 7 min 50.63 sec, a new record for hot hatches as well as front-wheel-drive cars. With a powerful engine, extensive chassis modifications and advanced aero, no doubt the Civic Type R is the fastest hot hatch on track. The real question is, is it also the fastest and the best driving hot hatch on country roads? That is more difficult to answer. Firstly, its aerodynamics doesn't work at such speeds. Secondly, the CTR rides pretty hard, stiffer than Megane Trophy with Ohlins dampers and more so than the absorbent Golf R. Its composure is more easily unsettled by bumps. This makes its extra speed, if any, more difficult to access on B-roads. On longer trips, the excessive harshness and tire roar hurt refinement and make it a worse companion than the versatile Volkswagen.

The Type R is more like a competition touring car than a conventional hot hatch. On wide open roads, it shines with exemplary body control and a rigid chassis. The traction and grip it offers is excellent. Ditto the brakes. Torque steer is well suppressed. The steering is fast and accurate but not as feelsome as Renault's or Volkswagen's. It also lacks the mid-corner throttle adjustability of the duo, as its rear is simply too safe. Ultimately, the Golf R is both more enjoyable and more comfortable to drive, while Megane RS275 Trophy is more engaging. The Type R beats both rivals in power, speed and cornering prowess, but perhaps its tuning is too committed to setting Nurburgring lap record, it doesn't drive as well on country roads where hot hatches are supposed to favour. It is a good hot hatch, just a bit different to what we expected for the Type R label.

Verdict:













Civic sedan 1.8EX



2011

Front-engined, FWD
Steel monocoque
Mainly steel
4505 / 1755 / 1435 mm
2670 mm
Inline-4

1798 cc
SOHC 16 valves, VVT

-
-
140 hp



128 lbft



5-speed automatic

F: strut
R: multi-link

-
205/55R16
1254 kg

125 mph (c)
9.0* / 9.1**

24.9* / 24.7**

Civic Hybrid



2011

Front-engined, FWD
Steel monocoque
Mainly steel
4505 / 1755 / 1430 mm
2670 mm
Inline-4 + electric motor

1497 cc
SOHC 8 valves, VVT+L

-
Cylinder deactivation

Engine: 90 hp
Motor: 23 hp
Combined: 110 hp

Engine: 97 lbft
Motor: 78 lbft
Combined: 127 lbft

CVT

F: strut
R: multi-link

-
195/65R15
1300 kg

112 mph (c)
10.1*

31.8*

Civic sedan Si



2011

Front-engined, FWD
Steel monocoque
Mainly steel
4505 / 1755 / 1435 mm
2670 mm
Inline-4

2354 cc
DOHC 16 valves, DVVT

-
-
201 hp / 7000 rpm



170 lbft / 4400 rpm



6-speed manual

F: strut
R: multi-link

-
215/45ZR17
1316 kg

143 mph (est)
6.1* / 6.4**

15.7* / 16.5**










Performance tested by: *C&D, **MT










Civic Coupe Si



2011

Front-engined, FWD
Steel monocoque
Mainly steel
4460 / 1755 / 1397 mm
2620 mm
Inline-4

2354 cc
DOHC 16 valves, DVVT

-
-
201 hp / 7000 rpm

170 lbft / 4400 rpm

6-speed manual

F: strut
R: multi-link

-
215/45ZR17
1305 kg

145 mph (est)
6.3*

17.1*

Civic hatchback
1.8EX GT

2011

Front-engined, FWD
Steel monocoque
Mainly steel
4285 / 1770 / 1472 mm
2605 mm
Inline-4

1798 cc
SOHC 16 valves, VVT

-
-
140 hp
128 lbft
6-speed manual

F: strut
R: torsion-beam

-
225/45WR17
1280 kg

134 mph (c)
9.0 (c)

-

Civic hatchback 2.2i-DTEC



2011

Front-engined, FWD
Steel monocoque
Mainly steel
4285 / 1770 / 1472 mm
2605 mm
Inline-4, diesel

2199 cc
DOHC 16 valves

VTG turbo

-
150 hp
258 lbft
6-speed manual

F: strut
R: torsion-beam

-
225/45WR17
1363 kg

135 mph (c)
8.1 (c) / 8.3**

24.0**









Performance tested by: *C&D, **Autocar










Civic sedan 1.8EX



2014

Front-engined, FWD
Steel monocoque
Mainly steel
4557 / 1755 / 1435 mm
2670 mm
Inline-4

1798 cc
SOHC 16 valves, VVT

-
-
143 hp

129 lbft

CVT

F: strut
R: multi-link

-
215/45VR17
1300 kg

125 mph (c)
8.8*

24.5*

Civic Type R



2015

Front-engined, FWD
Steel monocoque
Mainly steel
4390 / 1878 / 1466 mm
2594 mm
Inline-4

1996 cc
DOHC 16 valves, DVVT, VVL

Turbo
DI
310 hp / 6500 rpm

295 lbft / 2500-4500 rpm

6-speed manual

F: dual-axis strut
R: torsion-beam

Adaptive damping

235/35ZR19
1378 kg

167 mph (c)
5.4 (c) / 5.5**

13.4**









Performance tested by: *C&D, **Autocar









Copyright© 1997-2015 by Mark Wan @ AutoZine