Civic Type R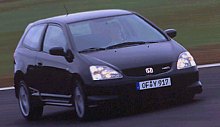 Undoubtedly, the second generation Civic Type R intends to beat the opposition to become the world's best hot hatch, a thing the first generation not quite achieved. In fact, the domestic bounded first generation was even unheard to many foreigners - car journalists included. Autocar, Car, Top Gear, Auto Express .... none of them mentioned the old car in their reviews of the new Type R. So let me start from the old car first.

Technical view

The old car was a racy conversion from the Civic 3-door, powered by a small-but-high-revving 1.6-litre VTEC delivering 185ps. That was achieved by thorough tuning such as human forged and polished pistons and lightweight components. The chassis was beefed up by suspension tower struts front and rear, providing the rigidity that the stiffened suspensions needed. At 1080kg, it was very light by any standard, thanks to the absence of most equipment and the use of Recaro racing buckets.
Now comes the new Civic Type R. Like the new Civic 3-door, you can find a label "Made in Great Britain" as it is produced exclusively in Honda's Swindon plant rather than in Japan. This implies 3 things - firstly, sales of Honda Europe dropped sharply in recent years so that the Swindon plant has so much excess capacity to take on any projects; secondly, the new Type R will be produced in more standardized way rather than human-intensive method. Otherwise its production will be left in Japan; lastly, the chassis and suspensions were thoroughly tested and tuned in Europe, guaranteeing a world-class handling and ride.
The regular Civic 3-door is already 50mm shorter and 60mm lower than the jumbo 5-door version, and has a wheelbase a massive 110 mm shorter. The Type R shares the same bodyshell but with the suspension dropping 15mm to lower center of gravity. Of course, the monocoque is also strengthened - including tower struts - to keep suspension geometry unchanged on twisty roads. Still, you can feel the car much bigger than the first generation Civic Type R, mostly because of its excessive height which has grown 60mm to accommodate the high-floor design. What you might not notice is that it is shorter in overall length as well as wheelbase than its predecessor. But that means little to the scale, as it weighs 1200kg, that's 120kg heavier than the old car. Even with the additional equipment taken into account, the new Type R still feels not very R (which originally stands for Racing).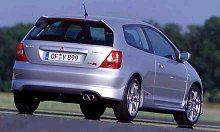 I did not expect the fat, monospace profile looks good in Type R spec., but this time Honda make it just right. Big air dam, side skirts, rear spoiler and 17-inch wheels succeed to change how we feel - instead of plain and bulky, now the car is subtle. Oh yes, the red R logo at the grille also plays an important role. It reminds me this is not just a GTI, but a Type R !
The previous 1.6-litre VTEC was highlight of the car but also the biggest weakness, blame to its peaky manner and lack of real torque. New Type R shares engine and gearbox with sister car Integra Type R, gaining 400 c.c. and new i-VTEC valve mechanism. The i-VTEC still incorporates cam-changing VTEC, which switch to high-lift, fast-timing lobes once the engine rev pass 6,000rpm, now it also gets a cam-phasing variable valve-timing adjusted continuously across the whole rev band. As a result, low to mid-range torque, hence tractability, is greatly improved. The torque curve now peaks at 6,500rpm, with a useful, if not 2-litre-class-leading, 144lbft available. This is far stronger than the old 1.6's 118lbft at 7,300rpm.
Rev to 7,400 rpm, the 2-litre four squeezes out its maximum 200 horsepower, that's European DIN horsepower. While it may not match Integra Type R's 220hp (JIS), its lower, 11.0:1 compression allows the engine to drink regular RON95 fuel instead of 98. In other words, that's the same engine as Acura RSX Type S.
On the road
A hot hatch having 200 horsepower is no longer a dream now. Yes, I know Volkswagen group has at least 3 hatches boosting more power (yet even more torque) and 4-wheel drive, but they are so heavy and pricey that should be classified as sports sedans rather than hot hatches. A hot hatch should be reasonably priced and fairly lightweight to have fun on twisty roads. The Type R Civic is undoubtedly a hot hatch, just hotter than any other hatches we have ever seen.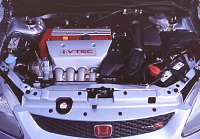 There is no question about its claimed 0-60 time of 6.8 seconds and a top speed of 146mph. The only hot hatch that could rival and possibly beat the Type R is Renault Sport's Clio RS (172), which does 0-60 in 6.6 seconds but it is no where near the Type R at high speed, blame to inferior aerodynamics and less top end grunt due to the lack of VTEC (the Clio has VVT only but not variable lift). Once the needle pass 6,000rpm, the Honda engine goes mad and it really enters a league of its own - no matter aurally or objectively. No other 4-cylinder engines could be so thrilling. However, what makes the i-VTEC a double-edge sword is that it pulls cleanly right from 1,500rpm and goes really strong from 3,000rpm where 90% torque is available. The continuous VVT also smoothens power delivery thus it is refined to use in daily basis, a thing the old VTEC can hardly claim.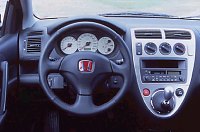 Integra's 6-speed manual is another joy. Although the shifter is mounted on center console like many MPVs, it actually shortens the distance travelling from steering wheel to shifter. Moreover, shift quality remains unchanged at the best tradition of Honda - slick, precise and short-throw. 6 close ratios keep the engine boiling at VTEC zone.
Now enter twisty roads to test its handling. Also enter the scene is the mighty Peugeot 306 GTi-6, our long-time beloved, and the new Integra Type R, the Civic's sister car. First to be noticed is that the Civic rides much more complaint than the Integra as its suspensions are tuned softer. It deals happily with bumps while providing superb body control. The chassis is well balanced up to a limit, then it understeer gently. Try to provoke it to oversteer, its rear end steps out a bit - but just a bit - then refuse to go further. Honda might call it a safe approach necessary for the powerful Type R, but what separate a superb hot hatch from a good one is agility and driving fun, not speed or g-force. The French car makers know this trick very well, thus have already built lift-off oversteer into the chassis of Clio RS and 306 GTi-6. The latter is especially inspiring to use oversteer because its steering feel tells you so much information. In contrast, Civic's electric-assisted steering - like many of its kind - has certain degree of deadness. It fails to deliver the message from the front tyres to tell you how much adhesion left. The weighting is adequate, the response is sharp and accuracy is high, but it just feels numb, what a pity. Nevertheless, at least it steers better than the nervous Integra Type R, probably because the suspensions are more effective to soak up bumps that would have induced bump steer.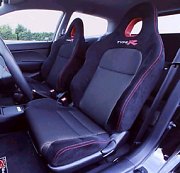 While the Civic Type R is neither as agile nor as fun to handle as Peugeot 306, it has superior brakes and more grip. Its cabin is also roomier than most hot hatches (despite of being 110mm shorter in wheelbase than the 5-door Civic), and you won't find another one with a flat floor to free up rear passenger foot room. So this is a fast hatch having no compromises to cope with.
Being priced at the same level as the smaller Clio RS, everybody is amazed how Honda manage to sell it so cheap. See it this way: the new Type R is no longer as racy as the old one. Its production also involves less human hands. The Recaro seats have gone. Production is up. Engine shares with Integra and to lesser extent Civic Si and Stream. Exclusivity will no longer be what Type R's owner proud of. But all these just do good to the majority of car lovers. This is unquestionably the best hot hatch now, because of its wonderful engine, gearbox, performance, comfort .... but sadly, also because the King 306 GTi has died.